If you enjoy reading PDF files on your iPad, there may have come a time when you have thought about how easy it would be to edit PDF on iPad. In this article, we are going to provide you with PDFelement for iOS and show you how easy it can be to edit PDF on iPad free.

There are very many apps that claim to help you easily edit PDF on iPad but only one delivers on its promises. PDFelement for iOS is the best iPad editor when you want to edit PDF on iPad. The app is available on the app store for only $4.99 and is primarily designed to help you do just about anything with your PDF document. You can use it to red PDF files and even modify PDF documents directly on the device.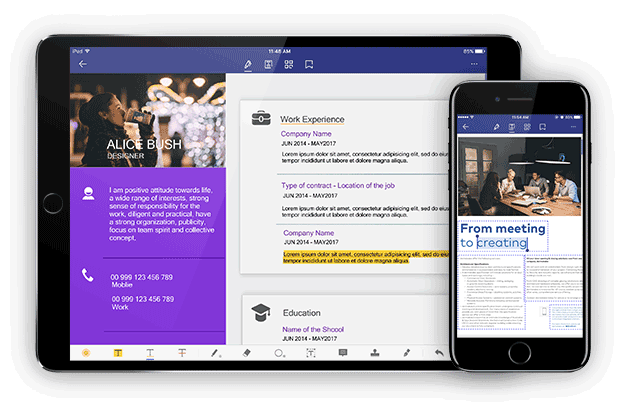 The following are just some of the features you can expect to make use of when using PDFelement for iOS.
You can use the app to edit PDF on iPad, making significant changes to the text including changing the font style, color and size.
The app also makes it very easy for users to convert PDF files into Word, Excel and PowerPoint files without altering the document's format.
As you read the PDF file, you can annotate the document any way you want. You can highlight, underline and strikethrough text that you would like to come back to later.
You can also organize, rotate and delete whole pages from the PDF file.
The app can also allow you to scan images through the scan option from your camera app.

---
A Complete Guide on How to Edit PDF for iPad
The following is a step by step guide to edit PDF on iPad using Wondershare PDFelement for iOS. To begin with, head on over to the app store and install the app to your iPad.
Step 1: Open PDF on iPad
Launch PDFelement on your iPad, and click on "Local" to import PDF files. From there, you can choose to open the PDF file on your iPad via local, Dropbox, Google Dive or other cloud storage service.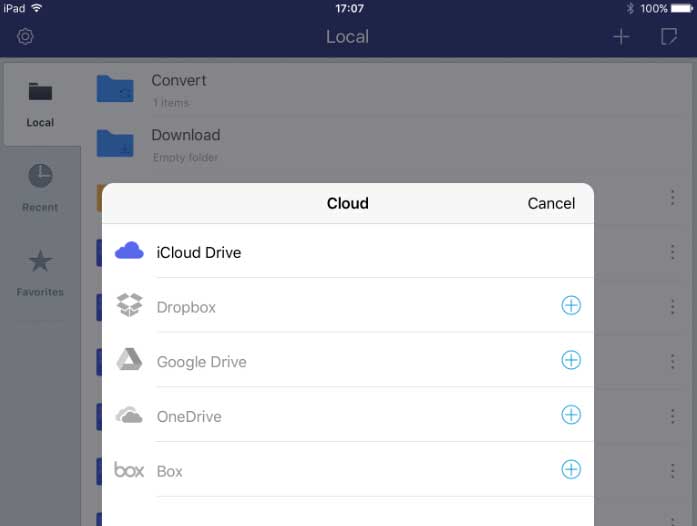 Step 2. Transfer PDF from PC to iPad to Open PDF (Optional)
You can also transfer PDF documents from PC to iPad using a Wi-Fi connection. The computer and the device must be on the same Wi-Fi Connection. Click on "Wi-Fi" and enable it. And then enter the URL "Http://10.12.15.154/" on your computer and then "Upload Files" on your computer. Then you can find the same document on your iPad. Click it to open and edit PDF on iPad.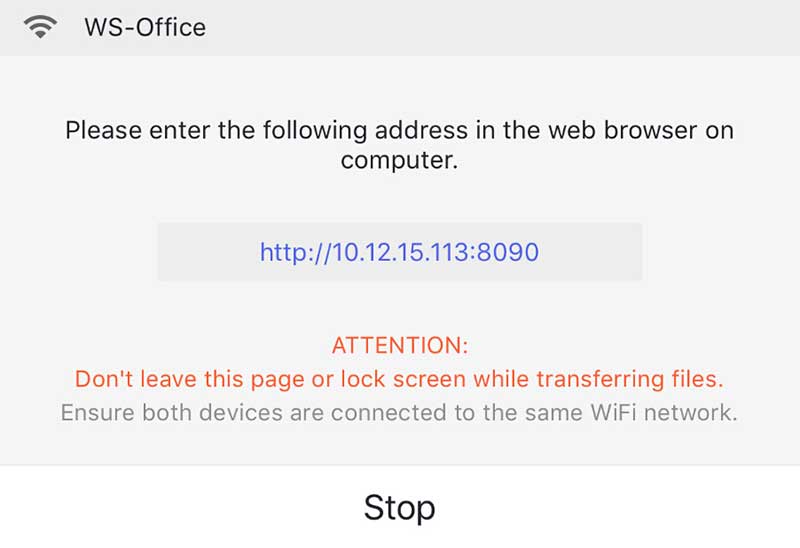 Step 3. Edit PDF Text
Once the document has been imported into the device, click on it and then click on the icon in the top menu to edit PDF text free.
You can then make any changes you see necessary. Change the font size and text color. If you make a mistake, undo the changes by clicking on the "Undo" button at the top right-hand corner.
Step 4. Edit PDF Notes
To activate the annotate mode, tap on the "Tool" menu and then click "Note". You will now be able to add and remove notes as well as underline and highlight text.
When you are happy with all the changes, tap on "Save" to save the document.
---
Best Desktop PDF Editor for Windows
If you want to, you can transfer the edited PDF document to your computer via iTunes. Simply connect the device to the Mac and launch iTunes, if doesn't open automatically. You can then click on the iPad in the left column and select "Books" and make sure that the sync button is checked. After syncing the PDF will be accessible from Preview. To edit the document on your desktop, you should try the highly effective PDFelement.
Not only is the program highly effective, it is also quite easy to use and gives you a lot of options designed to make managing your PDF file quite easy. The following are some of the features you will find on the program that are really useful.
You can use the program to modify the document in any way. You can edit the text by adding and removing text and even changing the font size, style and color. You can also edit the images and graphics on the PDF, altering the size and orientation.
The OCR feature allows you to edit scanned PDF files or PDFs that are image-rich.
The program also gives you a wide range of annotation options. You can easily add notes, comments, highlight and even strikethrough text as you read. All of these annotations are also 100% editable.