How to Rotate PDF on iPhone or iPad
PDF documents are the best file format to work with in business, but sometimes you find a page is the wrong way up! You can't send that to a client, and they need it immediately! Rotating one page in a PDF document has traditionally been a complicated task often requiring expensive software and has been near impossible from mobile devices.
If you are working outside the office, remotely, and a page is the wrong way up when a client needs it immediately, you have a big problem. In the past you would not be able to solve this quickly and effectively.
PDFelement for iOS has solved this problem with a dynamic app available for iPhone and iPad that provides a simple tool for rotating pages in PDF documents. With this app you can easily rotate a page from any PDF document within minutes.
How to Rotate Pages in PDF on iOS
This short guide will show you how to quickly rotate PDF pages in the free PDFelement app:
1. Open PDFelement app and your PDF file
Download the PDFelement app from the Apple app store and register for a free account using the on-screen instructions.
To open the PDFelement app click on the program icon on your iPad or iPhone homescreen. Open your PDF file from the file list on the "Local" screen.
2. Open page management mode
With the file open, select the third icon on the top of the screen to enter the page management mode. This will give you access to manage all the pages in your document individually.
Select "Edit" at the bottom of the page and then the individual page that you wish to rotate.
3. Rotate the page
Now select the "Rotate" tool (the circular arrow icon). By clicking this icon it will rotate the pages you chose clockwise in quarter turns.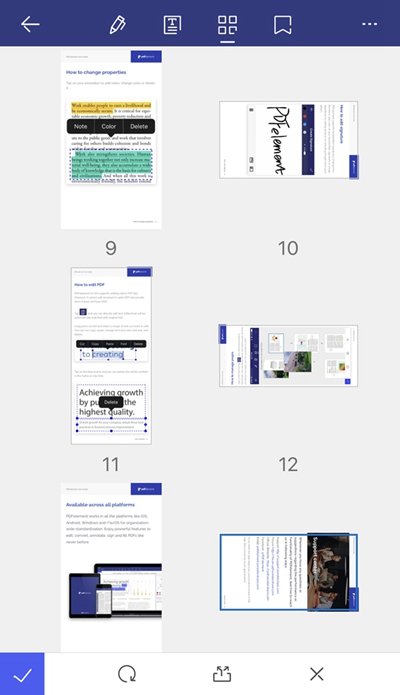 4. Save your page
Select the tick in the bottom left hand corner of the screen and you have now rotated and saved that page. This is now ready to be shared with others.
Rotating individual pages in large PDF documents will never be a problem again! PDFelement provides a simple and effective tool to rotate pages in PDF documents you are working with. This tool is available all in the one app alongside other editing, saving, management and sharing tools, that makes PDFelement the complete solution for your PDF work. All this can be completed on your iPhone or iPad with the best free app on the market.
---
Free Download or Buy PDFelement right now!
Free Download or Buy PDFelement right now!
Buy PDFelement right now!
Buy PDFelement right now!