How to Extract Page from PDF on iPhone or iPad
PDF documents are the best file format to work with in business, but sometimes you don"t need all the document that you have been sent. Extracting one page from an entire PDF document has traditionally been a complicated task often requiring expensive software. Also, the rise of remote working has created a need to be able to achieve this quickly on the go. If you are out of the office and need to share just one page of a document with your boss to complete a task, in the past you might have to wait until you are back in the office or access a desktop device. If this is an immediate request from your boss, you need to find a solution quick. This has always been a problem.
PDFelement for iOS has solved this problem with a dynamic app available for iPhone and iPad that provides a simple tool for extracting individual pages from PDF documents. With this app you can easily extract a page from any size document within minutes. PDFelement is the best solution to extract pages from PDF.
How to Extract Pages from PDF Files on iPhone or iPad
PDFelement offers a quick and easy solution to extract pages from your PDF files. This is how:
1. Open PDFelement app and your PDF file
Download the free PDFelement app from Apple Store to your device and then register for an account.
On download the app can be opened via the app icon on the homescreen on your device. The file you need will then be accessible from the "Local" screen within the application.
2. Access the page management functionality
Using the open file, from the top of the screen, access the third icon which will take you into the page management functionality and allow you to manage all the pages in your document individually.
3. Extract the page
Select "Edit" at the bottom of the page and then the individual page that you wish to extract. Now select the "Extract" tool (the box with two arrows).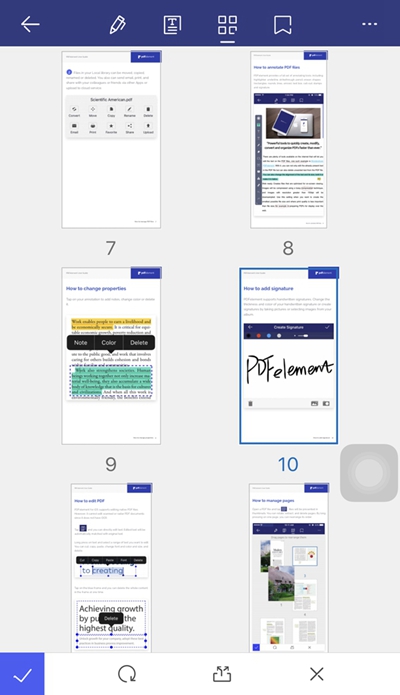 4. Save your page
Select the white bar with the original file name inside and rename using your devices keyboard function, and then select "Done".
Select the tick in the bottom left hand corner of the screen and you have now extracted and saved that page. This is now ready to be shared with others.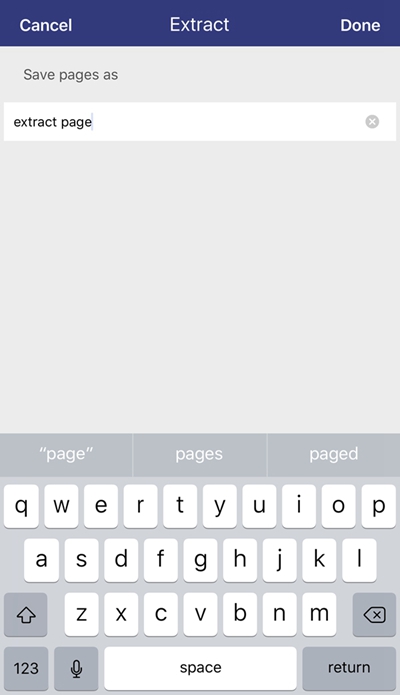 Extracting individual pages from large PDF documents will never be a problem again! PDFelement provides a simple and effective tool to extract single or multiple pages from PDF documents you are working with. This tool is available all in the one app alongside other editing, saving, management and sharing tools, that makes PDFelement is the complete solution for your PDF work. All this can be completed on your iPhone or iPad with the best free app on the market.
---
Free Download or Buy PDFelement right now!
Free Download or Buy PDFelement right now!
Buy PDFelement right now!
Buy PDFelement right now!