How to Make Custom Invoices
The management of the cash flow in your business requires you to create invoices, which are commercial documents that you give to your customers after the sales transactions that both parties have made. The uniqueness of your business brand requires the usage of custom invoices because they cater for user needs related to invoice templates and layouts. Custom invoices ensure to cover needs like changing fonts, color and stock photos and incorporating back ground images, while including pertinent transaction information.
Free Custom Invoice Template

Free Download and customize it according to the sample text below
---
What to Include in a Custom Invoice
Custom invoices can be made into custom invoice books to make your work easier while billing multiple clients. Among the best are staples custom invoices. A custom invoice may include several things, such as the following components:
Information about your company- this may include your company name, logo, contact details and address.
Invoice number or order to identify the exact transaction and differentiate it from others made by others or same customers.
Order date since it acts as a reference
Information about your customer such as name, contact details and address.
Item details like description. You may add some photos from your stock library for easier identification.
Quantity of items that the customer purchased, accompanied by the unit prices.
The total amount of the charges should follow, and you can include a breakdown of the taxes just to keep your clients informed.
The payment terms must be included. They entail the payment method that is acceptable by your firm and the period of the payment; you may give a deadline. Additionally, it is important to add information regarding the charges you will exert upon late payment.
In the event that the customer has contrasting details regarding the transactions made, you should include the bill to information.
Though not necessary, a customized invoice may include a background image, mostly of your company to make the custom invoice different from others presented to the same customers.
---
Advantages of Using Customized Invoices
Using customized invoices is advantageous in the following ways;
It helps in matching your invoice with your brand and industry through insertion of activity tables, header and logo and style and color changes.
By incorporating footer messages, customized invoices enables communication with your clientele. You can write thankful messages for being loyal or congratulate on achieving a milestone or award.
The information put in these footers may also include suggestions about new products and thus customized invoices can be marketing tools.
Customization of invoices enables your organization to be different from other firms.
---
How to Create Invoice Easier with FreshBooks
What is FreshBooks
Difficulties in creating a proper invoice do not have to be an issue anymore if you use FreshBooks. This is invoice software that makes small or large business invoicing as well as billing quite simple and fast. It enables the creation and customization of your invoice, whereby you can include your company's logo and also please your clients through personalized appreciation emails. Freshbooks can efficiently work for firms, self employed persons, consultancies and agencies.
Try Freshbooks for Free >>>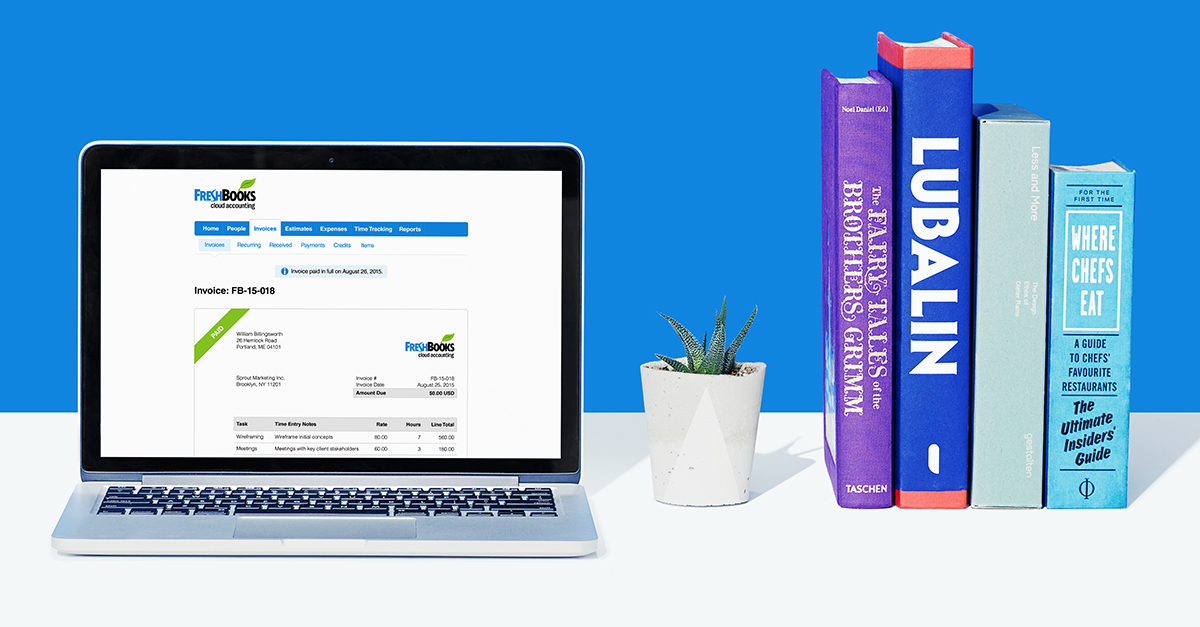 How to Create Custom Invoices with FreshBooks
To create an invoice with Freshbooks, you should follow the following steps:
1. The Dashboard
This is the main control panel within FreshBooks. It contains a collection of buttons and tools that are ideal for creating documents such as invoices. To use it, simply tap on the button labeled "Create New". In the ensuing menu, tap on "Invoice". This will immediately bring up a new window titled "New Invoice" that contains a template which you can use to generate this business document.
2. The "Invoices" Panel
Another resource that you can use to create this invoice is the Invoices Panel. In this panel, you can simply tap on a button labeled "New Invoice". This action will take you to New Invoice Screen with sections to fill, which include:
Company information- fill in name, contact and address
Logo- add your logo for professionalism
Billed to- chose client
Issue date
Number of invoice
Field of reference- requires 25 characters for additional information such as purchase orders
Notes- such as invoice summary
Terms- insert Tax numbers and payment terms
You can use both modern or classic font and different theme colours.
Try Freshbooks for Free >>>
Free Download or Buy PDFelement right now!
Free Download or Buy PDFelement right now!
Buy PDFelement right now!
Buy PDFelement right now!
Up to 18% OFF: Choose the right plan for you and your team.
18% OFF
PDFelement for Individuals
Edit, print, convert, eSign, and protect PDFs on Windows PC or Mac.
12% OFF
PDFelement for Team
Give you the flexibility to provision, track and manage licensing across groups and teams.
Contact us to learn more about the custom services we can do for you.
Related Articles
All Topics