Discover All About the Contractor Invoice
A contractor invoice contains information about the products delivered or services rendered by a company that had been contracted to perform a certain task. This type of invoice indicates all the completed work as well as the total cost that is charged. It is best used by business or companies and not individuals on a freelance or consultancy basis.
Free Contractor Invoice Template
Free Download and customize it according to the sample text below
---
What is a Contractor Invoice
A contractor invoice is a business document which is issued to a customer after work has been completed. It contains the details of the products that were supplied or the services that were provided. This information is indicated in list format. In addition to that, this document also contains the price that the business is charging as well as the terms of payment. The contractor invoice is a major part of business transactions today.
---
What to Include in a Contractor Invoice
There are a number of elements that should be included in every contractor invoice. They include:
• The Title "Contractor Invoice"
This is an important part of the independent contractor invoice because it identifies the document and gives an idea of the information contained within.
• An Invoice Number
This is a unique identifier of the invoice document. It can be made up of digits or a combination of numbers and letters.
• Date of Issuance
This is the official date when the invoice was issued to the customer.
• Vendor Details
This the information of the company which provided the products or services. It includes the company name, address, phone number and registration number. If the company is registered for Value Added Tax, these details also cover its VAT number.
• Consignee Information
This is information regarding the customer who received the goods or services. It covers their name, address and phone number contact.
• Due Date
These are details concerning the expected date of payment. The Due Date is indicated in a contractor invoice so as to ensure timely delivery of payment.
• Details of the Products Provided or Services Rendered
This is information concerning the products or services that were provided to the customer. It includes the quantity, characteristics and nature of the goods or services rendered.
• The Currency
This the appropriate type of legal tender that should be used to handle payments in the transaction.
• VAT Amount
If you provide products as a VAT registered contractor, this is a special amount that indicates Value Added Tax on the items that are involved in the transaction.
• Total Amount Net VAT
This is the total amount of money that the customer should pay non-inclusive of the VAT tax.
• The Grand Total
This is the total cash amount of the transaction inclusive of VAT tax.
• Notes
Any other information concerning the transaction is indicated here. This can be payment terms and conditions for the customer.
---
Creating Contractor Invoices Easier with FreshBooks
FreshBooks is an accounting software which you can implement in your business for smoother, more effective operation. This software assures rapid results, security and task optimization. FreshBooks enhances the operations of your business by implementing automation. By using this software, you can transfer your effort from handling business processes to expanding your enterprise.
Try Freshbooks for Free >>>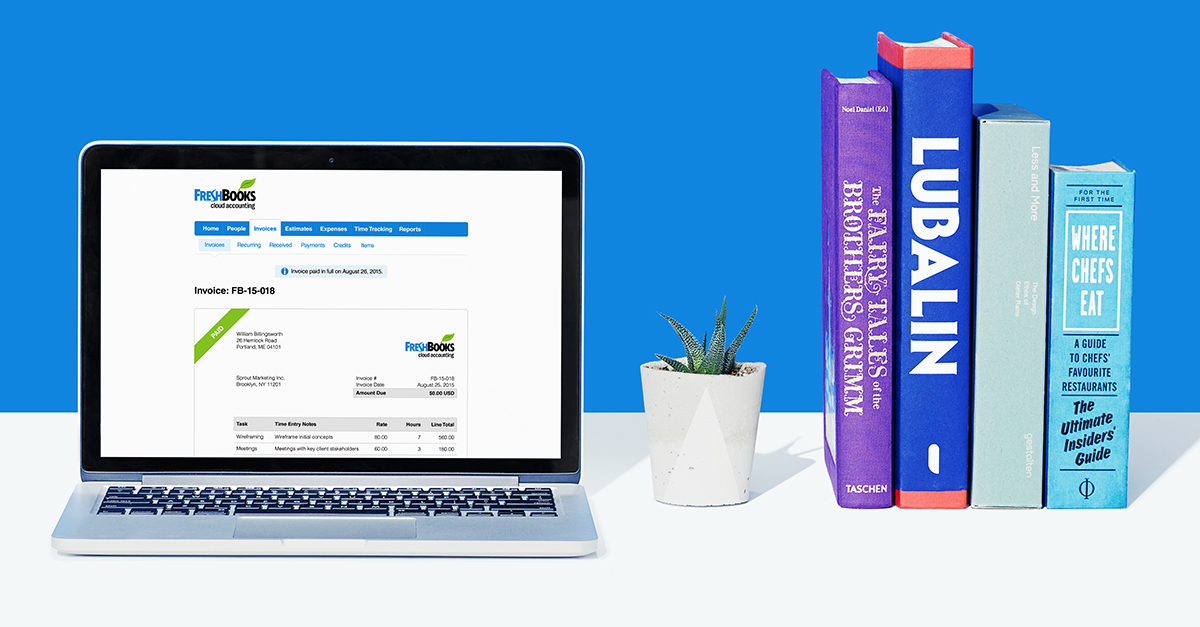 This business software has an interface that is user-friendly and highly intuitive as well. It can assist you to create accurate and detailed contractor invoices. It has a suite of features that are organized in a handy control panel. They help you to automate business processes such as task scheduling, creating invoices, organizing expenses and reporting payments. Through its Customer Relationship Module (CRM), FreshBooks allows you to interact positively with your clients. This software is based on Cloud technology. Thus, you can access your business information using a smartphone, tablet or laptop from any location in the world.
How to Create a Contractor Invoice with FreshBooks
The FreshBooks software makes it very easy for you to create a contractor invoice. It provides you with two main paths that you can utilizes towards this effect. Here is how to go about it:
1. Using the Dashboard
You can create a new contractor invoice from the Dashboard. Here, you can click upon a button labeled "Create New". Alternatively, you can select "Invoice" and arrive at a screen labeled "New Invoice".
2. From the "New Invoice" Section
Creating a new contractor invoice is also quite possible directly from the Invoices panel. Here, you can click on a button labeled "New Invoice". Located at the top right section of the window, it takes you to a screen where you can enter the specific details of your contractor invoice. The screen contains a contractor invoice template which accepts data and allows for customization. Within this template, you can:
Specify payment through credit cards
Add a theme to your contractor invoice
Insert details concerning the transaction at hand
After tailoring the independent contractor invoice template to fit your transactional requirements, FreshBooks guides you to the final stage. Here, you are presented with the option to Save the invoice and continue editing it later. You are also provided with an option to "Send" the invoice to the customer through email. You can pick the option that is most ideal for you.
The FreshBooks software makes it very easy for you to create a contractor estimate and invoice for your business. It is a versatile, powerful, user-friendly and time-saving software tool for modern enterprises!
Free Download or Buy PDFelement right now!
Free Download or Buy PDFelement right now!
Buy PDFelement right now!
Buy PDFelement right now!
Up to 18% OFF: Choose the right plan for you and your team.
18% OFF
PDFelement for Individuals
Edit, print, convert, eSign, and protect PDFs on Windows PC or Mac.
12% OFF
PDFelement for Team
Give you the flexibility to provision, track and manage licensing across groups and teams.
Contact us to learn more about the custom services we can do for you.