How to Make a Blank Invoice
Issuing receipts to customers is very important, and a blank invoice can be issued as one especially when you want something better than what the regular store has for sale. There is a free blank invoice available for free which can also be modified to make it more professional. The blank invoices are usually filled out by hand.
Free Blank Invoice Template
Free Download and customize it according to the sample text below
| | | |
| --- | --- | --- |
| Free Download>>> | Free Download>>> | Free Download>>> |
---
What is Blank Invoice
Blank invoice is just like any other invoice which is still used by many small businesses to bill their customers. Although, this type of invoice is mostly used by businesses that collect their check immediately.
---
What to Include in a Blank Invoice
The blank invoice should always include your business name and information. The information Include your email address, phone contact and the address of your business. You would also need to add the name of the customer business (if you are dealing with another business) or the name of the customer. The invoice must also contain the address, email and contact details of the customer as well.
Next, you add the details of the service provided or goods delivered. Also, it would help if you made sure that the price charged per item is added to the description. After all the products and services rendered have been listed, you then sum up the total and include it in the invoice. If a tax is applicable in your area, you should also add the sales tax and include the grand total to the invoice.
Then include any additional information such as the due date of payment to let your customer know when their grace period end. Also, if there are extra charges due to late payment, include the details in the invoice. Add payment method and options to make the process easy for your clients and get you paid fast. Your blank invoice PDF or blank invoice form is ready to be sent out to your customers, but remember to keep a copy as a record for yourself. You can make blank invoices printable.
---
How to Create Invoice Easier with FreshBooks
What is FreshBooks
FreshBooks is the accounting software reshaping the world to make it easy for small business owners and self-employed individuals to carry out their accounting needs. With FreshBooks, you can track your time, make payments, carry out invoicing and so much more. This gives you more time to channel into your business and develop it to the next level.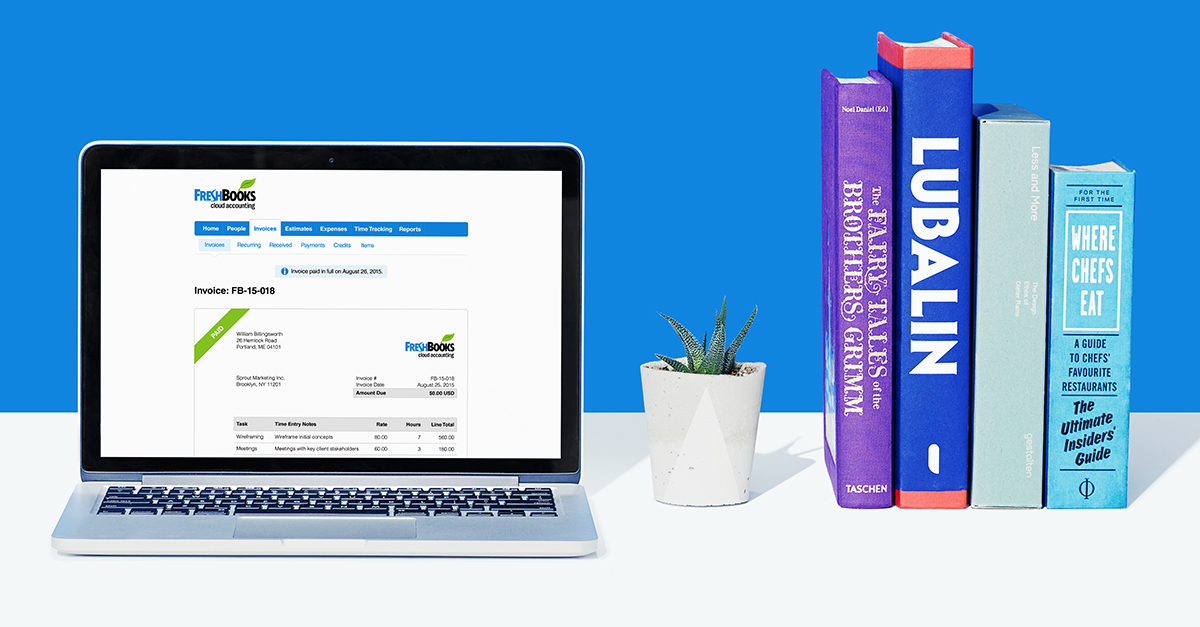 How to Create Invoices with FreshBooks
To create an invoice with FreshBooks, you should follow the steps outlined below, and your invoice will be ready in no time.
First, you need to register with FreshBooks by providing your company name, email address and contact information. Try Freshbooks for Free >>>
Then you proceed to add the names of your customers, their emails and contact information so that when you want to send the invoice, you only need to select the desired customer and allow FreshBooks to do the rest.
Then you click the invoice tab at the top of the window pane and select create a new invoice.
Your company details will automatically appear on the new invoice. When you choose the desired customer also, FreshBooks will automatically import the necessary information as well.
Then input the rest information, and FreshBooks will sum the total for you automatically.
Now your invoice has been created and ready to be delivered to your customers.
Free Download or Buy PDFelement right now!
Free Download or Buy PDFelement right now!
Buy PDFelement right now!
Buy PDFelement right now!
Up to 18% OFF: Choose the right plan for you and your team.
18% OFF
PDFelement for Individuals
Edit, print, convert, eSign, and protect PDFs on Windows PC or Mac.
12% OFF
PDFelement for Team
Give you the flexibility to provision, track and manage licensing across groups and teams.
Contact us to learn more about the custom services we can do for you.
Related Articles
All Topics