How to Make An Invoice in Your Business
Whenever a business owner needs to get paid for goods that were delivered or services rendered, they can make an invoice. This is a report that contains the products or services that were provided. This document is issued once the goods have been delivered or services rendered. Important transaction details such as the products provided, services rendered, total cost, due date and payment terms are included in the invoice.
>
Free Invoice Template
Free Download and customize it according to the sample text below
| | | |
| --- | --- | --- |
| Free Download>>> | Free Download>>> | Free Download>>> |
---
Top 3 Invoice Makers
Widely accepted as the best invoice maker in the market today, FreshBooks is a highly effective, powerful and capable digital business tool. It provides you with a dashboard that is full of features and tools which you can use to create invoices and also automate business processes. FreshBooks is user-friendly and has a short learning curve. It is also built upon Cloud technology. Therefore, you can easily access its resources from any location worldwide using a laptop, smartphone or tablet. Some of its more powerful features are scheduled invoicing, client interaction modules and ability to generate a variety of business documents. Through automation, FreshBooks frees up your time and financial resources. Hence you can re-invest them in other business endeavors such as advertisement, expansion and business promotion. FreshBooks is available to you as a free invoice maker at no cost through a 30-day trial period. To use it further, you have to pay a fee of $15 per user per month.
This is a business software that can be used to generate invoices. Quickbooks is easy to use and can help you to organize finances and keep them in one place. It is a Cloud-based software. Therefore, you can create and send business documents from any location using a smartphone, tablet or laptop. By using Quickbooks, you can generate customized invoices, sales reports or estimates. This software also empowers you to schedule any recurring payments such that you are able to save time. Business responsibilities such as taxes can easily be factored into the software. Furthermore, you can pay bills and manage expenses using Quickbooks. Therefore, it is a highly versatile software. You can use this online invoice maker for free over a period of 30 days. After they are over, you have to make payments of $10.36 per user per month.
3. Sage 50C
This is a business management invoice maker app which you can use today. It helps small and medium sized enterprises to manage their expenses, conduct client interaction and generate professional documents. Sage 50C has an interactive, easy to use dashboard. The software is also based on Cloud technology. By utilizing this resource, you can generate professional invoices and quotes as well. Seeing as it has analytical features, you can use Sage 50C to assess project incomes, operational expenses and overall profit. This software can be linked directly with your bank accounts and other cash repositories. It also accepts payments in multiple currencies. This is so as to enhance convenience. Sage 50C can be used at no cost through a free trial over a period of 60 days. Once this period is over, you can use the software at a cost of $192.00 per user per year.
---
How to Make an Invoice Easier with FreshBooks
What is FreshBooks
An invoice is one of the most important business documents. You can use FreshBooks to generate professional, detailed and effective invoices for your enterprise. This software can also be used to automate various business processes. Examples of these are invoice creation, client interaction sessions, job scheduling, accounting reporting and expense organization. By performing these tasks on your behalf, FreshBooks frees up your time and resources so that you can engage in other tasks such as brand promotion and market research. This software is built upon Cloud infrastructure. Hence, you can access its features directly from a tablet, laptop or even a smartphone on demand. FreshBooks is your ultimate business operations assistant and here is how to use it for generating an invoice.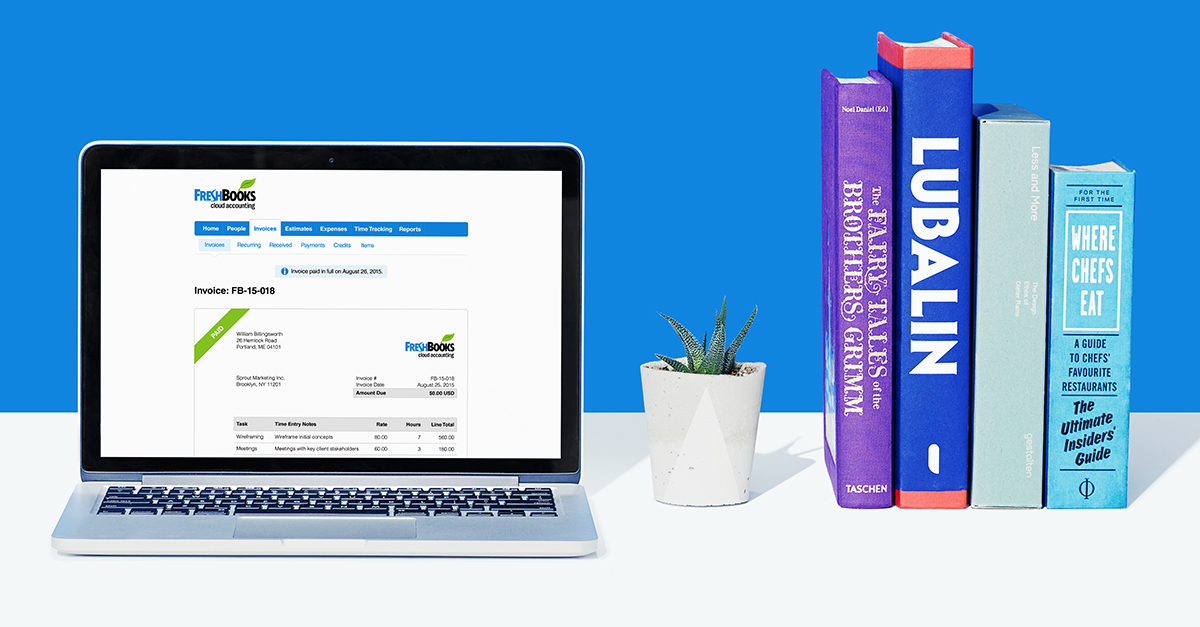 Steps to Create an Invoice with FreshBooks
FreshBooks is a professional, capable invoice maker. This software provides you with two main modules for achieving this objective. They are:
1. The FreshBooks Dashboard
You can create a brand-new invoice directly from the FreshBooks Dashboard. Here, you can begin by clicking on the button labeled "Create New". Having done so, select the option labeled "Invoice". It will immediately generate a new invoice template for you to edit.
2. The Invoice Panel
A noted method through which you can create an invoice is the Invoice Panel. In this section, simply tap on a button labeled "New Invoice". After doing so, a new template screen will emerge. Within it, you can enter specific details about the invoice that you are generating. These details can be entered in 3 main sections. They are:
This part of the template allows you to determine if the document will accept payments made using credit cards.
This part of the template provides you with options that you can use to personalize the invoice. You can determine the color of the headings, the font and even add a Simple or Modern theme to the document. In addition to that, you can determine if the invoice will be recurring or not.
Invoice Transaction Details Sections:
Once you have completed adjusting the appearance of your invoice, you can proceed to determine the specific details of the document. You can enter the name of the company or individual that is selling the products or services and also indicate the name of the client involved. This section also allows you to enter details about the goods or services that are involved in the transaction. Furthermore, you can add an invoice number and also enter a due date for the document.
After you have completed customizing the invoice template, you can Save your progress and review it later. You can also Send it directly to the client. FreshBooks will deliver it for you through email.
FreshBooks is a tremendously helpful software product for modern enterprises. You can use it to streamline the processes in your business and also generate professional documents on demand. It is a digital helper for the 21st century entrepreneur.
Free Download or Buy PDFelement right now!
Free Download or Buy PDFelement right now!
Buy PDFelement right now!
Buy PDFelement right now!
Up to 18% OFF: Choose the right plan for you and your team.
18% OFF
PDFelement for Individuals
Edit, print, convert, eSign, and protect PDFs on Windows PC or Mac.
12% OFF
PDFelement for Team
Give you the flexibility to provision, track and manage licensing across groups and teams.
Contact us to learn more about the custom services we can do for you.