Top 5 Open Source Invoice Software
An invoice is one of the most important documents in business. It provides a method through which you can formally request payment. This document contains the details of a transaction. You can use it to indicate products provided or services rendered. To create professional invoices for your business, you can use open source invoice software. This type of digital tool can be programmed and adjusted to fit the needs and requirements of your business.
Free Open Source Invoice Template
Free Download and customize it according to the sample text below
| | | |
| --- | --- | --- |
| Free Download>>> | Free Download>>> | Free Download>>> |
---
Top 5 Open Source Invoice Software Today
This is the best open source invoice software to use today. FreshBooks is very versatile and you can use it to generate invoices on demand. As a matter of fact, you can set FreshBooks such that it creates an invoice automatically once specific conditions have been fulfilled. Another excellent feature of this software is that you can use it to automate business processes. With FreshBooks in your organization, you never have to worry about task scheduling, expense organization or invoice processing. This software can perform all these tasks for you automatically. FreshBooks is built on Cloud infrastructure. Therefore, you can access it from anywhere in the world through a laptop, smartphone or tablet device by simply logging into a specific portal. FreshBooks allows you to use it through a free demo over a 30 day period. Further use requires that you purchase the software at a cost of $15 per user.
2. Invoice Ninja
To generate professional invoices, you can use Invoice Ninja. This open source invoice software can be utilized to generate invoices in real time. This means that the software is available at any time you require upon the delivery of products or provision of services. During this process, you can add elements such as client and project information. Invoice Ninja can also be used to track the time used to perform tasks in your business. By using this digital tool, you can also include a logo in your invoice. Invoice Ninja is quite flexible. This is because invoice ninja open source software accepts various types of payment options. Examples of these are online payment methods such as PayPal and Stripe. Hence, your clients can conveniently pay for the products or services that you provide.
3. InvoicePlane
InvoicePlane is an open source software that is effective and self-hosted in nature. By using its features and tools, you can efficiently manage business documents such as quotations, invoices and receipts. Moreover, it has an embedded Customer Relationship Management (CRM) tools for client management. By using this software, you can enter details about their contacts, enter customized fields and make notes about each client. Through InvoicePlane, you can perform in-depth task and project management. For a truly personalized user experience, you can customize this open source invoice management php platform by choosing themes, setting the specific amounts for transactions and also modifying templates for email or PDF. Best of all, InvoicePlane supports multiple payment methods such as PayPal, Stripe and Cryptocurrency too. You can use this open source online invoice system at no cost through a demo account. Should you be satisfied with its capabilities, you can proceed to download an ideal version for your business absolutely free.
4. Simple Invoices
This is an open source software that you can use for handling the invoices in your business. This digital tool is capable of creating sales reports and also processing the needs of multiple clients. Simple Invoices can handle many types of payment methods. In addition to that, it can also handle recurring payments. Simple Invoices is very easy to use. Therefore, you can install it on your own. Furthermore, it is also possible to get help from the customer service providers so as to utilize the software. The tool is versatile and can generate invoices, bill clients and also track finances. Simple Invoices is free to use and can be used to make unlimited documents.
5. F – Billing
This is a free open source software that is developed for businesses, service providers and freelancers as well. F – Billing has highly capable mechanisms for back up and expense tracking. It can also be used to generate invoices on demand. Its user-friendly interface makes this process straightforward. Hence, you can begin to generate business documents with F – Billing as soon as you get it. Quite interestingly, this software can support multiple users.
---
How to Create an Invoice Easier with FreshBooks
What is FreshBooks
The process of creating an invoice can be made much easier by using FreshBooks. This is a dedicated software which can generate documents and also help to automate business processes as well. This software was designed to improve the efficiency of your enterprise. Therefore, you can use it to create invoices according to an automatic schedule. You can also use this web-based invoice software open source platform to conduct activities such as accounts reporting, task allocation and expense organization automatically. Seeing as it is Cloud based, FreshBooks is easily accessible from anywhere in the world. Here is how to create an invoice using this business digital tool.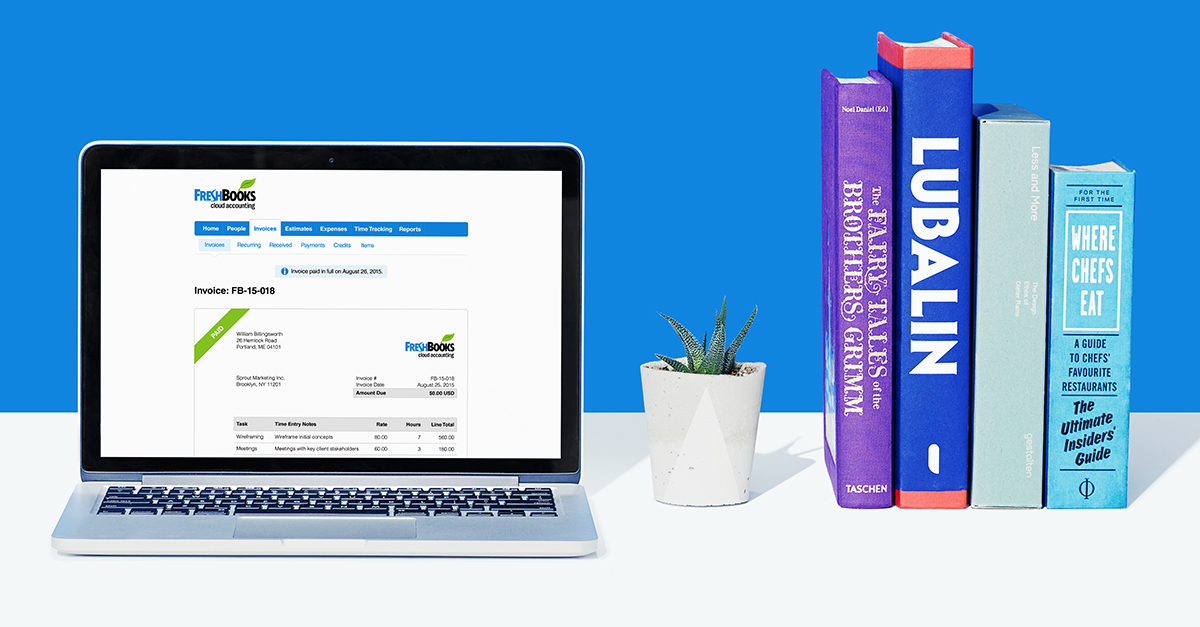 How to Create an Invoice with FreshBooks
Creating an invoice using FreshBooks is a very straightforward process. The software allows you to use two main methods for this purpose. They are:
1. The Dashboard
You can create a brand-new invoice directly from the Dashboard. From this resource, you can simply click on a button labeled "Create New". In the ensuing menu, select the option labeled "Invoice". This will activate a template screen titled "New Invoice". Here, you can enter details about your transaction.
2. The Invoice Panel
Creating an invoice can also be accomplished by directly using the Invoices Panel. From this specific location, you can tap on a button labeled "New Invoice". It is located at the top right-hand corner of this window. Once you click upon it, you gain access to a template where you can enter some details about your invoice.
To boost efficiency, the various entries within the template are organized into a number of sections. They are:
This section provides you with options that you can use to determine if your invoice will accept payments made through credit cards.
This part of the template will provide you with options that you can utilize to determine the overall appearance of the invoice. For example, you can use it to determine the theme of the document, its overall colors and the font as well. You can also set the document to be a recurring invoice.
Invoice Transaction Details Sections:
Essentially the main section of the document, this is the most important part of the template. You can use it to enter specific details about the transaction. Examples of these are the Company Name, Client's Name, Goods or Services, Cost of Transaction and the Due Date just to mention a few.
Once you have made some progress with your invoice, you can simply Save it for later editing. If you complete it and are satisfied with the outcome, you can Send the invoice to the client. FreshBooks will deliver it through email.
The FreshBooks software leverages Information Technology (IT) to improve the conditions and operations of your enterprise. It is powerful, dependable and applies an ocr invoice processing open source mechanism. FreshBooks can be your ultimate digital business assistant!
Free Download or Buy PDFelement right now!
Free Download or Buy PDFelement right now!
Buy PDFelement right now!
Buy PDFelement right now!
Up to 18% OFF: Choose the right plan for you and your team.
18% OFF
PDFelement for Individuals
Edit, print, convert, eSign, and protect PDFs on Windows PC or Mac.
12% OFF
PDFelement for Team
Give you the flexibility to provision, track and manage licensing across groups and teams.
Contact us to learn more about the custom services we can do for you.
Related Articles
All Topics