How to Generate a Printable Invoice
There are some processes in business which are of top importance. They include recording your transactions and also requesting compensation. You can now accomplish them both using a dedicated document known as the printable invoice. It records the details of every business transaction that you conduct. Furthermore, it indicates to the client that you have completed your work and desire compensation.
Free Printable Invoice Template
Free Download and customize it according to the sample text below
| | | |
| --- | --- | --- |
| Free Download>>> | Free Download>>> | Free Download>>> |
---
What to Include in a Free Printable Invoice Template
There are a number of elements that are important within a free printable invoice template. They include:
• The Invoice Number
Every business document requires identification and the invoice number fulfills this objective. It can contain purely digits or include letters and special characters as well.
• The Date of Issuance
This is the date when the invoice was first generated and issued to the client.
• The Vendor
In the transaction, this is the party that provided the goods or services. For comprehensive identification, the vendor's full name, postal address, phone number and email address are shown. The vendor can be a person or a company. If it is a firm, its registration number needs to be indicated.
• Consignee
Also known as the client, this is the recipient of the goods or services which are involved in the transaction. Their complete identification details are indicated in the invoice. This includes their full name, postal address, phone number and email address. If the client is a company, its registration number is required.
• Currency
The specific type of legal tender needs to be indicated in the invoice. This is especially in situations where the vendor and client are from different nations or in cross-border transactions.
• Particulars
The exact details of items or services that are involved in the transaction are indicated. Descriptions and detailed information about the products are provided. If they are services, then the length and resources utilized are indicated. The appropriate units of measurement are added in this section as well if necessary.
• Total Cost
This is the total amount of money that the client should pay the vendor. It is inclusive of taxes.
• The Due Date
This is the date by when the amount in the invoice needs to have been processed.
• Terms of Payment
These are the terms governing the payment or compensation process.
---
How to Create an Invoice Easier with FreshBooks
What is FreshBooks
In the world of business, FreshBooks is the most effective process management tool. This software can generate a variety of documents. Examples of these are invoices, purchase orders and receipts. It can also perform automation. In this facility, FreshBooks is able to automate a variety of business processes such as invoice generation, expense organization, task scheduling and accounts reporting among many more. FreshBooks is built on Cloud infrastructure. As such, the software is accessible through any Internet-connected device. This allows you to gain access to your business data and conduct business processes easily from anywhere in the world. FreshBooks can be used to generate a printable invoice. Here is how this is achieved.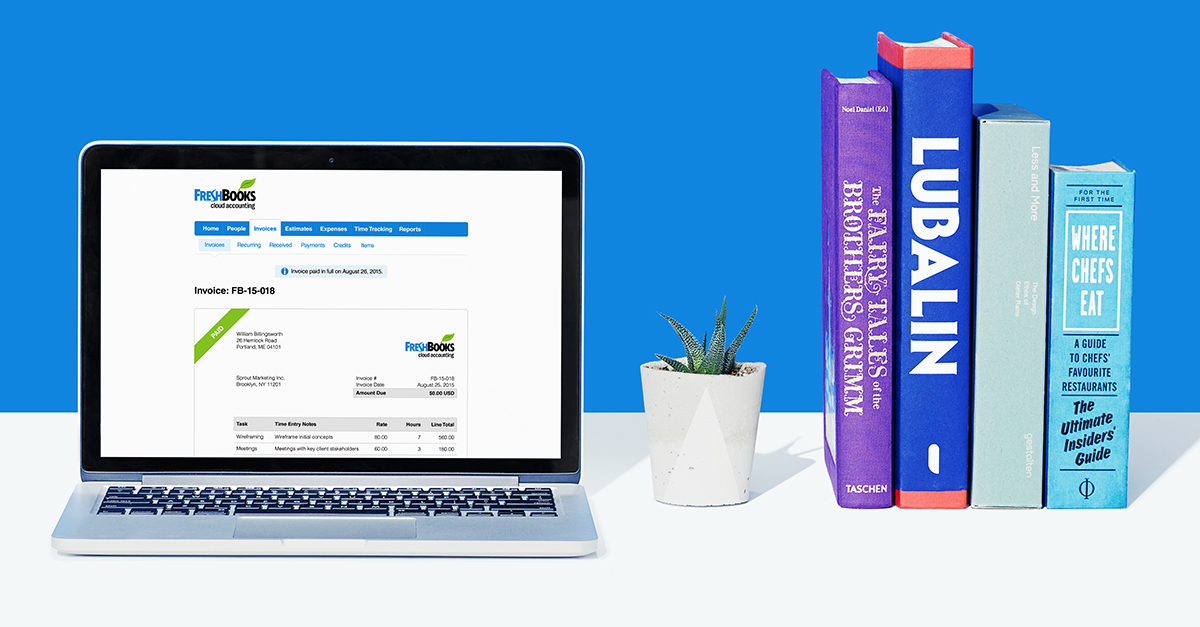 How FreshBooks Helps You to Create a Printable Invoice
This software provides you with 2 main modules for accessing printable invoice templates. They include:
1. The Dashboard
This is the main element within this digital invoice printer. It contains a collection of tools and features which you can utilize so as to generate invoices comfortably. In the Dashboard, you can begin by clicking on the button that is labeled "Create New". After that, click on the option titled "Invoice". This will activate a new window within which you can enter details and create a printable invoice.
2. The "Invoices" Panel
In this part of the software, you can create an invoice by clicking on the button that is labeled "New Invoice". Having done so, it immediately activates a new window that contains an editable template for free printable invoices.
The FreshBooks printable invoice template has a number of important sections. They include:
This part of the template allows you to determine if your invoice will accept payments made using credit cards or not.
This section of the template enables you to determine the overall appearance of your invoice. You can apply a theme, dictate the font and also determine if the invoice is recurring or not.
Invoice Transaction Details Sections:
In this section, you can enter details about your transaction. Examples of these are the Vendor's name, Client's name, Goods or Services Rendered, Overall Cost and the Due Date.
Once you have completed editing your free printable invoice templates, you can send them to your client. Alternatively, you can save them for future adjustment.
FreshBooks provides you with a capable, comprehensive suite of tools that can create an invoice on demand or automatically. Being Cloud-based, you can interact with this software easily from literally anywhere in the world. FreshBooks allows you to perform business management the 21st century way!
Free Download or Buy PDFelement right now!
Free Download or Buy PDFelement right now!
Buy PDFelement right now!
Buy PDFelement right now!
Up to 18% OFF: Choose the right plan for you and your team.
18% OFF
PDFelement for Individuals
Edit, print, convert, eSign, and protect PDFs on Windows PC or Mac.
12% OFF
PDFelement for Team
Give you the flexibility to provision, track and manage licensing across groups and teams.
Contact us to learn more about the custom services we can do for you.