Discover More About the Purchase Invoice Here
There are many official documents that are generated in business today and one of these is the purchase invoice. It is delivered to a buyer by a business and indicates the goods or services that have been purchased. This document is a proof of transaction and indicates that something was purchased and a particular amount was paid for it.
Free Purchase Invoice Template
Free Download and customize it according to the sample text below
| | | |
| --- | --- | --- |
| Free Download>>> | Free Download>>> | Free Download>>> |
---
What is a Purchase Invoice
This is a business document that shows the contents of a specific transaction. It indicates the amount of goods as well as their price. A purchase invoice is delivered to a customer by the business owner. This happens within a particular time frame as previously agreed between the two parties. It acts as a proof of transaction.
Difference between purchase order and invoice:
The main difference between purchase order vs invoice is that a purchase order contains details about a transaction that is yet to be fulfilled while an invoice contains details about an active, fulfilled transaction. Furthermore, the invoice contains overall cost while a purchase order does not.
---
What to Include in a Purchase Invoice
There are some important elements that you should include in a purchase invoice. They are:
• The Title "Purchase Invoice"
This business document needs to be officially labeled as a "Purchase Invoice".
• The Invoice Number
Often made up purely of digits, this is a unique identifier of the invoice.
• The Date of Issuance
This is the date when the purchase invoice was officially issued to the customer.
• The Vendor
This is the business that provided the goods or services. Its name, address and contacts should be included in the document.
• The Consignee
This is the customer who purchased the goods or services. Their name, address and contacts should be included in this document.
• The Full Description of Goods
This is an in-depth description of all the goods that are contained in the business transaction.
• The Quantity and Value
In this section, the amount of every product that was supplied is indicated. It can contain broken down values and associated units of measurement.
• The Currency
This is the specific denomination of the legal medium of exchange being used in the transaction.
• VAT Charge
If the business involved in the transaction is registered for Value Added Tax, the particular amount of levy is indicated. In this case, when a purchase on account is made the invoice becomes VAT valid. Along with this charge is the business' VAT registration number.
• The Total Amount Net of VAT
This is the total amount of goods or services rendered exclusive of the VAT.
• The Grand Total
This is the value of the transaction contents with VAT tax added.
---
Creating Purchase Invoices Easier with FreshBooks
An accounting software that you can use to run your enterprise in a smooth, efficient way is known as FreshBooks. This software can assist you to perform business process automation. As a result, you are able to focus less on the activity of accounting and more on business operation and expansion. This software has an intuitive interface that is easy to use. Hence, you can use its facilities to create a professional purchase invoice. FreshBooks has a collection of handy features. By utilizing them, it becomes possible to perform business activities automatically. Examples of these are: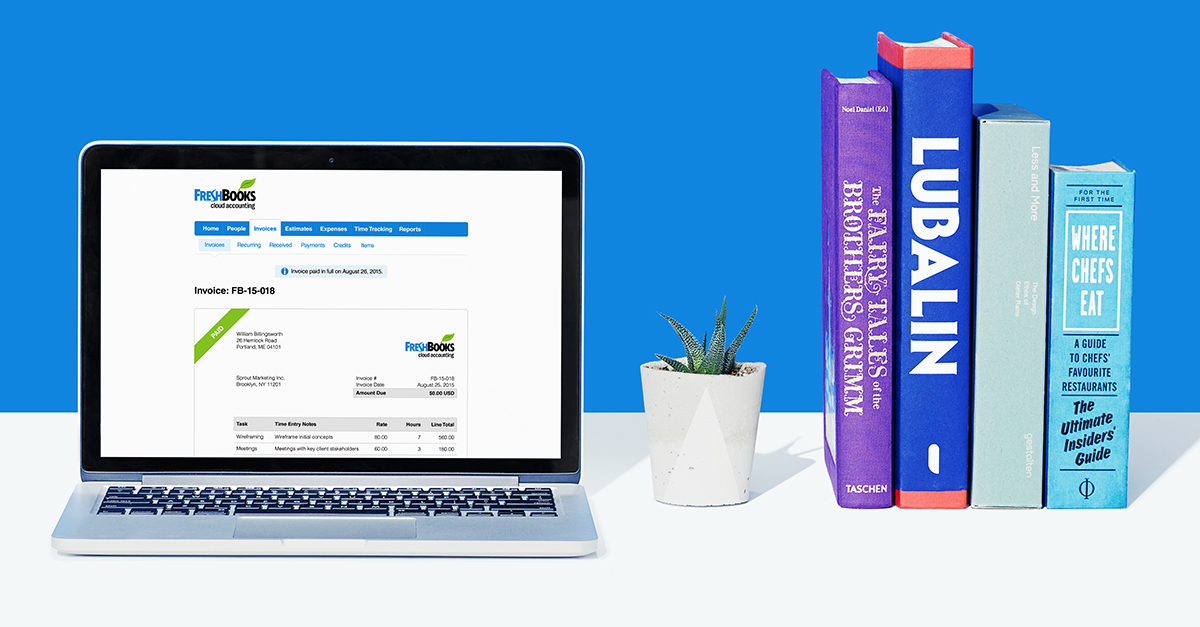 Client interaction
The organization of expenses
The creation of invoices
Reporting payments
Payment scheduling
FreshBooks is based on the Cloud. Therefore, it is quite easy to access on the go from your smartphone, tablet or laptop.
How to Create a Purchase Invoice with FreshBooks
The FreshBooks software makes it very easy for you to create a purchase invoice. Within the software, there are two main modules that you can utilize for this. They are the Dashboard and the New Invoice section.
1. Through the FreshBooks Dashboard
If you decide to create a new invoice directly from the FreshBooks Dashboard, you are presented with two options. You can proceed to click on a button that is labeled "Create New". You can also click a button that is labeled "Invoice" so as to reach a screen labeled "New Invoice".
2. Through the section labeled "New Invoice"
It is also possible to create an invoice by heading to the Invoices section directly. Here, you can click on a button that is labeled "New Invoice" at the top right hand corner of the window. Once you click upon it, the software will take you to a specific screen where you can enter the particular contents of the purchase invoice. Essentially a purchase invoice template, this screen contains 3 main sections. They are:
Here, you can indicate that the purchase invoice can recognize payments made through credit cards.
This section enables you to customize the overall look of your invoice. Through this section, you can specifically choose a particular template. Having done so, you can pick from the Modern or the Simple style. This part of the FreshBooks software also enables you to pick a theme color, banner color and heading highlight. Furthermore, you can pick a font and make the invoice recurring.
Invoice Transaction Details Sections:
Essentially the meat and potatoes of the purchase invoice, this section contains descriptions of the parties involved in the transaction, the goods and other important information. Other examples of details entered in this section include:
Invoice Number
Vendor Company Name, Address and Phone
Consignee Details
Date of Issuance
Due Date
Description
Terms
You can enter the specific details of your transaction in these sections of the purchase invoice template. After you are done, simply proceed to the final step. Here, you can Save or Send your invoice.
Save: With this option, you can store the invoice in its current form for further editing.
Send: This option allows you to see a preview of your invoice and enables you to send it via email to your customer.
By utilizing the FreshBooks software, it becomes very easy for you to create invoices for your enterprise. This software is capable, effective and ideal for modern businesses!
Free Download or Buy PDFelement right now!
Free Download or Buy PDFelement right now!
Buy PDFelement right now!
Buy PDFelement right now!
Up to 18% OFF: Choose the right plan for you and your team.
18% OFF
PDFelement for Individuals
Edit, print, convert, eSign, and protect PDFs on Windows PC or Mac.
12% OFF
PDFelement for Team
Give you the flexibility to provision, track and manage licensing across groups and teams.
Contact us to learn more about the custom services we can do for you.