Are You A Seller on Amazon? The Amazon Invoice Can Bring New Revenue
The amazon invoice is a business document that is implemented in transactions between buyers and sellers in this online marketplace. This invoice is part of a new payment process known as "Pay by Invoice". Users of this payment process benefit from having the opportunity to pay for goods after they have been delivered. Thanks to the Amazon invoice, this method of payment is practical and possible.
Free Amazon Invoice Template
Free Download and customize it according to the sample text below
| | | |
| --- | --- | --- |
| Free Download>>> | Free Download>>> | Free Download>>> |
---
What is an Amazon Invoice
The Amazon invoice is a document which contains details about products that were provided by sellers to buyers on this platform. It is implemented in the "Pay by Invoice" payment plan. It was developed as an incentive for customers that prefer to pay for products after delivery. Examples of such are libraries, big companies and organizations as well. Seeing as they do not let their staff pay for products in advance, the Amazon invoice payment method is convenient for them. They also record these transactions in an invoice book amazon. The marketplace makes use of various systems to prevent the emergence of an invoice amazon scam or an amazon invoice email virus.
---
What to Include in an Amazon Invoice
An Amazon invoice contains a collection of important, specific elements. They are:
• The Title "Amazon Invoice"
Seeing as this is an official business document, the title "Amazon Invoice" is necessary
• Invoice Number
This is a unique identifier of the invoice document. It is usually made up of digits, but letters can also be included.
• The Vendor
This is the company or individual that is selling goods in the transaction. Details such as their name, postal address, contact number and if applicable, registration number are included in the invoice.
• The Importer of Record
In cross-border transactions, the individual or company that is responsible for handling the taxes or duties is indicated in the invoice as the Importer of Record.
• The Consignee
Also referred to as the Client, this is the party that the goods or services are being delivered to. Information such as their name, postal address, phone number and email address are indicated herein.
• The Full Description of Goods
The Amazon invoice also contains details about the products that are involved in the transaction. If physical, gaseous or liquid goods are being sold, then their physical dimensions, components and appropriate units of measurement are included.
• The Currency
The exact type of legal tender that is to be used in the transaction is indicated. This element is important in international transactions and those involving parties from different nationalities.
• The Country of Origin
This is the country in which the goods or services provided were developed in. While filling in this element of the invoice, it is important to note that this is not the country from which the goods are being transported from.
• Taxes
Any duties or taxes applicable in the transaction are indicated here. Examples of these are border, sales and VAT taxes.
• Subtotal
This is the total amount of money that the client should pay net of taxes.
• Grand Total
This is the total amount of money that the client should pay inclusive of taxes.
---
How to Create an Amazon Invoice Easier with FreshBooks
What is FreshBooks
FreshBooks is a dedicated business software that can be used to handle the accounting and operations sectors of a business. It implements Information Technology so as to increase the efficiency of business processes. You can use FreshBooks to generate official reports such as Amazon invoices. You can also use the software to automate business processes such as job scheduling, organizing expenses, reporting accounting and creating client interaction sessions.
The FreshBooks software has an interface which is very easy to use. Its dashboard is intuitive and therefore, it has a short learning curve. The software is built upon Cloud technology. Therefore, it is possible for you to access its features and your business information from anywhere in the world.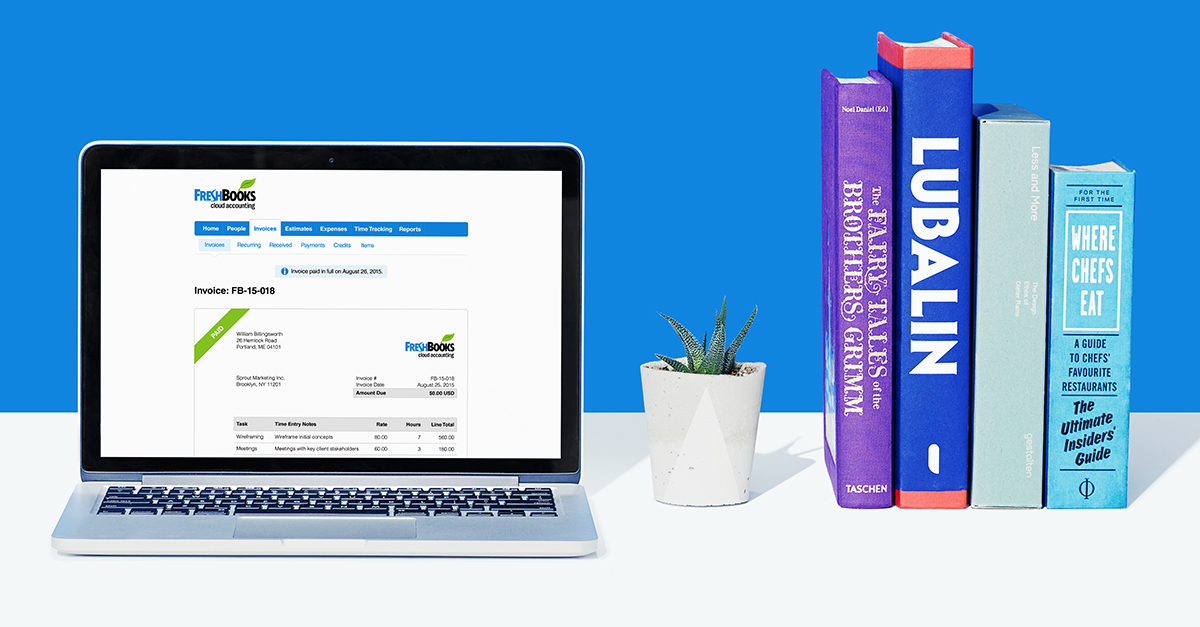 How to Create an Amazon Invoice with FreshBooks
FreshBooks makes it very easy for you to create an Amazon invoice. The software presents you with two main paths that you can utilize towards this effect. They are the Dashboard and the Invoices Panel.
1. Using the FreshBooks Dashboard
From the FreshBooks Dashboard, you can simply click on the button that is labeled "Create New". After doing so, proceed to select the "Invoice" option. This will immediately activate an amazon invoice sample labeled "New Invoice" and you can proceed with customization.
2. From the "Invoices" Panel
Creating an invoice using FreshBooks can also be achieved using the Invoices Panel. From this section, simply tap on the option that is labeled "New Invoice". Having done so, it will immediately activate an amazon invoice template that you can proceed to customize according to the requirements of your transaction.
The FreshBooks invoice template is divided into 3 main sections. They are:
This section of the invoice allows you to specify if the document will accept credit card payments from clients.
This section contains options that enable you to enhance the aesthetic appearance of the document. You can determine elements such as the color of the headers, the font and even whether the document will be recurring or not.
Invoice Transaction Details Sections:
This can be considered the most important part of the invoice template. This is because it enables you to enter the specific details of your transaction. Examples of these are the Vendor's name, Client's Name, Transaction Contents and Total Amount.
After customizing the sections above according to the requirements of your transaction, you can proceed to Save the document. This allows you to return to it and make edits later on. You can also Send it directly to the client if you are satisfied with it. FreshBooks will deliver it through email.
When it comes to implementing Information Technology (IT) in businesses, FreshBooks takes the cake. This software helps to enhance operations and make your business run more efficiently. It is your ultimate digital managing partner!
Free Download or Buy PDFelement right now!
Free Download or Buy PDFelement right now!
Buy PDFelement right now!
Buy PDFelement right now!
Up to 18% OFF: Choose the right plan for you and your team.
18% OFF
PDFelement for Individuals
Edit, print, convert, eSign, and protect PDFs on Windows PC or Mac.
12% OFF
PDFelement for Team
Give you the flexibility to provision, track and manage licensing across groups and teams.
Contact us to learn more about the custom services we can do for you.