An invoicing program makes this business process easier to perform. Enterprises can use invoicing programs to generate these invoices on demand or according to a specific schedule. This type of program serves a crucial purpose by enhancing speed, efficiency and effectiveness in a business. Seeing as it can be accessed remotely, the invoice program makes mobile enterprise possible.
Free Invoice Template
Free Download and customize it according to the sample text below
---
Best 5 Invoice Programs
Developed to enhance modern business, the FreshBooks software is currently the best invoicing program in the industry. FreshBooks can generate professional invoices for your business. By implementing Artificial Intelligence (AI), this software executes automation in your enterprise as well. FreshBooks provides a user-friendly dashboard where you can manipulate various features and functions to run your business in a better way. Furthermore, the software is Cloud based. Hence, you can access business information from literally anywhere in the world. FreshBooks can be utilized as an invoice program free through a 30-day demo. After it elapses, you can proceed to use the software by purchasing it at $15 per user.
Try Freshbooks for Free >>>
This software makes the process of creating and issuing business invoices more efficient and easier to do. Xero presents you with an opportunity to design invoices from scratch. You can also use the templates in the software to create these documents for your enterprise. Xero is Cloud based. Therefore, you do not have to worry about installing it in your business machines. Furthermore, this quality makes it possible to access your dashboard and data from any location worldwide. This software performs account balancing and report generation automatically. You can try out Xero as a free invoice program through a free trial. For extended usage, you have to invest in a subscription. The Starter pack costs $9.00, the Standard pack costs $30.00 and the Premium pack costs $70.00. All prices are per month.
Businesses of various sizes can benefit from using Zoho for creating their invoices. This software provides a robust solution for monitoring finances and handling business processes. The digital tool is scalable hence can fit in freelance enterprises, small and medium sized businesses as well as large corporations. While using Zoho, you can create your own invoice or utilize some of the templates that they offer. Transaction tracking and online payment processing are other activities that this software can perform. Zoho can handle multiple languages and currencies. Hence, it makes it easy to process international transactions. This software is available at no cost through a trial. You can also invest in its Basic subscription at $9.00 per month or the Standard subscription at $ 19.00 per month. Maximum capability is provided through the Professional subscription that costs $29.00 per month. All prices are for one organization.
This is an invoicing software that thrives at the enterprise level. Quickbooks provides you with both manual and automated invoice generation. The software also facilitates client interaction and relationship management. Quickbooks can report accounts and handle bank account activities. It also generates reports according to schedule depending on the needs of your team. An interesting facility of the software is profit-loss calculation. Quickbooks is available through a one-time license which supports multiple users. You can also use it according to an annual subscription.
Capable of multiple functions, Brightpearl is one of the most popular and effective invoicing softwares available today. It can be implemented in a retail type of business. In this setting, the software can handle elements such as client data, purchase orders, accounts reporting and invoice generation as well. By using Brightpearl, you can automate business processes in your enterprise. Furthermore, the software can perform automatic transaction tracking. Brightpearl can be accessed according to High Growth, Enterprise and Brand Leader subscriptions.
---
How to Create Invoices Easier with FreshBooks
What is FreshBooks
The process of creating an invoice can be made much easier by using FreshBooks. This is a dedicated software which can generate documents and also help to automate business processes as well. This software was designed to improve the efficiency of your enterprise. Therefore, you can use it to create invoices according to an automatic schedule. You can also use this web-based invoice software open source platform to conduct activities such as accounts reporting, task allocation and expense organization automatically. Seeing as it is Cloud based, FreshBooks is easily accessible from anywhere in the world. Here is how to create an invoice using this business digital tool.
Try Freshbooks for Free >>>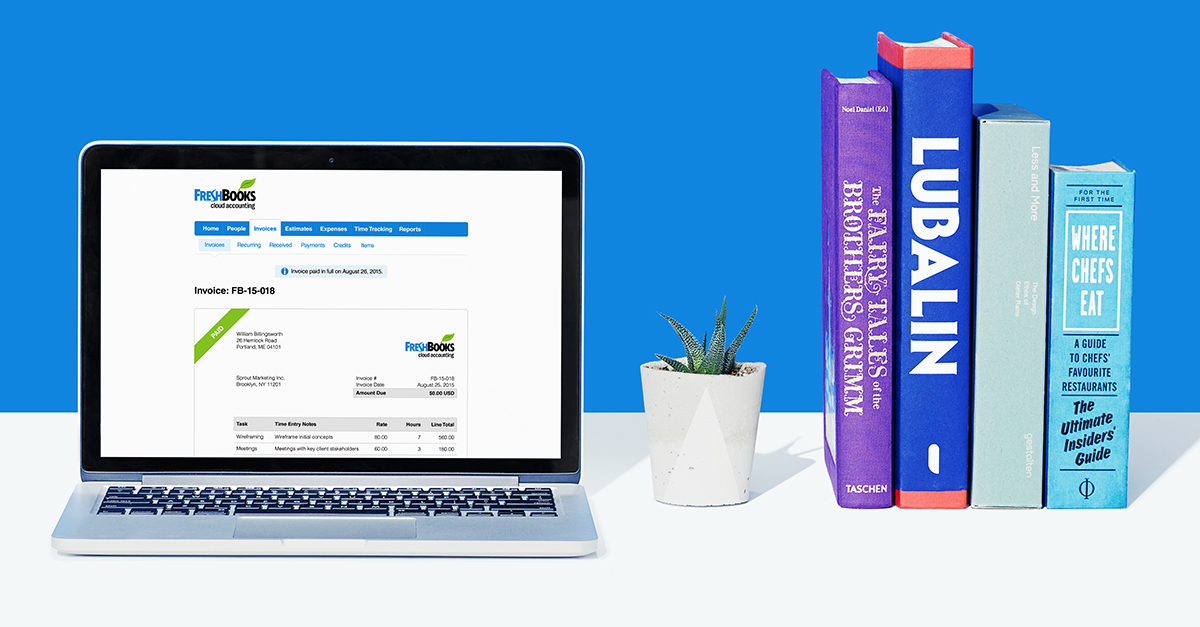 How to Create Invoices with FreshBooks
FreshBooks provides you with two main modules that you can use to generate a business invoice. They are:
1. Using the Dashboard
In this facility, you can simply navigate to the button labeled "Create New". In the resulting menu, you can click on the option labeled "Invoice". This will bring up a new invoice template that you can customize for the purpose of your transaction.
2. Using the "Invoices" Panel
This is another module through which you can create an invoice. While in the Invoices Panel, proceed to tap on the option labeled "New Invoice". This will immediately bring up a new window containing a customizable template.
Within the template, there are 3 sections that enable you to enter details about the current transaction. One of these is Accept Credit Cards. In this section, you can determine if your invoice will recognize and process credit card payments. Another section is Customize Invoice Style. In this one, you can determine the appearance of your invoice. Examples of customizable elements include the font, theme and whether the document will be recurring in nature. Lastly, there is a section titled Transaction Details. Here, you can enter details about your current transaction such as the Company Name, Client Name, Particulars, Total Cost and Due Date.
Once you are done editing the template, you can Save the invoice. You can also Send it directly to the client.
FreshBooks is a powerful, modern and effective free online invoice program. You can use it to generate invoices on demand or automatically. It is a lasting investment for modern enterprises.
Free Download or Buy PDFelement right now!
Free Download or Buy PDFelement right now!
Buy PDFelement right now!
Buy PDFelement right now!
Up to 18% OFF: Choose the right plan for you and your team.
18% OFF
PDFelement for Individuals
Edit, print, convert, eSign, and protect PDFs on Windows PC or Mac.
12% OFF
PDFelement for Team
Give you the flexibility to provision, track and manage licensing across groups and teams.
Contact us to learn more about the custom services we can do for you.
Related Articles
All Topics