Here is a Guaranteed Way to Get a High Quality Construction Invoice Every Time
A construction invoice is an important business document which is used to record the activities involved in building construction or structural development. This invoice contains details such as the materials used, labor cost, hours consumed and project activities. As a result, this document is important to the contractor as a proof of work done. It also acts as a reference point for the client when processing payments. After compensation is performed, this document acts as a receipt.
Free Construction Invoice Template
Free Download and customize it according to the sample text below
---
What is a Construction Invoice
This is a tabulated record of all activities, materials, processes, expenses and resources involved in a construction project. This document is prepared by the contractor. It's purpose is to act as evidence of events and also a payment request document. A construction invoice can be generated according to general invoice preparation format. It can also be prepared using a customized format. The choice of format depends on the nature of the project. Modern software can include substantial information in a construction invoice such that the document becomes more than just a record of expenses.
---
What to Include in a Construction Invoice
There are many important sections that are contained within a construction invoice. They are:
• Invoice Number
This is a unique identifier of the invoice document. It is normally made up of digits but can include letters as well.
• Date of Issuance
This is the date when the construction invoice was generated and issued to the client.
• The Vendor
This is the company or the person who sold the goods or services. Their name, address and phone number are indicated in the invoice. If a company rendered the goods or services, their registration number is included as well.
• The Consignee
This is the recipient of the products or services. Their name, address and contact details are indicated.
• The Full Description of Goods or Services
The products or services which are involved in the construction project are included in the invoice. The materials, labor, equipment and extra expenses are indicated. For easier comprehension by the client, the broken down values of these elements are explained. Furthermore, any associated units of measurement are included as well.
• The Currency
The type of legal tender which is used in the transaction is indicated in the construction invoice. This factor is highly required in international transactions or projects or where the parties involved are from different countries.
• Terms
Any terms that are involved in the construction project transactions are indicated.
• Due Date
This is the date by when the construction invoice needs to have been paid.
• Taxes
The construction project may include goods or services that attract some taxes. Examples of these are Sales taxes and VAT taxes. Expenses of this type are indicated in the construction invoice as well.
• Grand Total
This is the total cost of the construction project. This amount is inclusive of all taxes.
---
How to Create a Construction Invoice Easier with FreshBooks
What is FreshBooks
This is a specialized business software which is developed for accounting purposes. FreshBooks can assist you to run your business in a way that is easier. The software also secures your business information and can also help you to perform business process automation. As a result, you have more time and capacity to engage in other business activities such as promotion and expansion.
Try Freshbooks for Free >>>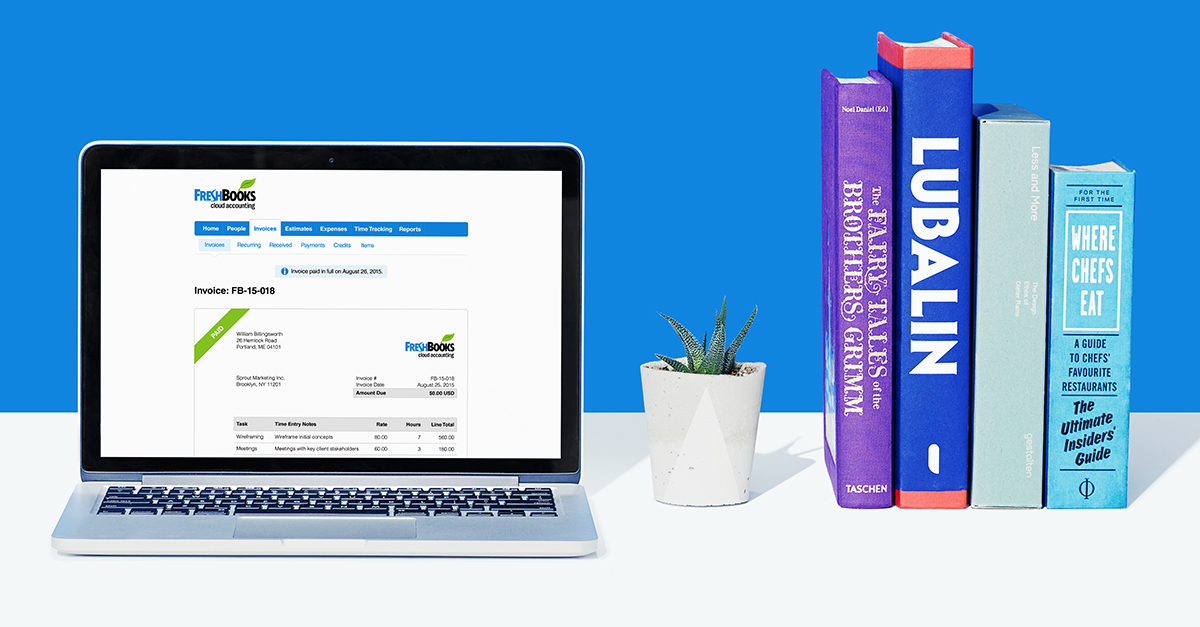 FreshBooks has a user-friendly interface. Thanks to its design, the software's control panel is intuitive and provides you with features and tools. They can help you to automate enterprise tasks. Examples of these are reporting accounts, creating invoices and organizing the various obligations around your business. An interesting element of this invoicing software for construction is that it has a Customer Relationship Module (CRM). By using this resource, you can interact with your clients easier. To guarantee easy access to business data, this software is built on Cloud infrastructure. As such, you can log into the dashboard through your smartphone, tablet or laptop from anywhere at any time.
How to Create a Construction Invoice with FreshBooks
FreshBooks can help you to create a free construction invoice quite easily. It provides you with a pair of modules towards this effect. They include:
1. The Dashboard:
You can create a new construction invoice directly from the Dashboard. Also known as the control panel, it provides you with two options for invoice creation. You can simply click upon a button labeled "Create New". This will activate a drop-down menu. From this menu, tap on the "Invoice" option. This will bring up a "New Invoice" screen in which you can enter data to customize a construction invoice.
2. From the "Invoices" Panel:
This software also allows you to create an invoice directly through the Invoices panel. Here, you can tap on a button labeled "New Invoice". Doing so will activate a construction invoice sample that you can customize to fit the needs of your transaction. This data can be entered in a number of sections within the construction invoice template. They are all divided into 3 main categories which include:
Accept Credit Cards:

This category provides you with options that you can customize so as to adapt your invoice such that it accepts payments made through credit cards.

Customize Invoice Style:

Through this category of options, you can determine the overall appearance of your construction invoice. You can determine elements such as the color of the headers and even the font that you need to use in the invoice. In addition to that, you can tailor the construction invoice to be recurring in nature.

Invoice Transaction Details Sections:

This category of options allows you to enter specific details about your transaction. Examples of these are the name of your company, the client, description of the transaction as well as the amount involved. In this category, you can enter a brand new client or select one that is already in your FreshBooks contact list.
After filling in the options in the categories indicated above, you can proceed to Save or Send the invoice. Saving the document provides you with the ability to make edits later. On the other hand, Sending it delivers the construction invoice directly to your client through email.
FreshBooks makes it very easy to create invoices for your business transactions by providing construction invoice templates. This software is versatile, capable and easily accessible. You can utilize it to increase the efficiency of your business and improve overall performance!
Free Download or Buy PDFelement right now!
Free Download or Buy PDFelement right now!
Buy PDFelement right now!
Buy PDFelement right now!
Up to 18% OFF: Choose the right plan for you and your team.
18% OFF
PDFelement for Individuals
Edit, print, convert, eSign, and protect PDFs on Windows PC or Mac.
12% OFF
PDFelement for Team
Give you the flexibility to provision, track and manage licensing across groups and teams.
Contact us to learn more about the custom services we can do for you.