Discover How the Service Invoice Increases Your Efficiency Today
Whenever trained individuals or companies deliver goods or provide services, they can issue a service invoice so as to request payment. The service invoice is used as an indicator that the required services have been completed or the required products have been delivered. This invoice is issued by the seller to the customer with details about the transaction listed within. Not only is it informative in nature, it is a request for payment.
Free Service Invoice Template
Free Download and customize it according to the sample text below
| | | |
| --- | --- | --- |
| Free Download>>> | Free Download>>> | Free Download>>> |
---
What is a Service Invoice
This is a business document that indicates details about a particular business transaction provided by a trained individual or a company. The service invoice contains information about the products, services, vendor, customer and cost of a particular service or collection of goods. It is an official request for payment and also signifies the completion of a task.
---
What to Include in a Service Invoice
• The Invoice Number
This is a unique identifier of the invoice document. It is normally made up of numbers but can also include some letters.
• The Date of Issuance
This is the specific date when the invoice was issued.
• The Vendor
This is the specific provider of the services at hand. Their name, address and phone number are indicated. If it is a company, the registration number is also included.
• The Consignee
This is the individual recipient of the products or services rendered. Their name, address, phone number are included.
• The Full Description of Goods or Services
A complete, comprehensive description of the products provided, or the services rendered is indicated here. It includes the quantity, nature, dimensions and quality of products provided. Furthermore, it can include the hourly length of services rendered and any materials utilized. The associated units of measurement are also indicated in the invoice service.
• The Currency
The specific type of legal tender involved in the transaction is indicated in the invoice. This is especially important in international transactions or business involving people from different nationalities.
• Tax Charges
Any taxes associated with the products or services rendered are indicated. Some common types of taxes are Sales Tax and Value Added Tax (VAT).
• Total Cost Net of Taxes
This is the total amount of money involved in the transaction minus taxes.
• Grand Total
This is the total amount of cash that the client should pay. It is inclusive of taxes.
• Due Date
This is the date by which the invoice should be honored.
---
How to Create a Service Invoice Easier with FreshBooks
What is FreshBooks
FreshBooks is an accounting software that business owners can use so as to run their enterprises in an easier, more secure and rewarding way. This digital tool can automate various business processes. Furthermore, it has an interface that is easy to use. Hence, FreshBooks has a short learning curve. The software presents you with a control panel that is full of tools and features. You can utilize them so as to create effective service invoices. In addition to that, you can automate business processes such as task scheduling, accounts reporting, organization of expenses and invoice generation. FreshBooks is hosted on Cloud technology. This boosts ease of access and ensures dynamic business operation.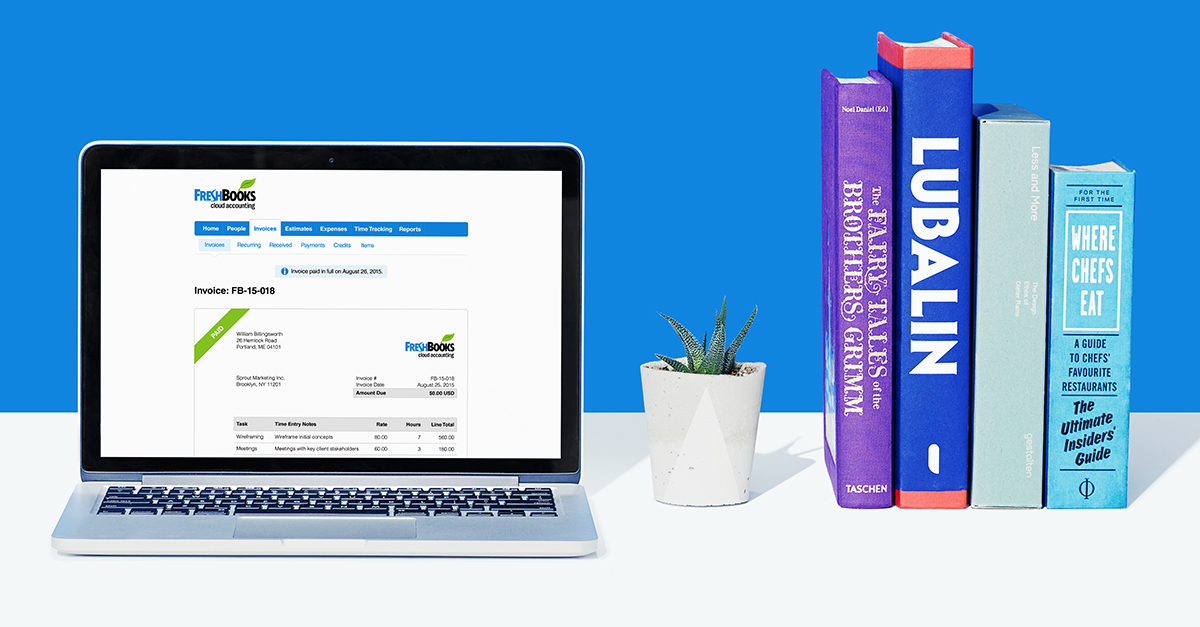 How to Create a Service Invoice with FreshBooks
You can create a services rendered invoice quite easily using the FreshBooks software. This can be done through the Dashboard and also the Invoices panel.
1. Using the Dashboard:
Should you choose to create a new invoice through the Dashboard, simply proceed to click on a button labeled "Create New". Having done so, select the "Invoice" option so as to arrive at a screen titled "New Invoice".
2. Using the Invoices Panel Section:
It is also quite possible to generate an invoice directly from the Invoices panel. From this location, you can proceed to tap on a button labeled "New Invoice". Doing so will activate a service invoice template screen which provides you with fields where you can enter details about your transaction. These fields are divided into the following sections:
This is a section where you can adapt your invoice to accept payments made through credit cards.
In this section, you can determine the overall appearance of your service invoice. You can choose the heading colors, title style and font. You can also determine if the invoice is recurrent or not.
Invoice Transaction Details Sections:
This section provides you with fields where you can enter details about your transaction. Examples of such are the Vendor, the Client, Products Provided or Services rendered as well as the overall cost.
After customizing the sample invoice for services to your satisfaction, you can choose to Save it or Send the document directly to your client.
FreshBooks provides a method through which business owners can easily create invoices and send them to their clients. The software is based on Cloud infrastructure hence is easily accessible from anywhere in the world. Investing in FreshBooks provides long-term returns for your enterprise!
Free Download or Buy PDFelement right now!
Free Download or Buy PDFelement right now!
Buy PDFelement right now!
Buy PDFelement right now!
Up to 18% OFF: Choose the right plan for you and your team.
18% OFF
PDFelement for Individuals
Edit, print, convert, eSign, and protect PDFs on Windows PC or Mac.
12% OFF
PDFelement for Team
Give you the flexibility to provision, track and manage licensing across groups and teams.
Contact us to learn more about the custom services we can do for you.