How to Generate a Freelance Invoice
Freelancers implement freedom in all aspects of their work. They handle tasks on a project by project basis. Hence, they require business solutions that fit their method of operation. The freelance invoice can be generated on the go. This is achieved with the assistance of a software tool. This solution fulfills their requirements of accuracy and speed at the same time.
Free Freelance Invoice Template
Free Download and customize it according to the sample text below
| | | |
| --- | --- | --- |
| Free Download>>> | Free Download>>> | Free Download>>> |
---
What is a Freelance Invoice
Freelancers provide goods and services in one project at a time. This means that they handle one task, get paid and then move on to the next one. A skilled freelancer can have many tasks on their schedule. Therefore, they need a way to get paid quickly so as to get the resources that are necessary to handle their workload in full. The freelance invoice provides this solution. It provides them with a way to request payment and get it in a short period of time. This gives the freelancer some freedom to move forward into the next task.
What to Include in a Freelance Invoice
There are various resources on the Internet that guide you on how to write an invoice for freelance work. They indicate that the following elements should always be included:
• The Invoice Number
A freelancer invoice needs to be uniquely identified using a number. This element is usually made up of digits. However, it can also include letters and special characters.
• The Date of Issuance
This is the official date when the invoice was generated and provided to the client.
• The Vendor
This is the provider of the products or services which are involved in the transaction. Their official name, postal address, phone number and email address are indicated in the invoice. If the vendor is a firm, then its registration number is also added in the invoice.
• The Consignee
Also known as the Client, this is the recipient of the invoice. Their full names, postal address, contacts and email address are indicated. If the client is a company, then its registration number is included as well.
• Particulars
These are the specific details of the transaction. They cover the products that were provided or services that were rendered. Attention to detail is applied when indicating the particulars. Examples of this include providing descriptions of the products and length of services rendered. Any applicable units of measurement are specified too.
• Currency
The specific type of legal tender that is to be used in the transaction is indicated in the invoice. This element is supremely important in situations where the parties involved are from different countries or in international transactions.
• Total Cost
The total cost of the transaction is indicated in the invoice. This amount is to be paid by the Client and is inclusive of all applicable taxes.
• The Due Date
This is the date by when the invoice should have been paid.
• Terms of Payment
The specific conditions of payment are added in the freelance writer invoice template. They guide the client on how to deliver compensation.
---
How to Create Freelance Invoices Easier with FreshBooks
What is FreshBooks
FreshBooks software is a business tool that specializes in creating and delivering business documents. It chiefly focuses on invoices but can generate other documents such as purchase orders and receipts. FreshBooks is Cloud based. Therefore, you can log into your account and view business data from any location in the world. The software also provides automation services. Here, you can use FreshBooks to automate the process of issuing invoices. You can also automate business processes. Here is more about how to do an invoice for freelance work using FreshBooks.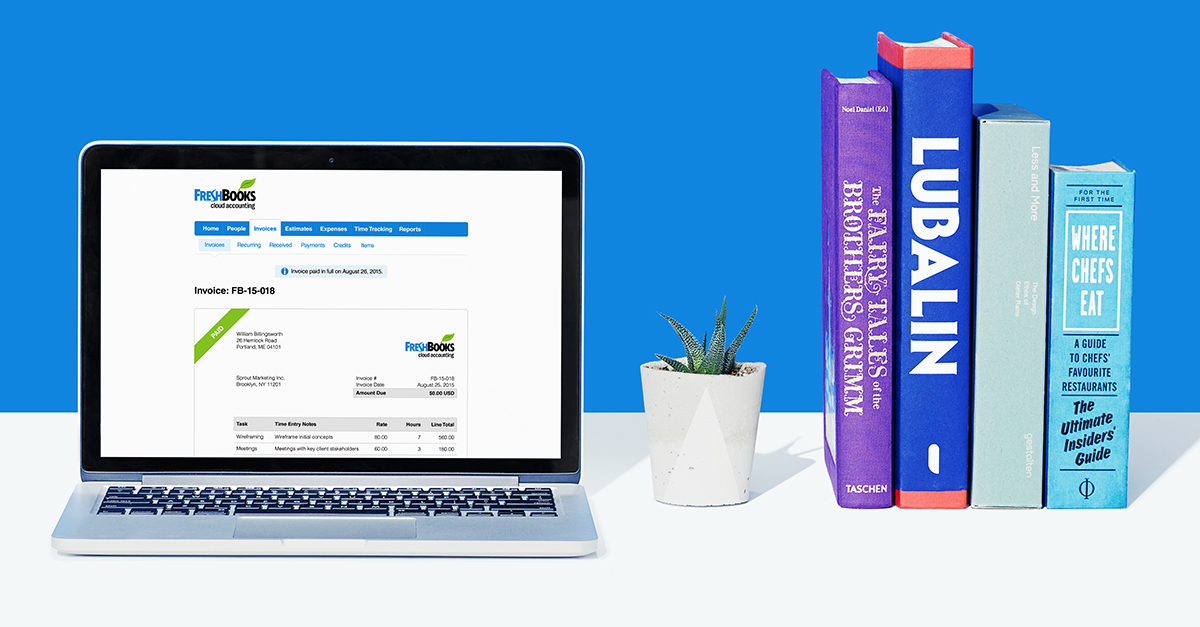 How to Create Freelance Invoices with FreshBooks
This software presents you with a pair of methods that you can utilize for the purpose of creating a freelance invoice.
1. Using the Dashboard
In this resource, you can simply tap on the button that is labeled "Create New". After that, pick the "Invoice" option. This will bring up a new window containing a freelance invoice template that you can adjust and edit to fit your invoice requirements.
2. Using the "Invoices" Panel
This is another location which you can utilize to create a freelance invoice. In the Invoices Panel, simply navigate to the option labeled "New Invoice" and proceed to click on it. This will bring up a new window that provides you with a customizable freelance design invoice template. The FreshBooks invoice template contains a number of important sections. They include:
This part of the invoice template allows you to adjust the document such that it can recognize and accept payments made by plastic money.
This section of the template enables you to determine the aesthetic appearance of the invoice. As such, you can determine characteristics such as the font, theme and overall structure of the invoice. It also enables you to determine if your invoice will be a recurring document or not.
Invoice Transaction Details Sections:
This part of the invoice template allows you to enter details about your transaction. Here, you can enter information such as the Vendor, Client, Particulars and the Total Cost of the transaction.
After filling in these sections, you can Save your changes. This allows you to resume later and continue creating your invoice. You can also Send the document directly to the client. The FreshBooks software will deliver it through email.
FreshBooks is a powerful tool that is designed for modern enterprises. You can use it to boost productivity and efficiency in your enterprise. Investing in this software provides an excellent return on investment!
Free Download or Buy PDFelement right now!
Free Download or Buy PDFelement right now!
Buy PDFelement right now!
Buy PDFelement right now!
Up to 18% OFF: Choose the right plan for you and your team.
18% OFF
PDFelement for Individuals
Edit, print, convert, eSign, and protect PDFs on Windows PC or Mac.
12% OFF
PDFelement for Team
Give you the flexibility to provision, track and manage licensing across groups and teams.
Contact us to learn more about the custom services we can do for you.
Related Articles
All Topics