How to Generate a Photography Invoice
The business of photography is dynamic and requires you to stay aware of the latest trends and technologies in the market. One of these is invoice generation software. It allows you to develop documents that are professional in nature. Furthermore, it can generate a photography invoice on demand resulting in better operational efficiency. This software can be accessed through the Internet for better business management and data storage.
Free Photography Invoice Template
Free Download and customize it according to the sample text below
---
What to Include in Photography Invoice
There are various elements that need to be included in a photography invoice. They include:
• The Invoice Number
This is a special identifier for the invoice. It is usually made up of numbers but can also contain special characters and letters.
• The Date of Issuance
The date when the invoice was generated is indicated in this section of the document.
• The Vendor
This is the provider of the goods or services that are involved in the transaction. Their full name, postal address, phone number and email address are included. If the vendor is a company, then their registration number is provided.
• The Client
Referred to as a consignee in some cases, this is the official recipient of the products or services that are provided in the transaction. Their full names, email and postal addresses as well as phone number are indicated in the free photography invoice.
• Particulars of the Invoice
These are the details of the transaction. They include the goods or services which the vendor provided. Factors such as detailed physical descriptions, components and ingredients are indicated. Furthermore, the length of service and all applicable units of measurement are also provided.
• Taxes
These are the duties or levies that could be applicable in the transaction. Examples of these are the Sales and VAT taxes.
• The Currency
The specific type of legal tender that should be utilized in the transaction is indicated. Identifying the currency is an essential part of international transactions or those involving people from different nationalities.
• Total Cost
This is the total amount of money that is involved in the transaction. It is inclusive of taxes.
• The Due Date
The date by when the payment should be made is indicated in the invoice.
• Terms of Payment
Any specific guidelines that govern the payment of the invoice are indicated.
---
Advantages and Disadvantages of Photographer Invoice
Advantages
• Easy to use
The photography invoice is quite easy to generate. This is because there are dedicated software tools that can be used to create this document. The software can create photography invoices on demand. It can also generate them automatically and save time and energy.
• Accurate
This type of invoice is generated directly from a specialized template. Hence, it presents information about the photography transaction accurately. This leads to transparent relations between the photographer and their client.
• It can be accessed online
By using specialized software, a photographer can create an invoice for their enterprise. This document is accessible through an online portal because the software is Cloud-based. This increases operational efficiency and boosts profitability.
Disadvantages
• Fixed outline
The photography invoice is created directly from a template. Thus, the headings, guidelines and sections are pre-arranged for you in a fixed manner. This means that they cannot be edited. As such, you can't change the order of elements in the document or even add your own creative touch.
• Records one transaction at a time
This type of invoice is designed such that you can only record one transaction at a time. It does not offer nested transaction recording capability. This can be tedious if you have multiple clients at a time.
---
How to Create an Invoice Easier with FreshBooks
What is FreshBooks
The FreshBooks software makes it very easy to create a photography invoice. That is because it can generate one on demand. After submitting transaction information to this digital tool, it can quickly process it and produce an invoice. FreshBooks is Cloud-based. As a result, you can access its data and facilities through a dedicated portal at anytime from anywhere. A powerful feature of FreshBooks is that it can automate business processes. Activities such as expense organization, payroll generation and task scheduling can be done automatically for you according to a pre-determined schedule. This saves you time and energy. Hence, you can concentrate on other activities for your business for example expansion and marketing. Here is how to generate an invoice using FreshBooks.
Try Freshbooks for Free >>>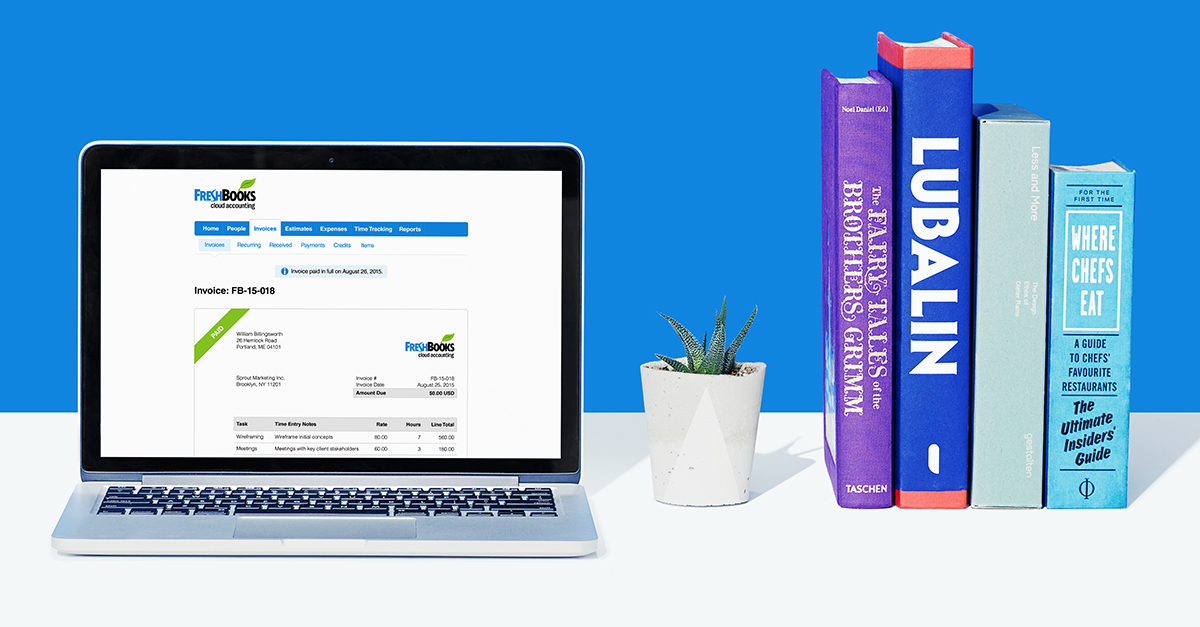 How to Create Photography Invoices with FreshBooks
It is quite easy and straightforward to create an invoice using FreshBooks. The software provides you with 2 main modules for this purpose.
1. The Dashboard
You can create an invoice using the software's Dashboard. Here, you can proceed to click on a button labeled "Create New". Having done so, tap on the option titled "Invoice". This will immediately launch a new window that has a customizable template titled "New Invoice".
2. The "Invoices" Panel
This is another resource in which you can create an invoice. Here, simply tap on a button labeled "New Invoice". It will generate a template window for you to manipulate the photography invoice example according to the requirements of your transaction.
Within the FreshBooks invoice template, you can edit a number of sections to create your document. They are:
Accept Credit Cards:

This section makes it possible for you to set the invoice to accept credit card payments.

Customize Invoice Style:

This part allows you to tailor the invoice and determine elements such as the font, theme, style and whether it is a recurring document or not.

Invoice Transaction Details Sections:

This element of the invoice enables you to enter details about the transaction at hand. Examples of these details are the Client, Vendor, Goods or Services, Total Cost and Due Date.
Within FreshBooks, you can generate a photography invoice template and Save it for future editing. You can also Send a document directly to the client from the software's interface. This adds to the efficiency of using this digital tool.
FreshBooks is a powerful business software which enables you to generate professional, accurate invoices. It is ideal for modern enterprises looking to grow exponentially. By using FreshBooks, you can stay ahead of your competition!
Free Download or Buy PDFelement right now!
Free Download or Buy PDFelement right now!
Buy PDFelement right now!
Buy PDFelement right now!
Up to 18% OFF: Choose the right plan for you and your team.
18% OFF
PDFelement for Individuals
Edit, print, convert, eSign, and protect PDFs on Windows PC or Mac.
12% OFF
PDFelement for Team
Give you the flexibility to provision, track and manage licensing across groups and teams.
Contact us to learn more about the custom services we can do for you.