How to Create Invoices Template in Open Office Format
It is important for an invoice to have the correct format and content. You can ensure this by using a free open office invoice template. This digital guide can guarantee that your document is up to standards and gets you paid. Seeing as professionalism is advised in modern enterprise, you can use an open office template to guarantee a reliable image for your business.
Free Open Office Invoice Template
Free Download and customize it according to the sample text below
---
What to Include in an Open Office Invoice Template
• The Invoice Number
This is a unique identifier for the document. Normally made up of numbers, this identifier can also include some letters and special characters.
• The Date of Issuance
This is the date when the invoice was generated and issued to the client.
• The Vendor
This is the particular provider of the goods or services that are involved in the transaction. Their official name, postal address, contacts, email address and if possible, their registration number are indicated.
• Client
Also known as the Consignee, this is the recipient of the goods or services that were provided. Their full name, postal address, email address and phone contacts are indicated in the invoice.
• Description Goods or Services Rendered
The products or services that are involved in the transaction are described in the document. Elements such as the physical appearance, weight, dimensions and components are shown. Furthermore, if it is a service, the length and resources utilized are described as well. Any applicable units of measurement are indicated.
• The Currency
The type of legal tender that should be used in the transaction is indicated in the invoice. This is quite important in transactions that involve people from different nationalities. It is also essential in international transactions.
• Total Cost
The cumulative cost that the client should pay is indicated in the document. It is inclusive of taxes.
• The Due Date
This is the date by when the client should have made payment. It is shown in the invoice to guide compensation.
---
Advantages and Disadvantages of Invoice Template Open Office
Advantages
• Correct format
open office templates invoice can assist you to get the correct format for your document. It has sections where you can enter the required details. Hence, you end up with a professional document.
• Shareable files
Documents that are created using the open office template are fully shareable. This means that they can be distributed at will.
• Automatic calculations
By making use of macros and other built-in facilities of the open office program, you can perform automatic calculation of the totals of the invoice documents. This saves time and ensures the accuracy of the data within the document.
Disadvantages
• Fixed style
When you use an open office template to create your invoice, it is not possible to change its overall appearance. That's because its format is set.
---
How to Create Invoice Easier with FreshBooks
What is FreshBooks
The most effective software that you can use to create business documents today is FreshBooks. This digital tool was developed for businesses. Therefore, it can generate invoices on demand. You can even program it to produce an invoice automatically. FreshBooks is powerful and Cloud based. Therefore, you can log into its dashboard and view business data as well as create some invoices using any Internet-capable device. Here is more about how you can create an invoice using this software tool.
Try Freshbooks for Free >>>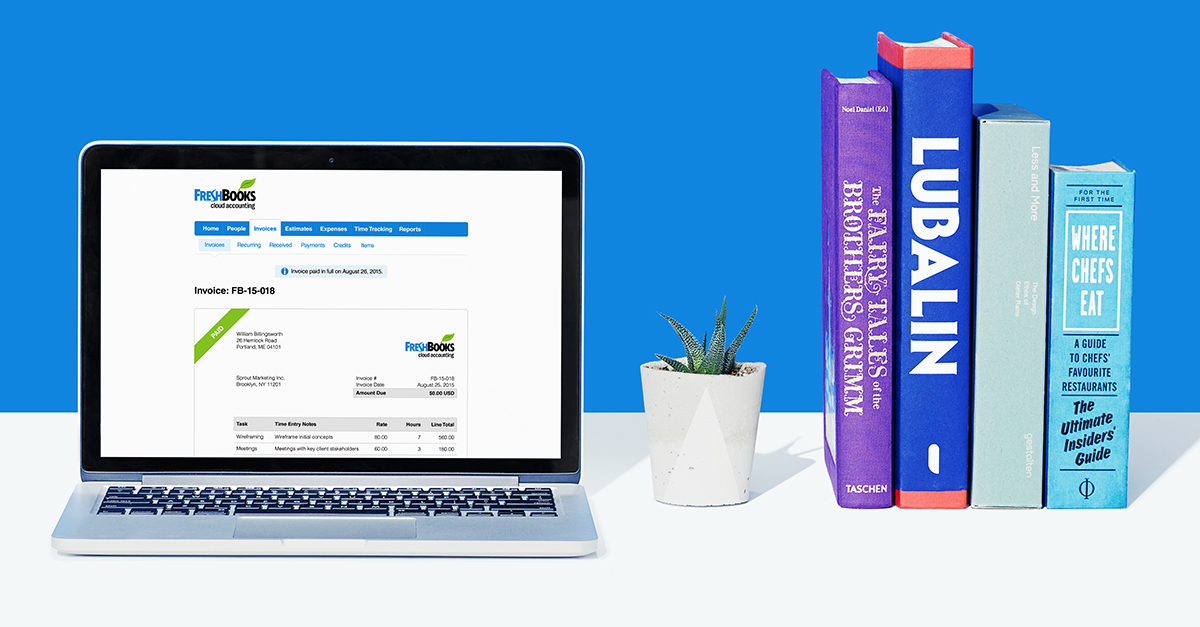 How to Create Oopen Office Invoices with FreshBooks
There are two main ways that you can use to accomplish this objective. They include:
1. Using the Dashboard
This is the main section within the software tool. It contains all the features and facilities that FreshBooks has to offer. From this main section, simply begin by clicking on "Create New". Having done so, proceed to tap on "Invoice". This will immediately bring up a new window containing an invoice template open office which you can edit.
2. Using the "Invoices" Panel
This is another important section of the template. Within it, you can simply click on an option labeled "New Invoice". After you do so, the program will immediately provide a new window containing a template that you can edit to create your business invoice.
Within the open office open office invoice templates that are provided by FreshBooks, there is a section titled Accept Credit Cards. Here, you can determine if your document will recognize and accept payments made through credit cards. Another section is titled Customize Invoice Style. This one contains options that you can use to determine the overall appearance of the document. You can also set it to be recurrent within this option. Lastly, there is a section titled Transaction Details. Here, you can enter the specific details of your transaction. Examples of these are the name of the business, client, goods or services involved, total cost and the due date.
FreshBooks allows you to Save a document for later editing. It can also Send a completed document to your client of choice on demand. The document is sent through email.
If you are running an enterprise, the best software that you can use is FreshBooks. It is designed to assist you to create documents easily through the provision of templates and automation. It is an excellent investment to make today!
Free Download or Buy PDFelement right now!
Free Download or Buy PDFelement right now!
Buy PDFelement right now!
Buy PDFelement right now!
Up to 18% OFF: Choose the right plan for you and your team.
18% OFF
PDFelement for Individuals
Edit, print, convert, eSign, and protect PDFs on Windows PC or Mac.
12% OFF
PDFelement for Team
Give you the flexibility to provision, track and manage licensing across groups and teams.
Contact us to learn more about the custom services we can do for you.
Related Articles
All Topics