How To Create the New Square Invoice Quickly and Easily
A Square invoice is a proprietary business document which contains the details of a transaction. It holds content such as the goods sold or services rendered. This invoice is provided to the buyer by the seller after the transaction is complete. It acts as a notice of task completion and obligation of payment. There is no square invoice processing fee.
Free Square Invoice Template
Free Download and customize it according to the sample text below
---
What is a Square Invoice
This is a business document which indicates the specific details of a business transaction. It contains elements such as the goods sold or services rendered. You can also include a note explaining the terms of payment in the square invoice. This invoice can be sent as an email. In this form, it contains a link through which the customer can "Pay by Card". This invoice is primarily sent through a dedicated platform. Hence, it is normally a digital document that is delivered in PDF format. This format is the most ideal for this purpose because it can be opened using any electronic device. Furthermore, it can be printed or resent.
---
What to Include in a Square Invoice
• Invoice Number
This is an official identifier of the invoice. It can be made up purely of numbers or contain a combination of digits and letters.
• Date of Issuance
The official date when the invoice was issued needs to be indicated.
• The Vendor
This the name of the business or company that is selling the goods or providing the services which are indicated in the transaction. The business name, registration number, address and phone number of the vendor are indicated.
• The Consignee
This is the client who is receiving the goods or services. Their name, address, phone number are indicated in the square invoice.
• The Full Description of Goods or Services
This is a description of the products or services which are involved in the transaction at hand. It covers the quantity, nature and quality of these goods or services. The description also includes the various components that are used to make the goods. Furthermore, it includes the associated units of measurement.
• The Currency
This is the official type of legal tender that should be utilized in the transaction.
• The Total Cost
This is the total amount of money that the client is expected to pay for goods provided or services rendered.
---
How to Create a Square Invoice Easier with FreshBooks
What is FreshBooks
This is an accounting software that is developed to enhance business operations. FreshBooks assists you to run a business easily and experience better security as well as quick results. This software helps you to automate business processes. As a result, you can shift focus to business activities such as expansion and promotion. The FreshBooks software has an interface that is intuitive and easy-to-use. Through its control panel, you can create professional square invoices. You can also automate processes such as the creation of invoices, organizing expenses, task scheduling and accounts reporting. FreshBooks is built upon Cloud infrastructure. Thanks to this, it is possible to access the software directly from your tablet, smartphone or laptop.
Try Freshbooks for Free >>>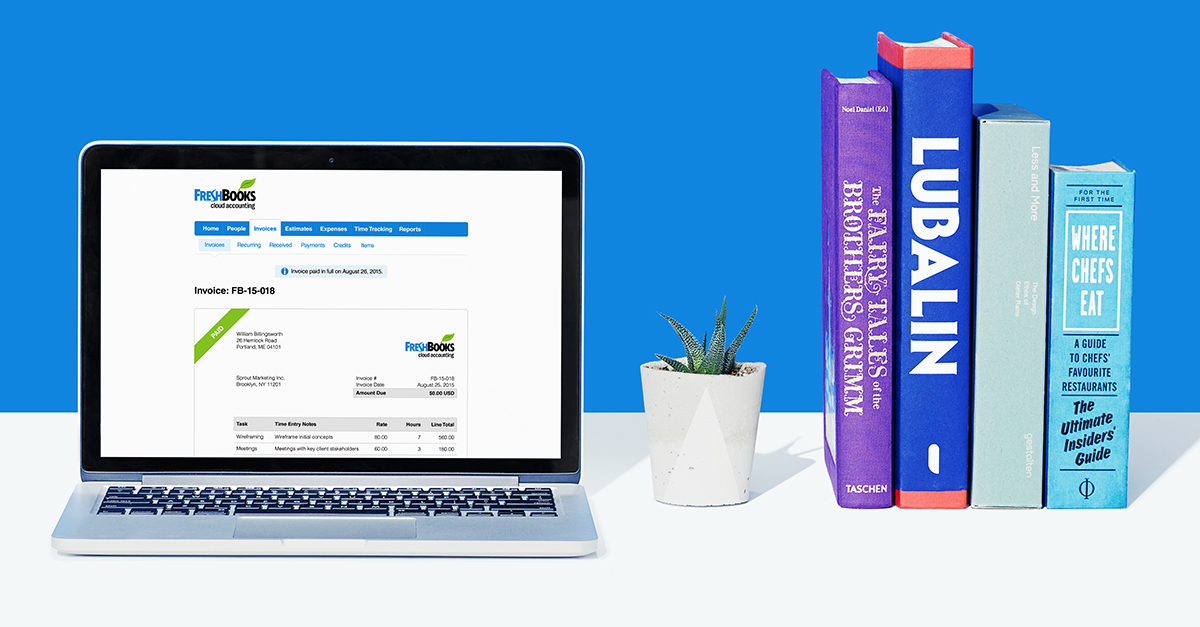 How to Create a Square Invoice with FreshBooks
The process of creating a Square invoice using FreshBooks is quite easy. The digital tool presents you with a pair of alternatives for this purpose. They include the Dashboard and the Invoices section.
1. From the Dashboard
If you choose to create a new square invoice from the Dashboard, you can simply click upon a button labeled "Create New". After doing so, you can proceed to select "Invoice". This will activate a screen titled "New Invoice" in which you can customize the square fees invoice template.
2. From the "New Invoice" Section
The FreshBooks software also enables you to create a new Square invoice directly through the Invoices panel. Simply tap on a button labeled "New Invoice". This will activate a screen containing a Square invoice template that you can customize to fit your transactional needs. You can enter details such as Credit Card compatibility, the overall theme of the invoice and also insert transactional details. Some examples of the details which you can include in this template are the Invoice Number, Date of Issuance, Transaction Details, Date of Issue and Costs involved.
After creating the invoice, you can store your progress by tapping on a button labeled "Save". This saves the Square invoice in PDF format. You can also square send invoice directly to your client through the button labeled "Send".
FreshBooks allows businesses to increase their efficiency by relying on Information Technology (IT). This software product can help you to create a Square invoice quite easily with no square invoice fee. It is your digital business partner!
Free Download or Buy PDFelement right now!
Free Download or Buy PDFelement right now!
Buy PDFelement right now!
Buy PDFelement right now!