Discover How to Generate an Hourly Invoice Whenever You Require One
This is a business document that is used to handle payment for jobs and vocations that require compensation on an hourly basis. The hourly invoice contains details about the materials, labor, resources, products and services that are used in a project. This document provides the vendor with a way to communicate that specific goods or services have been delivered. The client also uses the hourly invoice to note that payment is required. This document can also be used to record the overall hours used in a particular project.
Free Hourly Invoice Template
Free Download and customize it according to the sample text below
---
What is an Hourly Invoice
This type of invoice records work done and organizes it according to the hours that were utilized. When presented to the client, the hourly invoice indicates the necessity of payment. It also shows proof of work done. Vendors can use it to request for compensation. Clients can also utilize the invoice for hours worked as a receipt after payment.
---
What to Include in an Hourly Invoice
• The Title "Hourly Invoice"
Seeing as it is an official document, the invoice needs to have the title "Hourly Invoice".
• The Invoice Number
This is a unique identifier. Mostly made up of numbers, it can also have some letters indicated within.
• The Date of Issuance
This is the date when the invoice was created and provided to the client.
• The Vendor
This is the company that provided some goods or services. Their name, postal address, phone number and email address are required. If it is a company, its registration and VAT number are necessary.
• The Consignee
This is the recipient of the hourly invoice. Their name, postal address, contact number and email address are indicated.
• The Full Description of Goods and Services
This is an explanation of the products or services that are involved in the transaction. If physical goods are involved in the transaction, their specific units of measurement are indicated.
• Tax Rates
The transaction may have some taxes involved. Examples of these are Sales and VAT taxes. They are indicated as well.
• The Grand Total
This is the total cost of the transaction. It is inclusive of the product and service charges as well as any applicable taxes.
---
How to Create an Hourly Invoice Easier with FreshBooks
What is FreshBooks
This is an accounting software that can assist in operating your business. FreshBooks is designed to hold your client information securely. With the increased efficiency, your business can post increased profits. This software can also assist with the generation of business documents such as the hourly invoice. By using it, you can also automate various business processes. By doing so, it enables you to invest more time and effort in other business activities such as marketing and client interaction.
Try Freshbooks for Free >>>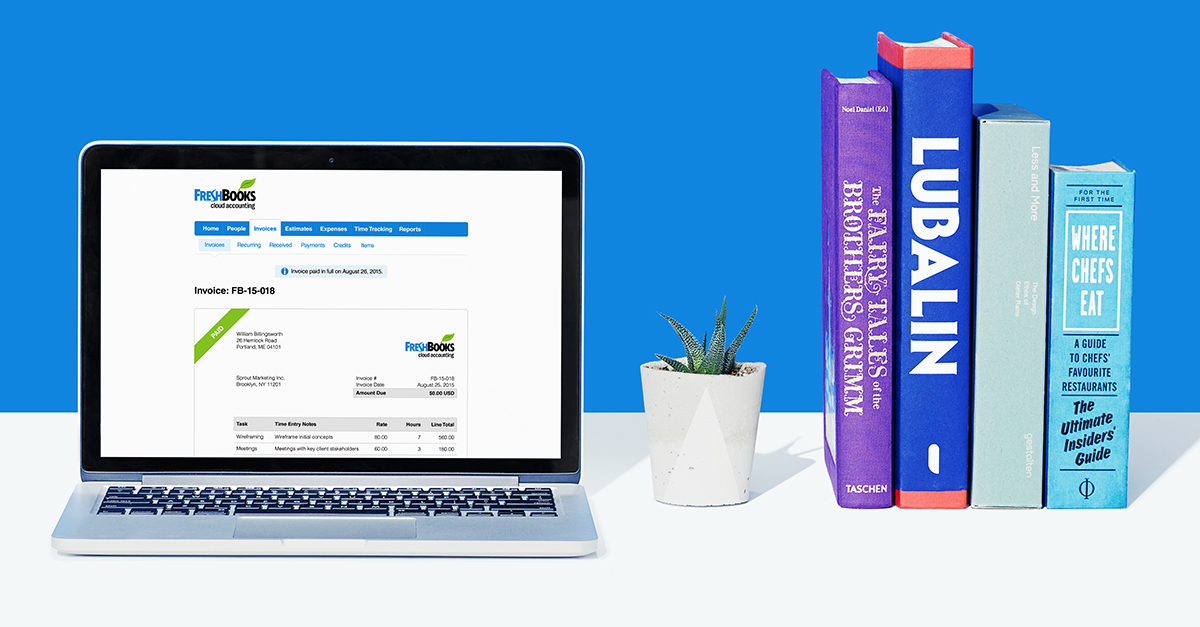 The FreshBooks software has an interface that is user-friendly. Thanks to this, the dashboard and control panel are intuitive, and this digital business solution has a short learning curve. Its powerful features can automate business processes such as accounts reporting, creating invoices, organizing expenses and customer relationship management. FreshBooks is based on Cloud technology. As a result, you can access your account through an Internet-capable device from any location worldwide.
How to Create an Hourly Invoice with FreshBooks
Creating an hourly invoice using FreshBooks is a straightforward process. This software can help you to accomplish this through two main methods. They are:
1. The FreshBooks Dashboard
You can create an hourly invoice using the Dashboard. Begin by tapping on the button labeled "Create New". Having done so, proceed to pick the "Invoice" option. This will activate a "New Invoice" screen in which you can customize an hourly service invoice template.
2. From the "Invoices" Panel
It is possible to create a new invoice by using the Invoices panel directly. This resource will provide you with a button labeled "New Invoice". Proceed to click on it and gain access to an hourly invoice template.
After you are provided with the invoice template for hours worked, you can proceed to edit its sections and create your own customized hourly invoice. These sections include:
Accept Credit Cards:

In this section, you can customize the billable hours invoice template for it to accept credit card payments.

Customize Invoice Style:

This part of the template allows you to determine the overall appearance of the hourly invoice. You can determine elements such as the color of the headers, font type and even whether the invoice will be recurring or not.

Invoice Transaction Details Sections:

In this section of the template, you can enter specific details about your transaction. Examples of these include the vendor, client, goods or services involved, total amount or even the due date.
Having completed customizing the hourly invoice template, you can proceed to Save the document. This gives you an opportunity to edit it further in future. If you are satisfied with the results, you can also Send the document directly to your client. FreshBooks delivers it through email.
One of the top business softwares today is FreshBooks. It allows you to create important business documents easily. It is your ultimate digital partner!
Free Download or Buy PDFelement right now!
Free Download or Buy PDFelement right now!
Buy PDFelement right now!
Buy PDFelement right now!
Up to 18% OFF: Choose the right plan for you and your team.
18% OFF
PDFelement for Individuals
Edit, print, convert, eSign, and protect PDFs on Windows PC or Mac.
12% OFF
PDFelement for Team
Give you the flexibility to provision, track and manage licensing across groups and teams.
Contact us to learn more about the custom services we can do for you.