Top 5 Invoice Manager Software
In all modern enterprises, the invoice is one of the most important documents. It is a formal request for payment. Hence, it needs to be prepared accurately, delivered on time and tracked for financial transparency. This process is known as invoice management. Initially performed manually, it can now be done using dedicated software.
Free Invoice Template
Free Download and customize it according to the sample text below
| | | |
| --- | --- | --- |
| Free Download>>> | Free Download>>> | Free Download>>> |
---
5 Best Invoice Manager Software
Hailed as the top invoice manager software today, FreshBooks provides you with a wide range of features and tools for this purpose. It is capable of generating invoices automatically as well as according to a preset schedule. FreshBooks can also automate various business processes. Examples of these are expense organization, task scheduling and client interaction as well. This software is Cloud based. Therefore, you can easily access it through a portal and perform all the required invoice management activities. By combining automation and Cloud accessibility, FreshBooks maximizes user convenience. It can be used for free through a 30 day demo account. To experience its features in the long term, you can buy a FreshBooks subscription at a cost of $15.00 per user.
2. RTS Invoice Manager
This is an invoice management software that is based solely online. By using RTS Invoice Manager, you can generate and send digital versions of your invoices. Furthermore, when your are conducting invoice factoring, this platform enables you to avoid processes such as the submission of original paperwork. Your RTS business profile is enough. In addition to creating invoices, this online platform also allows you to generate and submit purchase orders and get accounts transcripts. It has a user-friendly dashboard and is quite easy to use. This makes rts invoice manager easy to implement in your enterprise. The software also keeps an accurate historical record of your accounts. It is accessible using a laptop or desktop computer. The platform also has a mobile version.
3. Nevitium Invoice Manager
This is an open source, freely available invoice manager. Nevitium was constructed upon the Ubuntu operating system infrastructure. As a result, it is full of helpful invoice management features. nevitium invoice manager can accept business data submitted through document files and barcode scans. Not only can you scan barcodes directly into this platform, you can also use it to print them out as well. In addition to creating, sending and managing invoices, you can use Nevitium to create a portable Point of Sale System (POS). All you need is a laptop and a barcode scanner. This software can effectively track the payments that you make. Seeing as payments are linked to invoices and these to customers, Nevitium can automatically create links for all your clients.
4. Joomla Invoice Manager
This is an extension provided by the Joomla software ecosystem that can assist with managing your business invoices. This software can help you to create and manage invoices or business quotations. This software provides you with a dashboard interface within which you can effectively observe the business data that you need to create an invoice. With this in hand, you can proceed to filter and then pick the appropriate details for the invoice at hand. The joomla invoice manager software allows you to filter invoices using various criteria. Examples of these are Date, Status and Client. Furthermore, operations such as aggregation are performed automatically by the software.
5. Chrome River Invoice Manager
This is a versatile and capable business software that can be used to manage invoices. The Chrome River Invoice manager can be utilized to manage invoices directly from your computer or a mobile device. The tools and features that are built into the software can increase compliance and boost efficiency as well. Capable of helping you to create teams, the Chrome River Invoice manager can capture invoice details from various sources. Examples of these are documents and digital files. By utilizing this software, it becomes possible for a business to go fully paperless.
---
How to Create Invoices Easier with FreshBooks
What is FreshBooks
The process of creating an invoice can be made much easier by using FreshBooks. This is a dedicated software which can generate documents and also help to automate business processes as well. This software was designed to improve the efficiency of your enterprise. Therefore, you can use it to create invoices according to an automatic schedule. You can also use this web-based invoice software open source platform to conduct activities such as accounts reporting, task allocation and expense organization automatically. Seeing as it is Cloud based, FreshBooks is easily accessible from anywhere in the world. Here is how to create an invoice using this business digital tool.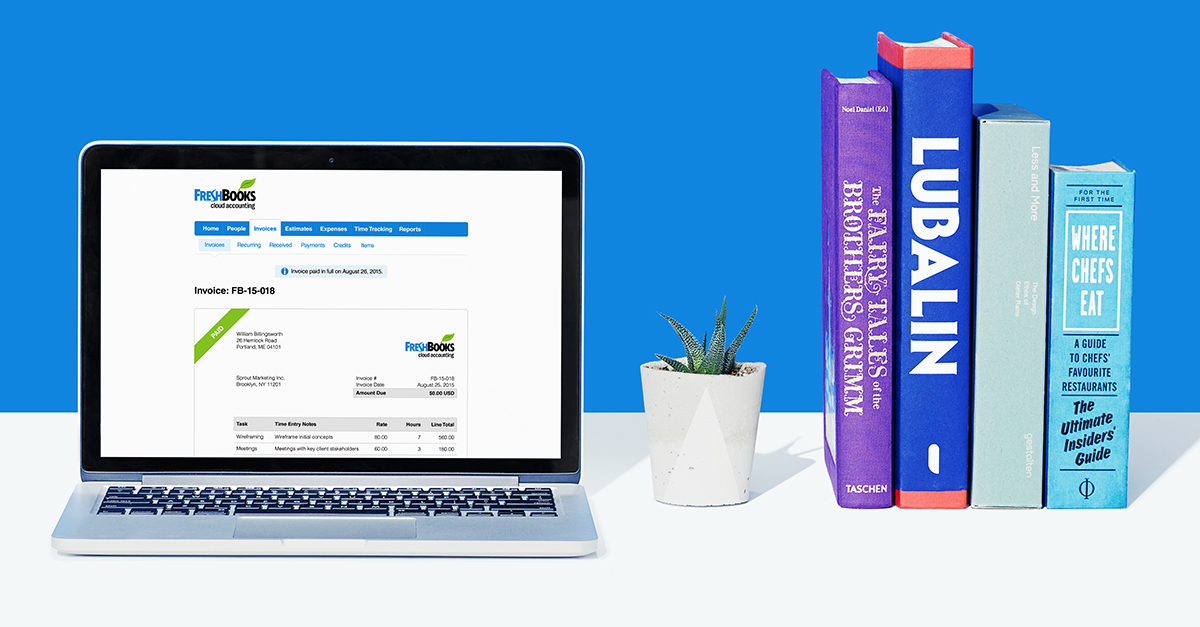 How to Create Invoices with FreshBooks
FreshBooks enables you to create an invoice by providing two main modules for this purpose. They are:
1. The Dashboard
Within this module, you can begin by clicking on the button that is labeled "Create New". Having done so, select the option labeled "Invoice". This will immediately launch a new template screen titled "New Invoice". Here, you can proceed to customize your invoice.
2. Using the "Invoices" Panel
Creating an invoice in FreshBooks can also be accomplished through the Invoices Panel. Here, you can click on a button labeled "New Invoice". After you do, proceed to a screen in which you can enter the specific details of your invoice.
The FreshBooks invoice template is divided into 3 main sections. They include:
In this section of the template, you can set your invoice to recognize credit card payments.
This section of the template allows you to determine the overall appearance of the document. You can set elements such as the Simple or Modern themes. After doing so, you can also set the font, structure and also whether your invoice will be recurring or not.
Invoice Transaction Details Sections:
This part of the invoice template allows you to determine the exact contents of the invoice. Here, you can enter elements such as the Client Name, Company Name, Goods or Services Rendered, Terms of Payment and Due Date.
Once you have got halfway through the template, you can store it by clicking on the Save button. After completion, you can Send it directly to the client. FreshBooks will deliver the invoice through email.
FreshBooks is a highly effective invoice manager software. It has a collection of tools and features that are all geared towards this purpose. It is an active, capable digital assistant!
Free Download or Buy PDFelement right now!
Free Download or Buy PDFelement right now!
Buy PDFelement right now!
Buy PDFelement right now!
Up to 18% OFF: Choose the right plan for you and your team.
18% OFF
PDFelement for Individuals
Edit, print, convert, eSign, and protect PDFs on Windows PC or Mac.
12% OFF
PDFelement for Team
Give you the flexibility to provision, track and manage licensing across groups and teams.
Contact us to learn more about the custom services we can do for you.
Related Articles
All Topics