Top 5 Small Business Invoice Software
Invoicing is one of the most important activities that is performed in businesses today. To assist in this task, you can make use of software. There are some small business software that can perform invoicing according to a preset schedule. There are also some that can perform the task automatically. By doing so, they develop accurate, timely and professional business invoices.
Free Business Invoice Template
Free Download and customize it according to the sample text below
| | | |
| --- | --- | --- |
| Free Download>>> | Free Download>>> | Free Download>>> |
---
Best 5 Small Business Invoice App
This is an ideal small business invoice software that you can use to handle invoicing in your enterprise. By using FreshBooks, you can easily generate business invoices on demand or according to a schedule. The software has Artificial Intelligence (AI) bundled into it. This allows FreshBooks to automate business tasks on demand. It can perform accounts reporting, job scheduling and expense organization automatically. This software allows you to access business records and create invoices on the go. That's because it is built on Cloud technology. As a result, you can access its features, tools and facilities using your laptop, smartphone or tablet device from any location at any time. FreshBooks can be used at no cost through a free demo. To use it in the long term, you are required to purchase a subscription at $15 per user.
2. Sunrise
This is an accounting software that was developed for small businesses. Sunrise has an easy to understand interface. As such, you can utilize it with little or no experience with accounting software. Through its dashboard, you can create invoices for your business with as little effort as possible. Thanks to a simple control panel, it provides you with excellent tools to accomplish business tasks such as handling accounts payable, accounts receivable and the generation of financial reports. Billy accepts multiple payment methods such as all the main credit cards. As such, your clients have maximized flexibility upon receiving your invoices. To use this invoicing software for small business, you can utilize multiple plans. The basic plan is accessible for a cost of $15.00 per month. However, small businesses can do best with the Gold plan that goes for $19.00 per month.
3. Square Invoices
This is an ideal software that you can use to run small businesses. Square Invoices is not only efficient but is highly affordable too. This business invoicing software does not require that you pay any monthly subscriptions. In addition to that, it can send invoices for free. By using Square Invoices, you have access to invoice templates that can be customized according to your needs. This small business invoicing software can also capture payments made through credit cards and online money transfer media as well. While using Square Invoices, you are only charged a small fee when clients make payments using credit cards.
This is a special software which is designed for the purpose of assisting with the invoicing and billing tasks of small businesses today. Intuit Quickbooks provides you with a number of features. The software can handle both accounts payable and receivable. It can also be integrated with more than a hundred different plugins to make the invoicing process easier and more efficient. Intuit Quickbooks can be used to handle your taxes. Owners of small businesses can use this software so as to automate business operations such as task scheduling too. As a result, Intuit Quickbooks is versatile. You can use this software for $10.00 per month.
5. And Co Invoicing Software
This is an ideal software solution that you can utilize for handling the invoicing process in your business. And Co software can perform a variety of business operations. You can use this software to handle invoices, manage contracts and also track expenses. It can also be utilized so as to assign and track tasks. Moreover, And Co can be utilized to track time in your organization. By using its dedicated features, you can create customized invoices. Moreover, the software can assist you to create professional business proposals. You can use And Co to charge your clients on a regular basis by creating recurring invoices. Moreover, this invoicing software can generate tax reports for your small business automatically. Overall, it is a versatile and capable invoicing software. And Co can be tried out as a free invoicing software for small business through a demo.
---
How to Create Invoice Easier with FreshBooks
What is FreshBooks
The process of creating an invoice can be made much easier by using FreshBooks. This is a dedicated software which can generate documents and also help to automate business processes as well. This software was designed to improve the efficiency of your enterprise. Therefore, you can use it to create invoices according to an automatic schedule. You can also use this web-based invoice software open source platform to conduct activities such as accounts reporting, task allocation and expense organization automatically. Seeing as it is Cloud based, FreshBooks is easily accessible from anywhere in the world. Here is how to create an invoice using this business digital tool.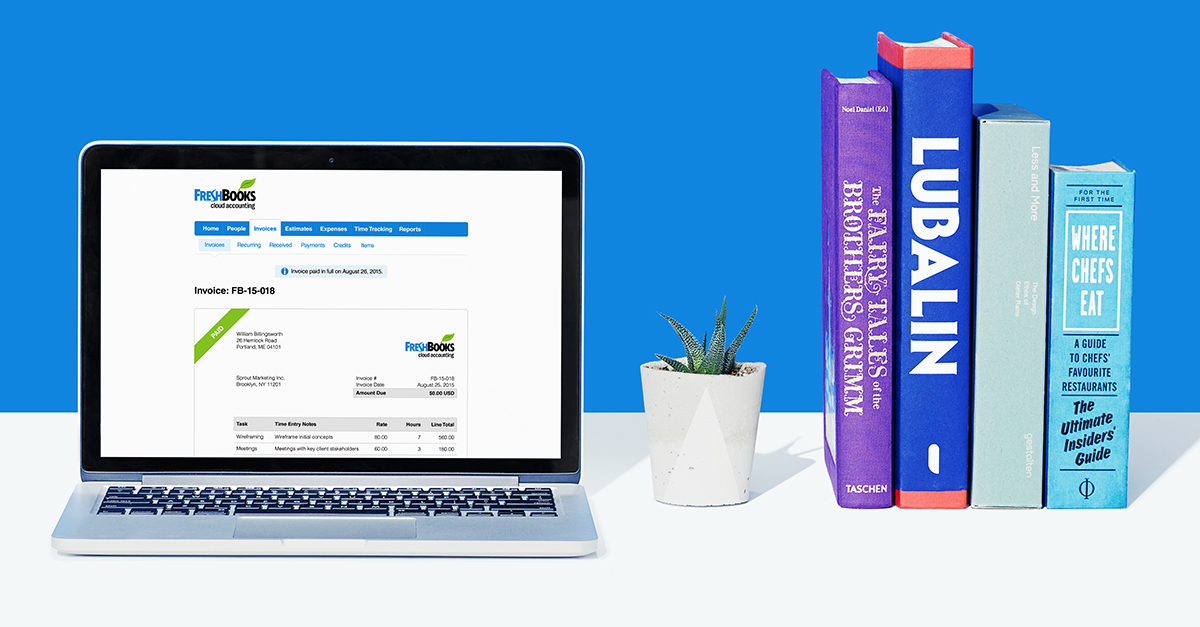 How to Create an Invoice with FreshBooks
FreshBooks makes it very easy for you to create a new invoice. You can achieve this objective by using two main paths. They are:
1. The FreshBooks Dashboard
You can start creating a new invoice directly from the Dashboard. Here, simply click on a button labeled "Create New". Having done so, you can select the "Invoice" option. This will immediately activate a template screen titled "New Invoice".
2. The Invoice Panel
This panel provides you with a number of options that you can use to create a new invoice. Within it, simply tap on a button labeled "New Invoice". Having done so, you can proceed to enter details about your transaction in the ensuing template.
Within the invoice template, you can customize the document according to a number of sections. They are:
This part of the template allows you to determine whether your invoice will accept credit card payments.
This section of the template enables you to tailor the overall appearance of your invoice. You can determine factors such as the overall theme, color of the headings and even the font within the invoice. In addition to that, you can determine if the invoice is recurring or not.
Invoice Transaction Details Sections:
This part of the invoice template allows you to ensure details about the current transaction. Essentially, you can enter details such as your Company Name, Client Name, Invoice Particulars and also the Total Cost involved.
After you have effectively added information into your invoice, FreshBooks allows you to Save it for future reference. If you are satisfied, you can simply Send the invoice to your client.
FreshBooks is a powerful, versatile and highly effective software. It is ideal for creating invoices and other business documents. Capable of automating business tasks, it is the best invoice software for small business!
Free Download or Buy PDFelement right now!
Free Download or Buy PDFelement right now!
Buy PDFelement right now!
Buy PDFelement right now!
Up to 18% OFF: Choose the right plan for you and your team.
18% OFF
PDFelement for Individuals
Edit, print, convert, eSign, and protect PDFs on Windows PC or Mac.
12% OFF
PDFelement for Team
Give you the flexibility to provision, track and manage licensing across groups and teams.
Contact us to learn more about the custom services we can do for you.
Related Articles
All Topics