Finally, Sellers Can Now Generate Professional eBay Invoices Quickly and Efficie
One of the most popular online marketplaces is eBay. After selling items on this platform, you are presented with an eBay invoice. This document can help you to stay aware of all the payments that you have made throughout the past month. The eBay invoice is presented to you so as to fulfill the seller obligations on the platform. In some transactions, you can also create an eBay invoice to send to your buyer.
Free eBay Invoice Template
Free Download and customize it according to the sample text below
| | | |
| --- | --- | --- |
| Free Download>>> | Free Download>>> | Free Download>>> |
---
What is an eBay Invoice
People can sell items that they have created or no longer want on eBay. After registering an account and selling the items, you are required to make some payments for utilizing the platform. These payments are presented to you in form of an invoice. For those wondering, "what is an eBay invoice?" This business document contains details about all your selling activity over the period of one month. It contains details such as any payments that you have fulfilled, selling fees and discounts enjoyed. Furthermore, it contains credits or refunds that you may have received during the period of billing. You can also eBay send invoice to a buyer of your products. This attracts an eBay invoice fee.
---
How to Send an Invoice on eBay
The process of sending an invoice on eBay is quite straightforward. It is as follows:
Click on the button labeled "My eBay" at the top of any page within the eBay platform.
Tap on the link labeled "Sold" on the left pane of the page.
Identify the item for which you desire to send an invoice.
In the drop-down menu that is labeled "Actions", select the option labeled "Send Invoice".
Scan the upper section of the next page that emerges. After that, tap on the option labeled "Send Invoice" link.
This is how to directly inform your buyer to pay ebay invoice.
---
How to Create an eBay Invoice Easier with FreshBooks
What is FreshBooks
FreshBooksis a business software that focuses on improving and streamlining the accounting practices in an enterprise. This software assists you to run your business more securely, easily and profitably. By using FreshBooks, you can generate business documents quickly and easily. In addition to that, you can automate business processes. By doing so, this software enables you to have more time and resources to perform external activities such as promotion, advertisement and market research.
Through its user-friendly dashboard, you can implement the tools and features of this software to automate enterprise procedures. Some examples of processes that you can automate include job scheduling, creating invoices, organizing expenses and accounts reporting. In addition to that, you can access your business' data through a dedicated portal from anywhere in the world. This is because FreshBooks is built upon Cloud infrastructure.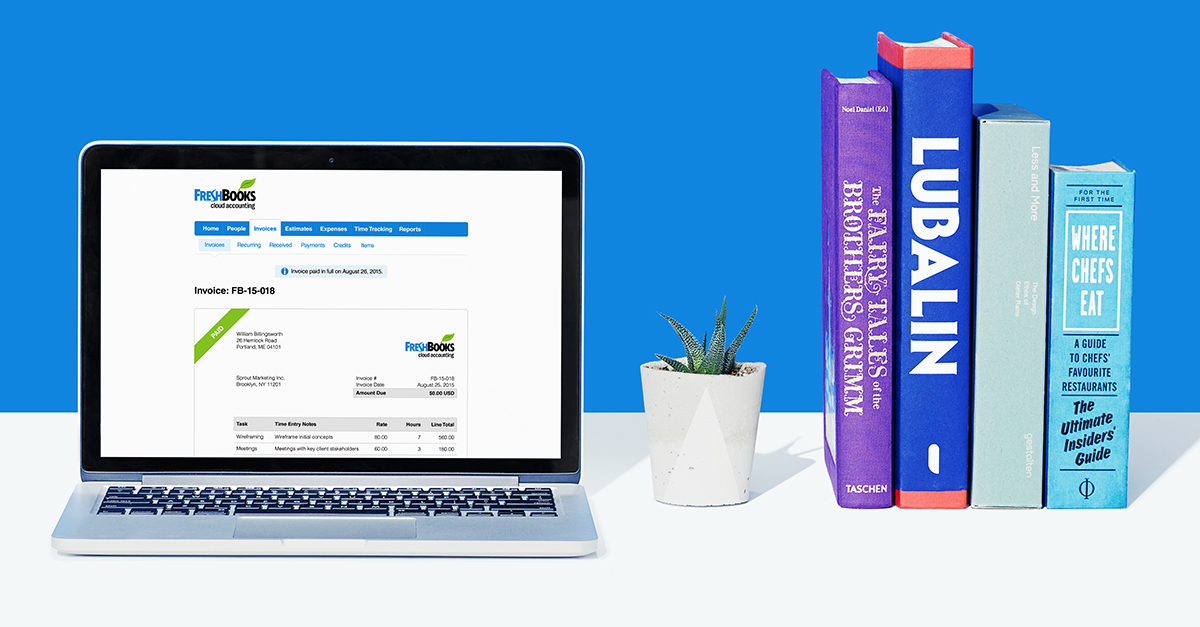 How to Create an eBay Invoice with FreshBooks
By using FreshBooks, you can easily create an eBay invoice. There are two main modules that can be utilized towards this effect. They are the Dashboard and the Invoices panel.
1. Using the FreshBooks Dashboard
You can create a new invoice directly from the FreshBooks Dashboard. In this location, proceed to click on a button labeled "Create New". Having done so, select the "Invoice" option. This will immediately generate a template screen labeled "New Invoice".
2. Using the "Invoices" Panel
Creating an invoice on FreshBooks can also be achieved by going through the Invoice panel. In this section, you can simply tap on a button that is labeled "New Invoice". This button is located at the top right-hand corner of the window. After you click upon it, the software will take you directly to a template that you can customize to create an eBay invoice for the current transaction.
Customization Options Available for You
There is a number of options in the template which you can customize towards this effect. You can determine if the invoice will accept credit cards. In addition to that, you can determine the overall appearance of the document. This can be achieved by determining elements such as the colors of the headings, the font and also choosing whether the invoice will be recurring or not. You can also enter the specific transaction details. By entering data in specific sections, you can indicate the Vendor's name, Client's name, Goods or Services and the Total Cost involved.
After customizing the template to fit your eBay transaction, you can proceed to Save the document in its current form. This grants you an opportunity to make adjustments later on. However, if you are fully satisfied with its appearance and contents, you can send the document directly to its recipient through email.
FreshBooks represents the future of business data management. This software implements Information Technology (IT) in your enterprise. Investing in this tool can help you to achieve better profits and exponential growth in your business!
Free Download or Buy PDFelement right now!
Free Download or Buy PDFelement right now!
Buy PDFelement right now!
Buy PDFelement right now!
Up to 18% OFF: Choose the right plan for you and your team.
18% OFF
PDFelement for Individuals
Edit, print, convert, eSign, and protect PDFs on Windows PC or Mac.
12% OFF
PDFelement for Team
Give you the flexibility to provision, track and manage licensing across groups and teams.
Contact us to learn more about the custom services we can do for you.