Things about Work Order Invoice You Must Know
A work order is a business document that contains the details of services rendered. It is provided to the customer by a company immediately after the provision of services. This document contains details about the specific services that were provided as well as their overall cost. The work order invoice serves the purpose of notifying the customer of completed services and also acts as a request for payment.
Free Work Order Invoice Template
Free Download and customize it according to the sample text below
| | | |
| --- | --- | --- |
| Free Download>>> | Free Download>>> | Free Download>>> |
---
What is a Work Order Invoice
The work order invoice is essentially a record of services rendered to a customer. It contains details about the work that a contractor has performed for a client. Alongside this information, the work order also contains the total cost of the services rendered. Normally presented right after the work is completed, it notifies the customer of task completion and also requests payment.
---
What to Include in a Work Order Invoice
There is a number of elements that are required within a work order invoice. They are:
• Invoice Number
This is a number that identifies the specific work order invoice that you have generated. This identifier can be made up purely of digits or include letters in it as well.
• Date of Issue
This is the date when the work order invoice is issued to the customer.
• Vendor Details
This part of the invoice contains the details of the company that provided the services. It contains the company name, registration number, address and phone number. If the company provides services that attract a Value Added Tax, then its VAT number is indicated as well.
• Consignee Details
The details of the customer are indicated here. They are the client's name, address and phone number.
• Description of Services Rendered
A full description of the services that the company provided are indicated here.
• Materials Ordered
For the services to be provided, some materials could have been required. In such a case, they are described in full.
• Materials Used
After having ordered some materials, the ones that were used are indicated here. This helps the client to understand the rate of work and identify if there were any surplus materials.
• Hours Worked
This covers the number of man-hours that were utilized in conducting the services for the client. This detail assists with billing.
• Cost of Stock and Ordered Materials
This is the total cost of the materials that were ordered as well as any costs incurred while operating the company's tools of trade during the delivery of services.
• Additional Charges
This section contains details about all extra costs associated with service delivery. Examples of these are the total cost of man-hours, VAT tax charges and other miscellaneous costs.
• Total Cost of Services Rendered
This is the total cost of the services that were rendered. It is made up of the cost of the materials plus additional charges.
• Due Date
This is the date by which the work order invoice should be honored. It also serves as a due date of payment.
---
Creating Work Order Invoices Easier with FreshBooks
Essentially an accounting software, FreshBooks is a digital tool which you can use to operate your business more efficiently and securely. The core function of this software is that it can assist you to automate recurrent business processes. Through its user-friendly interface, you can create professional work order invoices. In addition to that, FreshBooks provides other functionalities that you can manipulate so as to automate the various processes in your business.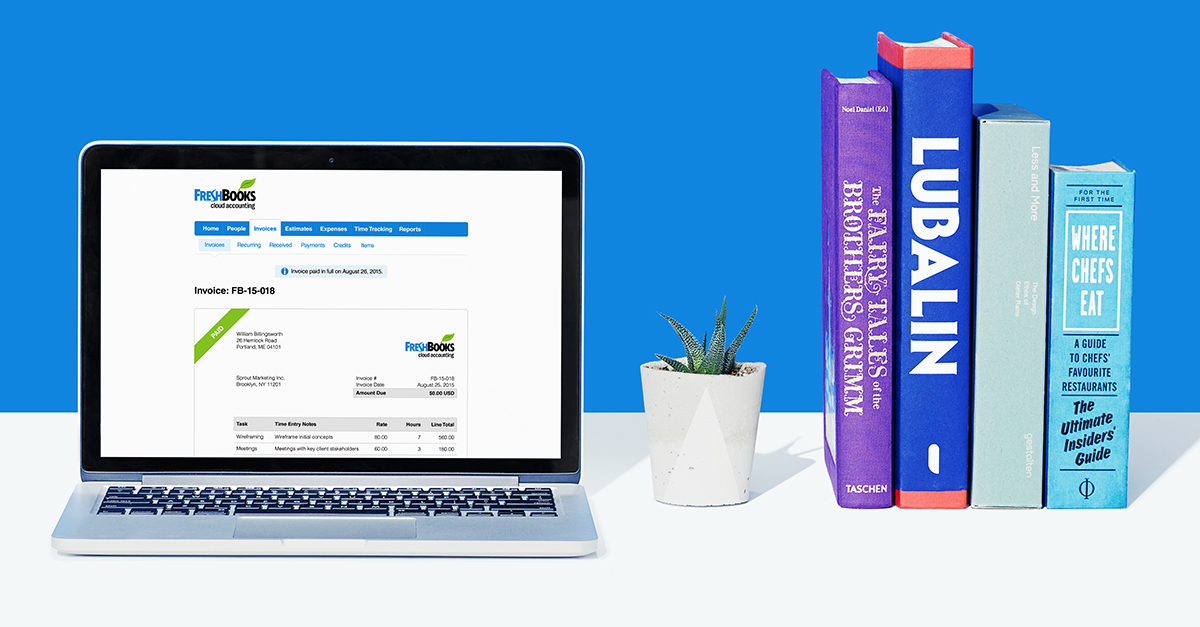 Located in a central control panel, they assist you to automate activities such as client follow up, task scheduling, creating of invoices, expense organization and accounts reporting. The software is constructed upon Cloud technology. Therefore, you can access your business information from any corner of the globe or even order invoices online.
How to Create a Work Order Invoice with FreshBooks
FreshBooks makes it very easy for you to create a work order invoice. The software presents you with two main modules for this purpose. They activate a free work order invoice template for you. Here is how to navigate them.
1. Creating a work order invoice from the FreshBooks Dashboard
You can begin to create a new work order invoice directly from the FreshBooks Dashboard. From this particular section, there are two methods for this purpose. They are:
Click upon a button labeled "Create New"
Pick the option labeled "Invoice" so as to activate a screen titled "New Invoice"
2. From the "New Invoice" section
It is possible to create an invoice directly through the Invoices panel. This section contains a button at the top right hand corner that is labeled "New Invoice". Upon clicking this button, you can proceed to indicate the specific details of your work order invoice. This data is entered in 3 broad categories. They are:
This category allows you to determine if your work order invoice will recognize and capture any payments made through credit cards.
This category allows you to make aesthetic adjustments to the work order invoice. It contains options that allow you to adjust the font, overall theme and heading colors of the work order invoice.
Invoice Transaction Details:
This category of the software enables you to enter details which are specific to the transaction at hand. Examples of these are your company's name, your logo, the description of services rendered, costs involved and associated dates.
Having entered the required information in the work order invoice template, FreshBooks gives you an option to "Save" the document. This allows you to save the work order invoice in its current form for future editing. You can also "Send" the work order invoice directly to the client.
FreshBooks is a modern way to perform business accounting. The software provides effective tools that enable the creation of a work order invoice. You can improve the efficiency of your business by using this software!
Free Download or Buy PDFelement right now!
Free Download or Buy PDFelement right now!
Buy PDFelement right now!
Buy PDFelement right now!
Up to 18% OFF: Choose the right plan for you and your team.
18% OFF
PDFelement for Individuals
Edit, print, convert, eSign, and protect PDFs on Windows PC or Mac.
12% OFF
PDFelement for Team
Give you the flexibility to provision, track and manage licensing across groups and teams.
Contact us to learn more about the custom services we can do for you.