What is Invoice Copy Sample
When dealing in a business that mean you have to send invoices to customers on a regular basis, it is vital that you keep a copy of the invoice. An invoice is a vital commercial document issued by the seller to a buyer containing details of the transaction that took place. Invoice copy sample helps you also to monitor and keep an accurate record.
Free Invoice Copy Template
Free Download and customize it according to the sample text below
| | | |
| --- | --- | --- |
| Free Download>>> | Free Download>>> | Free Download>>> |
---
Why We Need an Invoice Copy
Every business owner hopes to see their business grow and develop to its fullest one day. All the effort you have put into your business is to make it bigger and better, and invoice plays a huge role in achieving this. Bookkeeping requires records and invoices are a great source of records for both income and expenditure. Moreover, an invoice copy gives you this information without any stress. Below are some reasons why you should always have an invoice copy.
Great for record keeping: this point can't be overemphasized, and that's because keeping a record is paramount for the growth of a business. Moreover, in case of loss, damage or misplacement, there will always be a copy to refer to. With an invoice copy you will be able to keep track of the date your products were sold, the amount paid and the outstanding monitor debts.
For tax purposes: although there is not set regulations for which kind of invoice a business should keep. However, it is vital for a tax that you keep a copy of invoice for record purposes. The IRS request small businesses to have a running summary of all their business transactions and invoices play a significant role in achieving that.
Legal: invoice copy protects small businesses from fraudulent or small civil lawsuit as it is clear evidence that the goods or services were delivered at a particular time. Without this invoice copy, there won't be any record of that transaction.
Marketing Purposes: Your business can utilize information contained in an invoice to your customer base. Data relating to data, items sold and how much was sold are gotten from invoice copy.
---
What to Include in an Invoice Copy
The following information must be included in an invoice copy.
The word Invoice must be boldly indicated at the top of the invoice.
Invoice identification number.
Your business information.
A detailed description of the items and services offered.
The supplied date of the products and services.
The invoice date.
The total amount of the products and services.
The amount of VAT if applicable to your business.
Once your invoices contained the above information, it is ready to be sent out to your customers, and a copy kept for future references.
---
How to Create Invoice Easier with FreshBooks
What is FreshBooks
FreshBooks is the accounting software making waves in the industry for its affordability by small businesses and freelancers. They have one of the best cloud-based storage in the industry and have made the process of monitoring invoices, invoice creation and other business account easy. This article brings you a step by step guide to creating invoices with FreshBooks.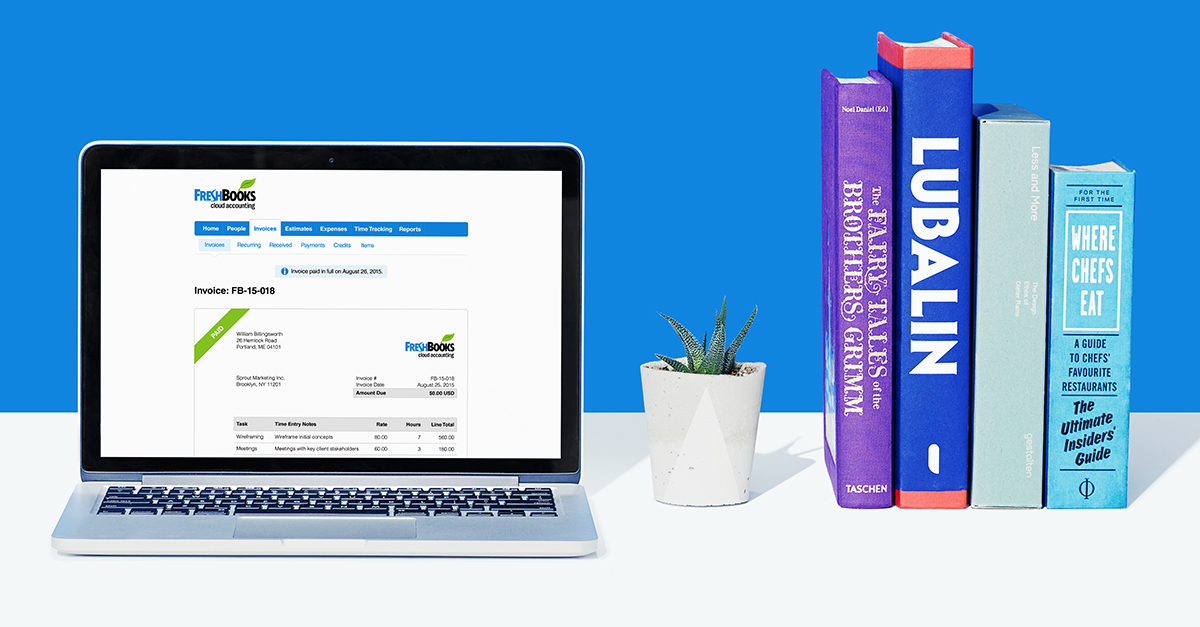 How to Create Invoices with FreshBooks
The following steps should ensure that you create a proper invoice.
1. The Dashboard
This is the main control panel within FreshBooks. It contains a collection of buttons and tools that are ideal for creating documents such as invoices. To use it, simply tap on the button labeled "Create New". In the ensuing menu, tap on "Invoice". This will immediately bring up a new window titled "New Invoice" that contains a template which you can use to generate this business document.
2. The "Invoices" Panel
Another resource that you can use to create this invoice is the Invoices Panel. In this panel, you can simply tap on a button labeled "New Invoice" on your right side. then input the required information and click on save, print or send depending on what you want.
That's how easy it is to create an invoice with FreshBooks. And you can have this copy of invoice template next time when want to use such kind of invoice again.
Free Download or Buy PDFelement right now!
Free Download or Buy PDFelement right now!
Buy PDFelement right now!
Buy PDFelement right now!
Related Articles
All Topics