As a businessperson, it is important to ensure that you get paid on time. This can be accomplished by issuing timely, accurate invoices to your clients after products are delivered or services rendered. Traditionally, these documents had to be drafted and delivered manually. Today, you can use invoice software to create and issue these business documents to the clients. This boosts speed and efficiency. As such, invoicing software is a great asset for your business.
Free Invoice Template
Free Download and customize it according to the sample text below
---
Best 5 Invoicing Software
This is a very effective invoice manager software for modern businesses. FreshBooks can help you generate invoices for goods provided or services rendered. The software can assist you to accomplish this according to a specific schedule. It can also do so automatically. FreshBooks can create professional, attractive and concise invoices for your clients. By creating and delivering them on time, the software is able to hasten payment and keep a healthy cashflow in your business. In addition to creating invoices, FreshBooks is capable of automating business processes such as job scheduling, expense organization and also client session scheduling. The software is Cloud based. As a result, it can be accessed from any Internet-capable device at any time from anywhere. You can use FreshBooks at no cost through a demo account. To utilize it over the long term purchase is necessary at $15.00 per user.
Try Freshbooks for Free >>>
This is a highly capable accounting software for modern businesses. Financialforce accounting allows you to create business documents with a client-centric approach. The software enables this by providing a Customer Relationship Management (CRM) module with accounting facilities built into it. Hence, you can create, issue and track invoices while ensuring client satisfaction throughout. The client's data is protected from creation to issuance. Therefore, you can be sure of its integrity. FinancialForce Accounting can handle transactions involving multiple currencies. It can also accommodate multiple transactions at the same time. This software is also capable of automatically producing accounting reports for specific business periods and also generating tax reports.
This is another highly capable online invoicing software. Checkissuing can assist you to create and deliver business invoices. The software employs substantial security protocols for each transaction. Hence, the integrity of clients' and business data is guaranteed. Checkissuing conducts comprehensive administration of the invoice issuance and follow up process. This boosts business efficiency. The software also allows you to present your firm's branding on the invoice documents that you provide. Seeing as it is a scalable software, Checkissuing is ideal for long term integration into your enterprise.
This is a comprehensive financial management software for modern enterprises. Wave allows you to perform invoicing, accounting and receipt scanning in one convenient location. By combining these services, Wave increases the efficiency of your enterprise. The dashboard is intuitive, and the main features are presented clearly. Hence, Wave has a short learning curve and is ideal for business owners with little or no accounting knowledge. This software can automate the issuance of invoices, track expenses and keep your accounting ledgers balanced as well. Best of all, Wave is a free invoice software.
Built to be powerful and resilient, the Intacct software can assist you in generating and issuing invoices for your enterprise. It can help you in calculating invoice totals and also perform the automation of various business processes. Intacct is scalable. Therefore, the software's capabilities can grow along with your client base. As such, you can use it for the lifetime of your enterprise. By using Intacct, you can automate the entire process of invoice generation. This eliminates the chance of human error. As such, it can keep business financial operations fluid and enhance revenue collection. Simply subscribe to the software so as to experience free invoice software download.
---
How to Create Invoices Easier with FreshBooks
What is FreshBooks
The process of creating an invoice can be made much easier by using FreshBooks. This is a dedicated software which can generate documents and also help to automate business processes as well. This software was designed to improve the efficiency of your enterprise. Therefore, you can use it to create invoices according to an automatic schedule. You can also use this web-based invoice software open source platform to conduct activities such as accounts reporting, task allocation and expense organization automatically. Seeing as it is Cloud based, FreshBooks is easily accessible from anywhere in the world. Here is how to create an invoice using this business digital tool.
Try Freshbooks for Free >>>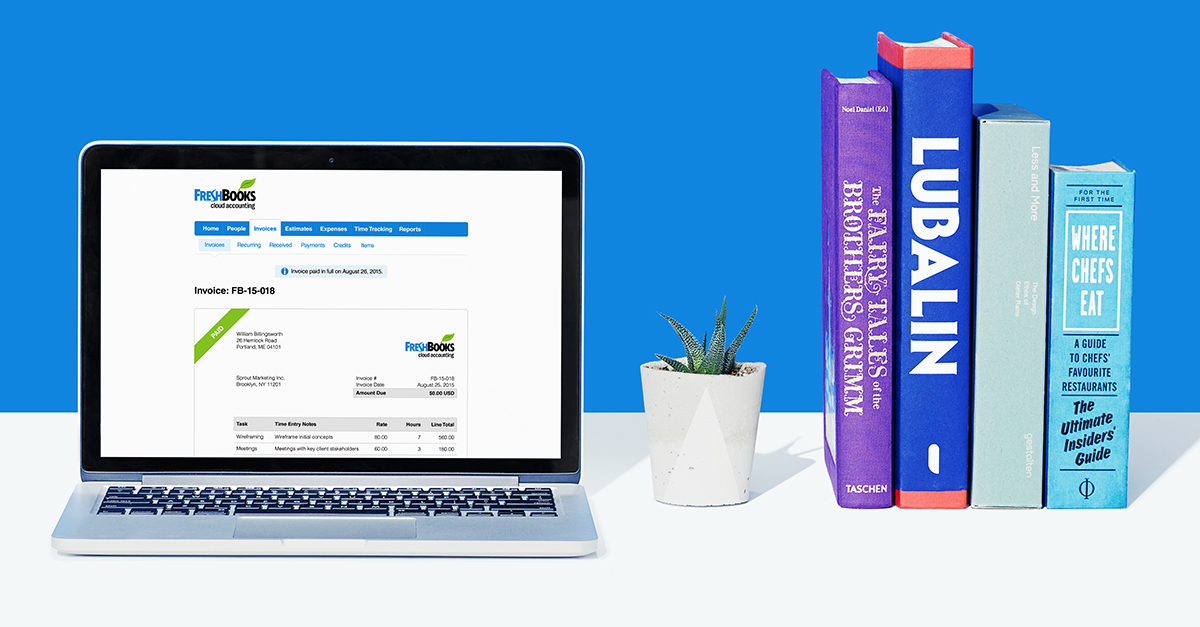 How to Create Invoices with FreshBooks
The FreshBooks software provides you with two main methods of creating an invoice. They are the Dashboard and the Invoice Panel.
1. Using the Dashboard
You can create an invoice directly from the Dashboard. To do so, simply click on the "Invoice" button. Having done so, click on the "Create New" option. This will activate a new window labeled "New Invoice". You can proceed to customize the template within.
2. Using the "Invoices" Panel
From this section of the software, you can simply tap on a button labeled "Create Invoice". This will bring up a new window containing a customizable template.
As you create an invoice, you can determine whether the document will accept payments made by credit card. You can also set up its appearance through choosing a heading color or a font. You can also set the invoice to be recurring or not. Furthermore, you can enter invoice details such as the Company Name, Client Name, Particulars, Total Cost and also the Due Date of the document.
FreshBooks enables you to create professional invoices on demand. You can also automate the invoice creation process. This software can prove to be an excellent business asset today!
Free Download or Buy PDFelement right now!
Free Download or Buy PDFelement right now!
Buy PDFelement right now!
Buy PDFelement right now!
Up to 18% OFF: Choose the right plan for you and your team.
18% OFF
PDFelement for Individuals
Edit, print, convert, eSign, and protect PDFs on Windows PC or Mac.
12% OFF
PDFelement for Team
Give you the flexibility to provision, track and manage licensing across groups and teams.
Contact us to learn more about the custom services we can do for you.
Related Articles
All Topics