How to Generate A Design Invoice
Few industries are as vibrant and involving as the design industry. This sector of commerce is characterized by a dynamic environment where everything is growing and evolving at a lightning pace. To get paid in this industry, you need to have a design invoice that will capture the attention of your client. Therefore, making use of software such as FreshBooks can improve the performance, attractiveness and returns of your business!
Free Download and customize it according to the sample text below
---
What to Include in Design Invoice
To develop this document, it is important to include all the most crucial elements into its content. They include:
• The Invoice Number
The design invoice needs to be identified. This means that it requires a specific, unique assigned number or combination. The invoice number can be made up of digits and letters at the same time.
• The Date of Issuance
This is the specific date when the invoice was generated and issued to the client in the transaction.
• The Vendor
The provider of goods or services in the transaction is known as a vendor. Their official name, postal address, phone contact, email address are indicated. If the Vendor is actually a company, then its registration number is in order.
• The Client
Also known as the Consignee, this is the recipient of the goods or services which are indicated in the invoice. The Client's details are added into the invoice as well. They include their full name, postal address, phone number, email address and the registration number if applicable.
• Particulars
These are the specific elements that were sold or bought in the transaction. They are also referred to as the goods and services. These elements require detailed description. The components of the products or the length of services provided are indicated here as well. Any additional and relevant material such as units of measurement and capacity must be added.
• The Currency
The specific type of legal tender that is to be utilized in the transaction needs to be indicated. This helps to increase transparency in business deals that concern people from different nations and cultures.
• Total Cost
This is the total amount of money that the Client should pay the Vendor. It is inclusive of taxes.
• The Due Date
This is the date by when payment needs to be made.
• Terms of Payment
The payment process may be governed by a number of important terms. If there are any of them in the transaction, they should be expressed.
---
Advantages and Disadvantages of Creative Invoice Design
Advantages
• Visibility
A creative invoice design grabs the attention of the client. It impresses them and shows that you are ready to go above and beyond the requirements of an invoice. As such, the invoice design is easily noticed and indicates the modern approach of your company. On the other hand, a normal invoice hardly grabs any positive attention.
• Brand imaging
The creative aspect of the invoice design can assist you to add your brand's imaging and logo in the invoice document. This creates continuity and uniformity across all your enterprise documents. Not only is it attractive, it reflects professionalism. The normal invoice does not offer this chance.
• Presentation of strategic information
A creative invoice allows you to present strategic information in your invoice. Examples of these are transaction statistics, company motto, desired payment method and payment terms. These can be embedded in the invoice in such a way that they indicate initiative. A normal invoice does not indicate this data in an inviting way.
Disadvantages
• Takes time and effort
Developing and issuing a creative invoice takes up time and effort on your part. This is because it has to fulfill your professional and creative requirements. This makes the invoice tedious to prepare. Due to lack of advanced design details, the normal invoice does not take much time to create.
• Requires specialized skills
The images, logos, text and forms in a creative invoice require special graphic design skills. Elements such as placement, color coordination and relevance are considered when designing a creative invoice. These skills are not common and require training. On the other hand, a normal invoice is quite easy to generate because it does not need any extra special skills.
---
How to Create an Invoice Easier with FreshBooks
What is FreshBooks
In the world of business, no other software is as effective for producing invoices like FreshBooks. This software makes it easy for you to generate invoices on demand. FreshBooks is developed to increase the efficiency and effectiveness of modern enterprises. Hence, this digital tool implements elements such as automation in its operation. As such, it can automate the production of invoices, jobs in the business, expense organization and much more. FreshBooks is based on Cloud infrastructure. Therefore, you can log into its dashboard and view business data at any time. Furthermore, it is user-friendly and has a very short learning curve. Here is more on how you can use FreshBooks to develop a creative design invoice.
Try Freshbooks for Free >>>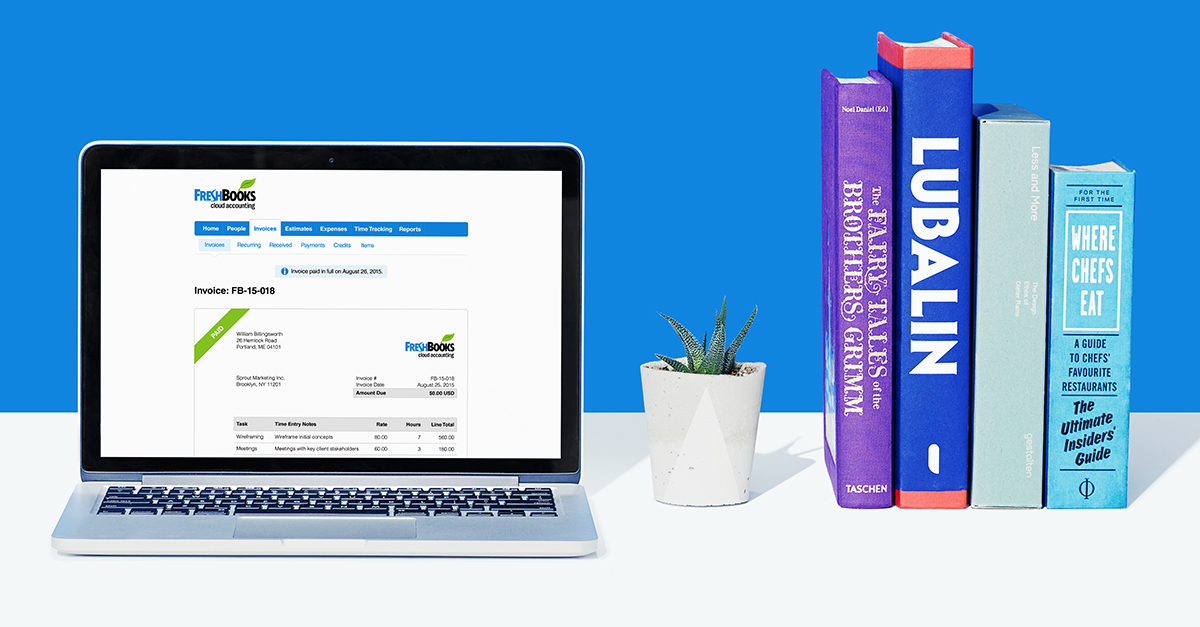 Steps to Create an Invoice
Within the FreshBooks software, you can develop a creative invoice in minutes. This can be accomplished through the two main modules presented for this purpose. They include the Dashboard and the Invoices Panel.
1. The Dashboard
Within this module, you can create an invoice quite easily. Simply tap on the button that is labeled "Create New". Having done so, proceed to tap on the option titled "Invoice". Once you do so, the software will immediately present you with a window containing a invoice design template that you can edit to create an invoice.
2. The "Invoices" Panel
This module provides you with a button titled "New Invoice". Once you tap upon it, the software immediately creates a new invoice template for you to edit.
The template has a number of sections which require editing so as to develop your invoice. You can manipulate the section titled Accept Credit Cards. This one allows you to determine whether your invoice will accept payments that are made using credit cards. The Customize Invoice Style option enables you to design the overall appearance of your invoice. This includes formatting the titles, font and also specifying if your invoice is recurrent or not. The most important part of the invoice template is known as Transaction Details. Here, you can enter details about your active transaction. These include your Company Name, Client, Goods or Services, Total Cost, Terms of Payment and Due Date.
Once you have completed the process of editing the design invoice template, you can send the invoice to your client. Otherwise, you can save it for further editing. The software will preserve it for you in PDF format.
FreshBooks presents professionalism, effectiveness and reliability all rolled into one. It is the premier software tool for creating and issuing invoices. Invest in this software for your business and experience dramatic growth!
Free Download or Buy PDFelement right now!
Free Download or Buy PDFelement right now!
Buy PDFelement right now!
Buy PDFelement right now!
Up to 18% OFF: Choose the right plan for you and your team.
18% OFF
PDFelement for Individuals
Edit, print, convert, eSign, and protect PDFs on Windows PC or Mac.
12% OFF
PDFelement for Team
Give you the flexibility to provision, track and manage licensing across groups and teams.
Contact us to learn more about the custom services we can do for you.
Related Articles
All Topics