How to Generate an Indesign Invoice
Every business transaction needs to be recorded properly. This is so as to ensure transparency. Recording transaction details using invoices and other supporting documents also boosts the confidence of the clients in the vendor. Today, clients are drifting towards vendors who implement vibrancy in their documents through colors, texture and animation. An example of such recording material is the invoice template indesign.
Free Indesign Invoice Template
Free Download and customize it according to the sample text below
| | | |
| --- | --- | --- |
| Free Download>>> | Free Download>>> | Free Download>>> |
---
What to Include in an Indesign Invoice Template
• The Invoice Number
This is an official identifier of the invoice at hand. Normally, it is made up of numbers, but it can also include letters and special characters.
• The Date of Issuance
This is the date when the invoice was generated and issued to the client.
• The Vendor
This is the provider of the goods or services which are involved in the transaction. Their official name, postal address, phone number and email address are indicated. If it is required, their registration number is also indicated.
• The Consignee
This is the recipient of the goods or services that are involved in the transaction. Also known as the Client, this individual needs to be identified clearly. Their official name, postal address, phone contact, email address are clearly indicated.
• Particulars
These are the exact details of the transaction. They cover descriptions of the goods or services that were provided. Elements such as the dimensions, components and units of measurement are also represented.
• Terms
These are the conditions governing the payment of the items in the invoice.
• The Currency
The official type of legal tender that is to be used in the transaction is indicated. This is especially important in transactions that involve people from different countries or in international deals.
• Total Cost
The grand total monetary value of the items or services which are involved in the transaction is indicated. It is normally inclusive of all taxes.
• The Due Date
This is the date by when the contents of the invoice should have been paid for.
---
Advantages and Disadvantages of Indesign Invoice
Advantages
• Beauty
The free indesign invoice template is attractive to observe and interact with. Unlike traditional business invoices, this particular one has colors, texture, shadow and an interesting form. As such, it grabs the client's attention in a positive way.
• Function
An indesign invoice presents all the necessary information of the transaction in clear categories. These are color-coded for easier identification. It is a versatile document that can be used for a variety of transactions. Hence, it is multi-functional and guarantees effectiveness.
• Optimized for technology
The indesign invoice is developed using dedicated software. As a result, it is optimized for use with technological devices. This invoice can be shared across devices such as laptops, smartphones, tablets and more. As such, it is ideal for business on the move.
Disadvantages
• The indesign invoice template format is fixed
Creating an indesign invoice requires you to use a specific template. The format of this template is pre-determined for you. Therefore, you cannot change it. This limits your creativity when it comes to maintaining brand identity in your business documents.
• Accessing them requires an Internet connection
The indesign invoices are hosted on the Internet. Therefore, they require that you have an active connection to gain access to them. They are not available from offline sources.
---
How to Create Invoice Easier with FreshBooks
What is FreshBooks
FreshBooks is a software solution that you can use to create business invoices. It is designed to enhance the recording of transactions in your enterprise more efficiently. FreshBooks can generate invoices on demand or automatically. The software is built on Cloud technology. Therefore, it can be accessed from anywhere in the world using any Internet-capable device. FreshBooks software can be implemented in any type of business. It is ideal for corporations as well as freelance enterprises. Hence, it is a versatile digital tool. Here is how to develop an graphic design invoice template indesign using this software.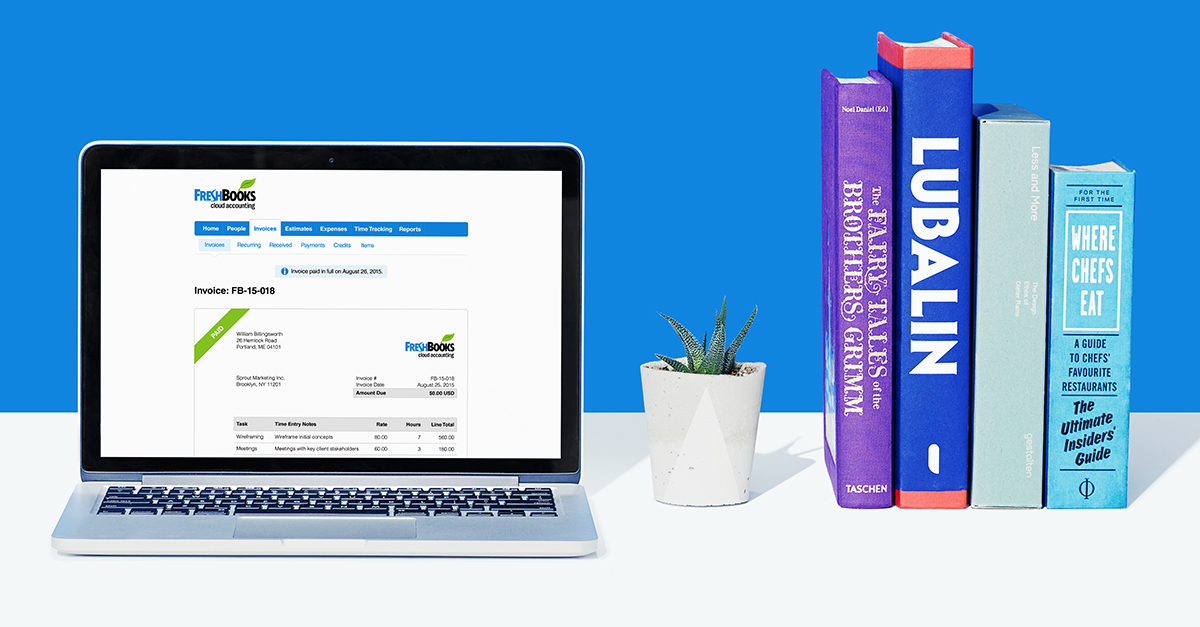 How to Create Indesign Invoices with FreshBooks
This business software provides you with 2 main methods through which you can create an indesign invoice. They are:
1. The Dashboard
In this resource, you can create an invoice by simply visiting an option labeled "Create New". Clicking on it delivers you to a new option titled "Invoice". Proceed to tap on it. This immediately brings up a new window containing an invoice indesign template ready for you to edit.
2. The "Invoices" Panel
This part of the software also helps you to create an invoice on demand. Here, simply tap on the button labeled "New Invoice". This will immediately bring up a template window titled New Invoice.
Within FreshBooks, the invoice template provides you with a number of important sections. You can use them to edit and enter information in the template. These sections include:
This part of the invoice template provides you with options that enable you to determine if your invoice will recognize and accept payments made through credit cards.
In this part of the invoice template, you can determine the overall appearance of the document. Here, you can handle elements such as the overall style, the theme, font type, heading colors and whether the document is recurring in nature.
Invoice Transaction Details Sections:
This part of the invoice template enables you to enter specific details about your invoice. These include elements such as the Vendor's Name, Client's Name, Particulars, Total Cost and Due Date.
Within FreshBooks, you can Save the indesign invoice template free after completing the editing process. Furthermore, you can Send it upon completion. The software will deliver the invoice directly to your client through email.
FreshBooks represents the future of business document management. It is a powerful tool with limitless capabilities today. By implementing FreshBooks in your business, you can reap big rewards!
Free Download or Buy PDFelement right now!
Free Download or Buy PDFelement right now!
Buy PDFelement right now!
Buy PDFelement right now!
Up to 18% OFF: Choose the right plan for you and your team.
18% OFF
PDFelement for Individuals
Edit, print, convert, eSign, and protect PDFs on Windows PC or Mac.
12% OFF
PDFelement for Team
Give you the flexibility to provision, track and manage licensing across groups and teams.
Contact us to learn more about the custom services we can do for you.
Related Articles
All Topics