Attention All Landscapers! Here's a New Landscaping Invoice Software
This is a business document that contains details about the products or services provided by a landscaper to their client. It contains details such as the materials used, services rendered, cost of implementation and terms of payment. The landscaper uses this document as a proof of completion and also a request for compensation. Hence, the landscaping invoice is a versatile document.
Free Landscaping Invoice Template
Free Download and customize it according to the sample text below
| | | |
| --- | --- | --- |
| Free Download>>> | Free Download>>> | Free Download>>> |
---
What is a Landscaping Invoice
This is an official record of the activities, services and products provided by a landscaping agent. This can be an individual landscaper or a company. This document records all the details about the nature of the transaction, materials used, and expenses incurred. The landscaping invoice is issued upon completion of the project. Furthermore, it may oblige immediate payment or indicate that compensation can be performed by a particular date.
---
What to Include in a Landscaping Invoice
This business document contains a collection of important elements. They include:
• The Invoice Number
This is a specific identifier of the document. Normally, it is made up of digits. However, it can contain letters as well.
• The Date of Issuance
This is the specific day when the invoice was issued.
• The Vendor
This is the plumber who delivers the products or services that are required by the client. Their name, address, phone number and registration number are required. If the plumber is an employee of a plumbing company, then the firm is regarded as the Vendor.
• The Consignee
The customer or client who received the landscaping service is indicated here. Their name, address and phone number are included.
• The List of Tasks Completed
The tasks that were completed in the landscaping exercise are indicated here in list form. The length of time that each task took is indicated as well.
• Rate of Service Provision per Hour
Every landscaper has a particular rate per hour. This amount is indicated here.
• Sales Tax
When providing a specialized service such as landscaping, a sales tax can be issued. Its amount is indicated here.
• The Currency
This is the specific type of legal tender that is expected to be used in the transaction.
• Grand Total
This is the total amount of money that the client should pay. It is made up of the cumulative rate per hour, sales tax and any additional expenses.
• Terms of Payment
These are any additional instructions regarding the transaction.
• Due Date
This is the date by when payment should be made.
---
How to Create a Landscaping Invoice Easier with FreshBooks
What is FreshBooks
FreshBooks is a software which is used for accounting purposes. It is utilized to help run your business in an easier, faster, more profitable way. This software can help you to perform various business processes automatically. As a result, you can focus more on other activities such as expansion and advertising.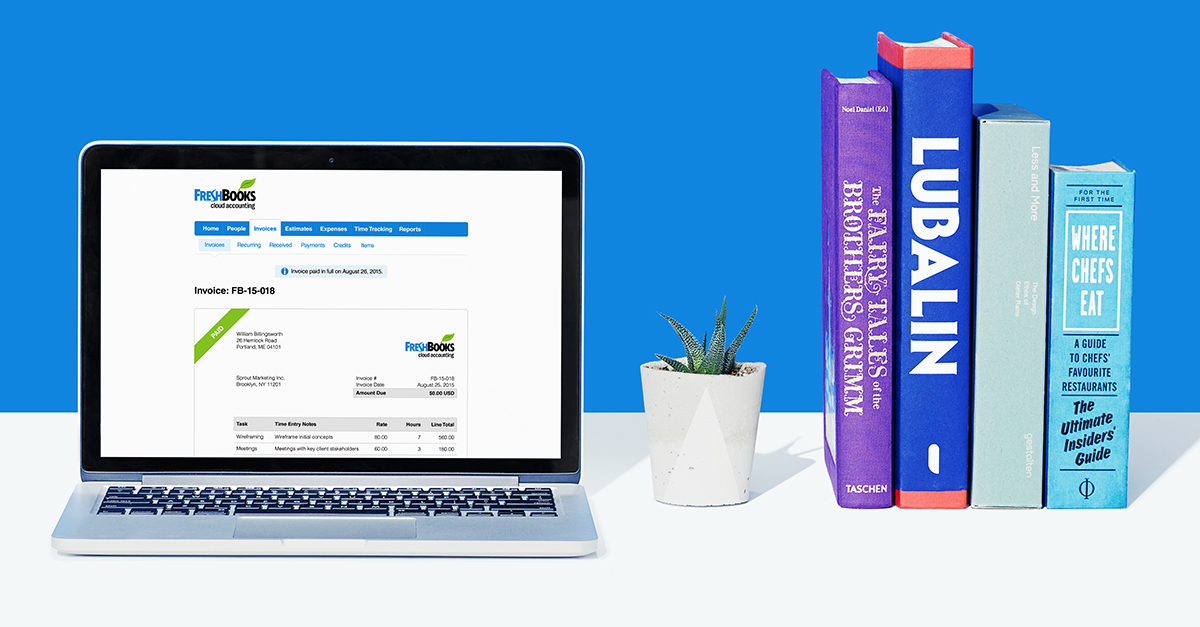 The FreshBooks software has an interface which is easy to use. It provides you with a Dashboard that contains various tools and facilities that you can use to generate landscaping invoices. You can also use these features to automate business processes such as the creation of invoices, task scheduling, organizing expenses and accounts reporting. The software also has a Customer Relationship Management (CRM) module. This facility helps you to interact with customers easier. FreshBooks is constructed on Cloud technology. As such, it is possible to access its control panel and Dashboard at any time you want through your smartphone, laptop or tablet device.
How to Create a Landscaping Invoice with FreshBooks
The FreshBooks software makes it very easy for you to create a landscaping invoice. There are two main modules which you can utilize towards this purpose. They include:
1. Using the FreshBooks Dashboard:
You can create a new landscaping invoice directly from the Dashboard. To do this, simply click upon a button labeled "Create New". Having done so, tap on "Invoice" and arrive at a "New Invoice" screen that contains a landscape invoice template.
2. From the "Invoices" Panel:
It is also possible to create a new invoice directly from the Invoices panel. From this location, you can tap on a button labeled "New Invoice". Once you click upon it, the software will take you to a screen containing a template in which you can enter the specific details of your landscaping invoice. This data is entered in specific sections of the landscaping invoice template. The template has multiple fields which you can use to customize the landscaping invoice. They are divided into 3 categories. They are:
This category of fields allows you to customize the invoice such that it can capture credit card payments.
This category of fields enables you to determine the appearance of the invoice. You can pick a theme, heading colors and even choose to make the invoice recurring or not.
Invoice Transaction Details:
After you customize the appearance of your invoice for landscaping services, you can go ahead to enter the specific details of the transaction at hand in this category of fields. It provides you with an opportunity to specify data such as the Vendor, Consignee, Services Rendered, Total Cost and Due Date.
Having completed the process of entering the data in the fields above, you can proceed to Save the document as a landscaping invoice pdf or Send it directly to the client.
FreshBooks makes it very easy for you to create a landscaping invoice. The software contains document generation features as well as business process automation facilities. It is an ideal resource for modern enterprises!
Free Download or Buy PDFelement right now!
Free Download or Buy PDFelement right now!
Buy PDFelement right now!
Buy PDFelement right now!
Up to 18% OFF: Choose the right plan for you and your team.
18% OFF
PDFelement for Individuals
Edit, print, convert, eSign, and protect PDFs on Windows PC or Mac.
12% OFF
PDFelement for Team
Give you the flexibility to provision, track and manage licensing across groups and teams.
Contact us to learn more about the custom services we can do for you.