Here's How the Invoice Email Can Streamline Your Business Activity
The invoice email is a bill indicating the products or services which were delivered to a client. It contains details such as the nature of services and descriptions of products. More importantly, it contains the seller's identification details and the amount involved. It is a digital proof of work and can also serve as a digital receipt.
Free Invoice Email Template
Free Download and customize it according to the sample text below
| | | |
| --- | --- | --- |
| Free Download>>> | Free Download>>> | Free Download>>> |
---
What is an Invoice Email
After delivering some goods or providing services, a businessperson can inform their client of pending payment by sending an invoice email. This is a detailed notice that indicates the completion of a task and the need for payment. Along with the invoice comes some terms for payment as well as the due date.
---
What to Include in an Invoice Email
There is a number of important elements that must be included in an invoice email. They are:
• The Title "Invoice Email"
Seeing as it is an official document, the invoice email needs to be titled as such.
• The Invoice Number
This is a special identifier for this business document. It is often made up of a combination of numbers and letters.
• The Date of Issuance
This is the specific date when the invoice email was generated and sent to the client.
• The Vendor
This is the company that sold the products or services indicated in the transaction. Their name, address, contact number and registration number are indicated.
• The Consignee
The recipient of the goods or services is included as well. Their name, address and contact number are provided.
• The Full Description of Goods or Services
The goods or services provided in the transaction are described comprehensively. If goods are involved, their physical description, composition, dimensions and purpose are indicated. If services are involved, the number of hours they took and any materials necessary are indicated. In both cases, the appropriate units of measurement are pointed out.
• The Currency
This is the specific type of legal tender that is expected to be exchanged in the transaction. This element needs to be indicated especially in international transactions or business between parties from different nations.
• The Total Cost
This is the amount of money that the client should pay for products provided or services rendered.
• The Due Date
This is the date by when the amount indicated in the invoice should be paid.
---
How to Create an Invoice Email Easier with FreshBooks
What is FreshBooks
This is a software which is used for business accounting. It can assist you to run your business in an easier, secure manner and assist you to experience quicker profits. FreshBooks can automate various processes within your enterprise. By doing so, it frees up your time and energy for investment in activities such as advertisement and expansion.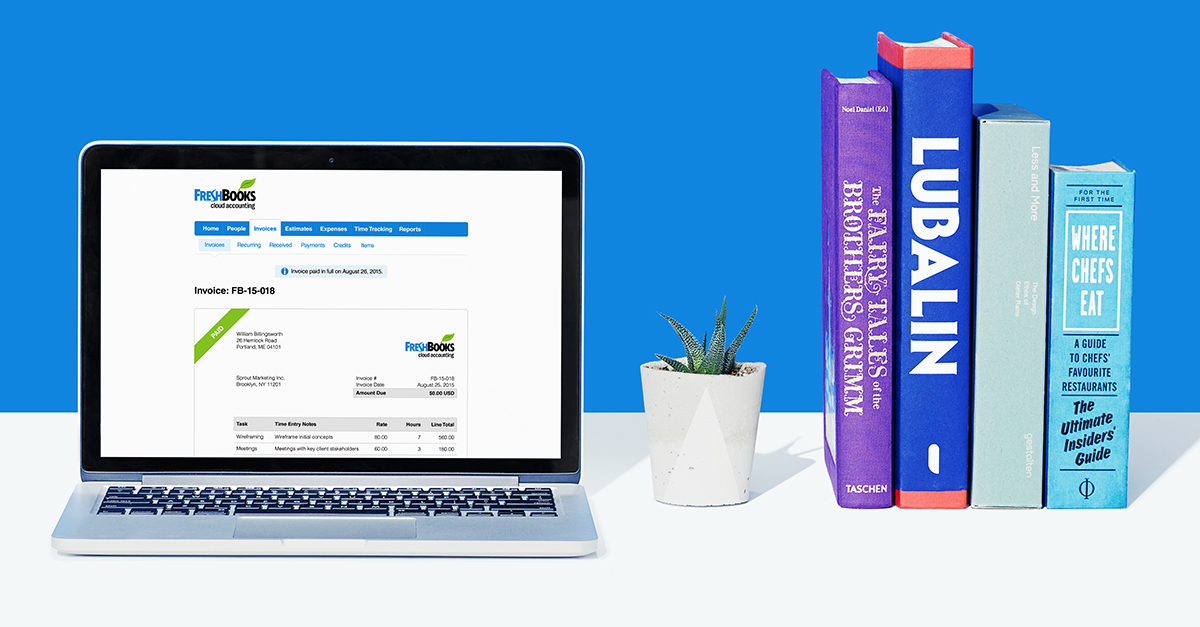 The FreshBooks software has an interface which is user-friendly and intuitive as well. Hence, its control panel and Dashboard contain tools and features which you can use to create the invoice email. The software can even automatically inform you about past due invoice email. Furthermore, you can manipulate these facilities so as to automate business activities such as reporting accounting records, creating invoices, organizing expenses and task scheduling as well. FreshBooks is built upon the Cloud infrastructure. As such, you can access the control panel and your business information from any location globally. This adds convenience to your business operations. Here is more about how to email an invoice.
How to Create an Invoice Email with FreshBooks
The FreshBooks software makes it very easy for you to create an invoice email. The software provides you with two modules for this purpose. They are the Dashboard and the Invoices panel. Here is how to use them to create an invoice email.
1. Using the Dashboard:
You can create a new invoice email directly from the Dashboard. Simply click the button labeled "Create New". After doing so, select the option labeled "Invoice". This will take you to a screen titled "New Invoice" which contains an email invoice template.
2. From the "Invoices" Panel:
It is also quite possible to create an invoice email directly through the Invoices panel. Through this resource, you can tap on a button labeled "New Invoice" that is located at the top right-hand section of the window. Once you click upon it, the software will take you to a screen where you can enter details about your invoice. This data is organized into specific parts of the invoice email. They are:
This section of the template provides you with options that you can customize so as to enable your invoice email to accept payments made via credit card.
This part of the template allows you to adjust the overall appearance of your invoice. You can pick a theme and also determine the colors of the title, heading and even specify the font.
Invoice Transaction Details Sections:
This is the most important part of the invoice email template. That's because it provides fields which you can modify so as to tailor your invoice such that it captures the specific details of your transaction. Some examples of these sections are your Company Name, the Consignee, The Date of Issuance, Invoice Number and Total Cost involved.
Having entered details about your invoice, you can proceed to Save the document in PDF format. This gives you an opportunity to make further changes before sending. You can also Send the invoice directly to your client.
The FreshBooks software makes the process of creating invoices for your business much easier. This digital tool is versatile, powerful and user-friendly. You can improve and streamline business operations in your enterprise using FreshBooks today!
Free Download or Buy PDFelement right now!
Free Download or Buy PDFelement right now!
Buy PDFelement right now!
Buy PDFelement right now!
Up to 18% OFF: Choose the right plan for you and your team.
18% OFF
PDFelement for Individuals
Edit, print, convert, eSign, and protect PDFs on Windows PC or Mac.
12% OFF
PDFelement for Team
Give you the flexibility to provision, track and manage licensing across groups and teams.
Contact us to learn more about the custom services we can do for you.