How to Record Transactions Accurately with Easy Invoice
Speed and accuracy are very important elements of business. Seeing as it is a competitive arena, the business environment requires you to be sharp and results-driven. To achieve this today, you can make use of the easy invoice. This document helps you to receive compensation from your clients as fast as possible. Its mobile, lightweight nature helps this document to be used on demand while in the business field.
Free Easy Invoice Template
Free Download and customize it according to the sample text below
---
What to Include in an Easy Invoice
There are many important elements that need to be included in an easy invoice. They include:
• The Invoice Number
Every invoice must be identified and the invoice number performs this task. It can be made up purely of digits or contain letters and special characters as well.
• The Date of Issuance
Every invoice must be identified and the invoice number performs this task. It can be made up purely of digits or contain letters and special characters as well.
• The Vendor
The seller of the goods or services which are involved in the transaction is known as a Vendor. Their details are added in the invoice. These include their name, postal address, phone number and email address. If the vendor is a company, then its registration number is included as well.
• The Client
This is the recipient of the goods or services involved in the transaction. Their official name, postal address, email address and phone number are indicated. If the client is a company, its registration number needs to be indicated.
• Particulars
These are the specific items or services that have been exchanged in the transaction. If they are physical goods, their dimensions, components and overall description is provided. If they are services, then the length of provision, resources and manpower used are described. Appropriate units of measurement are also presented.
• Taxes
Any levies or duties that are required in the transaction are indicated. Examples of these are Sales and VAT taxes.
• Total Cost
This is the full amount of money that the client needs to pay the vendor. It is inclusive of all taxes.
• The Due Date
The date by when the total amount of money in the transaction needs to be paid is indicated.
• Terms of Payment
Any additional information concerning compensation is included in the invoice.
---
Top 3 Easy Invoice Software
This is the top software tool for creating invoices today. FreshBooks can generate business invoices that are accurate, comprehensive and professional. This software tool is powerful and can develop these documents on demand. It can also produce them automatically. FreshBooks is provided through Cloud architecture. Therefore, you can access its dashboard and your business information from any location worldwide. You can also generate and send invoices by manipulating an easy invoice template. An interesting and handy feature of FreshBooks is that it can automate business processes. Examples of these are task scheduling, expense organization and accounts reporting. FreshBooks can be accessed for a limited period of time through a demo account. To use it in the long term, you need to buy its license at $15.00 per user.
Try Freshbooks for Free >>>
Light and breezy, EasyBooks creates invoices and other business documents on the move. This software is ideal for small and medium-sized enterprises. It specializes in the development of invoices, bank statements and estimates. EasyBooks is quite versatile. That's because this software has been adapted into an app for smartphones and tablets. It is known as Easy Invoice. This application can be installed in iOS devices. Through its application extension, EasyBooks is a highly accessible, convenient and powerful software solution for generating invoices. Best of all, it is completely free to download and use!
This is a software tool which is dedicated to handling business document development. Wave can effectively and efficiently develop invoices, purchase orders, payroll logs and expense reports. This software can also manage transactions. Wave has a collection of important and useful tools that you can use for business administration. In addition to that, the software is capable of multicurrency support. Wave has been recognized as easy invoice software to use.
---
How to Create an Invoice Easier with FreshBooks
What is FreshBooks
Creating an easy invoice using FreshBooks is tremendously easy. This is because the software presents you with a user-friendly interface that you can utilize so as to create this business document. FreshBooks contains a suite of tools and features that make it possible for you to create invoices on demand. In addition to generating this business document, this basic invoice program can also automate a variety of business processes. Examples of these are task scheduling, expense organization and accounts reporting among others. FreshBooks is versatile and can produce the documents that are needed for various types of businesses. It is also based on Cloud infrastructure. Therefore, you can log into your dashboard and access the data within from anywhere in the world. Here is more on how this software can assist you to create a basic invoice.
Try Freshbooks for Free >>>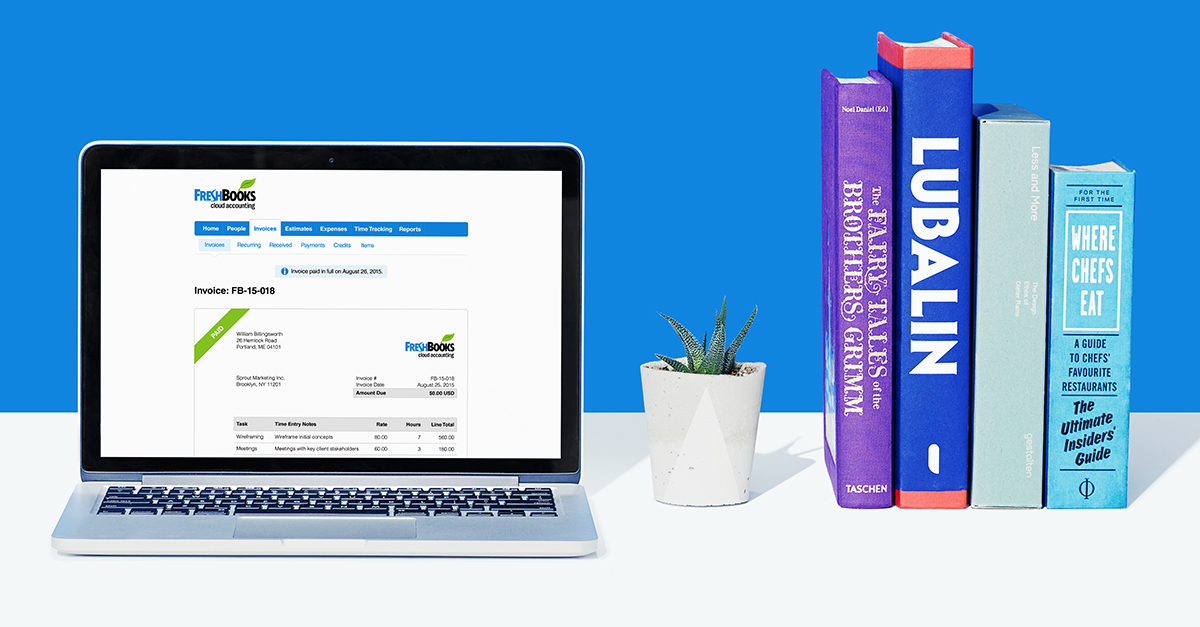 How FreshBooks Helps You to Create an Easy Invoice
Creating an invoice using FreshBooks is a straightforward process. All that you need to do is navigate to either the Dashboard or the Invoices Panel.
1. The Dashboard
In the Dashboard, you can begin by tapping on a button that is labeled "Create New". Having done so, you can proceed to tap on "Invoice". This will immediately bring up a new window that contains a customizable template.
2. The "Invoices" Panel
By navigating to the Invoices Panel, you can proceed to tap on an option labeled "New Invoice". Having done so, the software will immediately deliver a new window containing an easy invoice template free for you to edit.
The FreshBooks invoice template contains a wide range of sections. One of these is Accept Credit Cards. Here, you can determine if your invoice will accept credit card payments. Another section is Customize Invoice Style. It allows you to design the invoice by picking colors for its headings and titles. You can also pick out the font and also determine if the invoice is recurrent or not. The most important part of the template is known as Transaction Details. Within this one, you can enter the specific details of the current transaction. Examples of these are the Vendor's Name, Client's Name, Particulars, Total Cost and Due Date as well.
Once you have completed editing the FreshBooks template, you can send it to your client. Otherwise, you can save it. The software will store it for you in PDF format.
FreshBooks has been recognized as one of the most effective software tools for invoice generation. Not only does it create this important revenue generating document, it is also versatile and Cloud based. FreshBooks is the future of business management!
Free Download or Buy PDFelement right now!
Free Download or Buy PDFelement right now!
Buy PDFelement right now!
Buy PDFelement right now!
Up to 18% OFF: Choose the right plan for you and your team.
18% OFF
PDFelement for Individuals
Edit, print, convert, eSign, and protect PDFs on Windows PC or Mac.
12% OFF
PDFelement for Team
Give you the flexibility to provision, track and manage licensing across groups and teams.
Contact us to learn more about the custom services we can do for you.
Related Articles
All Topics