Unlike other operating systems Windows doesn't come equipped with the necessary print to PDF. Therefore, it has been quite problematic for Windows users who don't have either the right tool or the right know-how to print to PDF. It is only fair to mention that Windows 10 has recently added this feature so the persons most likely to face this problem are those using Windows 7 and 8. If you are yet to upgrade to Windows 10 and are struggling with how to print to PDF on wither Windows 7 or 8, this article will provide you with a complete guide on how you can do this easily.
How to Print to PDF Easily
If you are looking for a much easier solution to print to PDF on Windows and Mac, PDFelement is one of the best. Not only does this program make it very easy for you create, edit and print PDF files, but it also comes with a whole host of other features that are all designed to help you manage your PDF files with ease, a must have solution if you find that you need to use PDF files often.
Print to PDF Directly
The following are how to print to PDF with PDFelement virtual printer.
Open the file you want to print to PDF in a Windows application.
Click "File" and then "Print".
Choose "PDFelement" as the printer.
Then you can just click "Print" and click "OK" to save the PDF file.This is how you can print to PDF easily.
First Alternative Way to Print to PDF
PDFelement can be used to create PDF files from any printable file format including Excel and Word. The process is very easy. All you have to do is simply drag and drop the file on to the main interface and a new PDF file will be opened.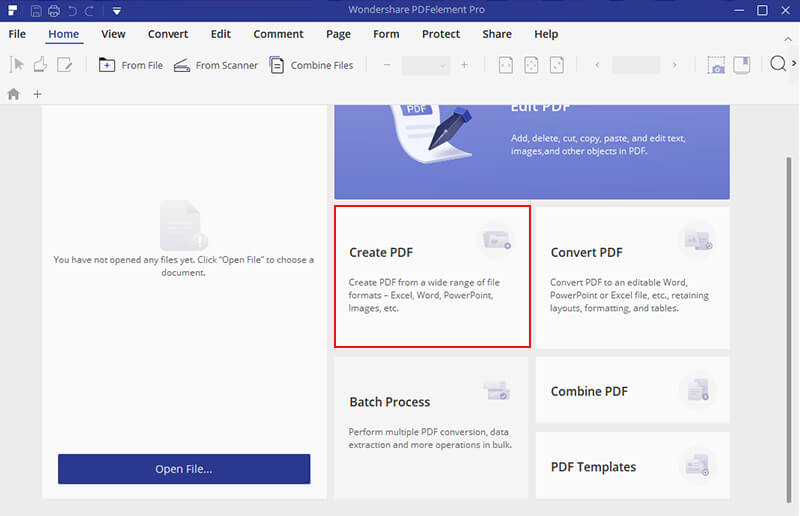 Or click on the "Create PDF" button first, select the file you want to create into PDF and click "Open". A PDF has already be created and opened in the program. If you have selected multiple files to open, you will generate multiple PDF files displayed on different windows in PDFelement.
Second Alternative Way to Print to PDF
Alternatively, you can also just click on the "Home" tab and then select the "From File" option to browse for the file you would like to create into PDF and open as a PDF file.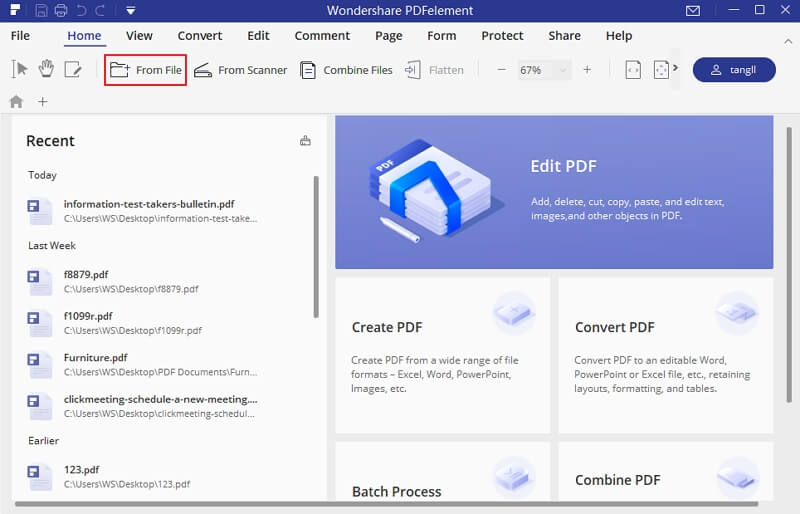 Third Alternative Way to Print to PDF
The combine feature in PDFelement makes it easy for you to take multiple files in different formats and merge them to create one PDF file that you can then easily print to PDF in windows.
To do this click on "Home" and then select the "Combine Files" button. Now, click on "Add Files" to import the files you would like to merge. You can also just drag and drop the files into the main window and then click on the "Combine" button. All the selected files will be merged to form one PDF file that will now be available for printing.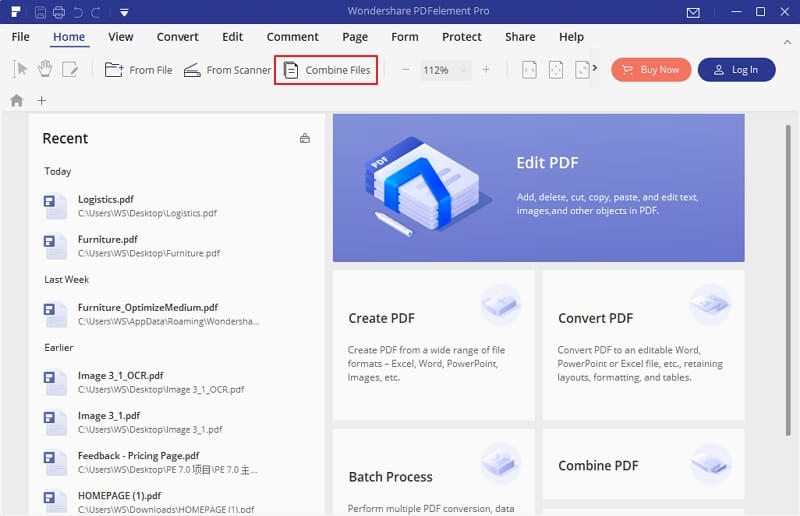 Fourth Alternative Way to Print to PDF
If you want a brand new PDF file, you can simple go to "File" and there is a "New" button. In the new button you can click on "Blank" and a PDF will be created easily.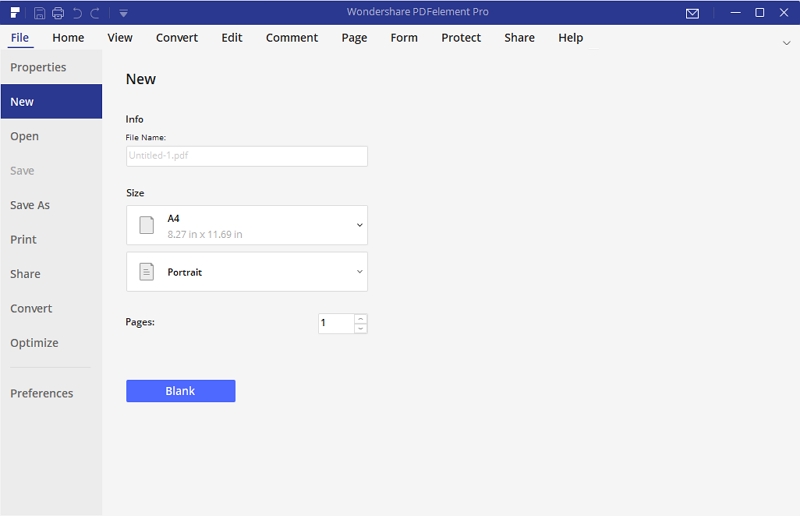 PDFelement also comes in handy when you want to edit the PDF in any way. You can easily edit the text by deleting some of the text on the document or even adding new text. You can also delete the images and graphics on the document and even add new ones. The program also gives you numerous annotation options that allow you to add comments to the document, highlight and even markup sections of the document. Its conversion feature is also worth mentioning as it makes it very easy for users to create PDF files from file in any other format. If you are thinking that a program with so many features must be hard to use, you couldn't be more wrong. As we shall see very shortly, the program is very easy to use despite its many features.
You can use PDFelement to create PDF files from documents of other formats including Word, excel and Power Point. Aside from just creating a PDF from these different formats, you can use it to combine these different formats and create a PDF file that you can then edit anyway you want and print easily.
The following is a simple step by step guide that demonstrates how easy it is to use PDFelement to print to PDF. For Mac users, you can check how to print to PDF on Mac here. To follow along with the tutorial below, download and install PDFelement to your computer. The installation wizard should guide you on what to do.
---
Video on How to Print to PDF with PDFelement
---
Tips: Print to PDF on Windows 7/8/8.1 and Windows 10
Print to PDF on Windows 10:
Like we mentioned before, if you are using Windows 10, you are in-luck since the Print to PDF feature is already in-built. Just choose "File> Print" and then select the "Microsoft Print to PDF" option as your printer.
If you however are still using Windows 7, 8 and 8.1, here's what you should do to print to PDF:
Step 1: Begin by downloading a PDF printer that will allow you to Print to PDF on Windows. There are very many to choose from, most that are free. You can use one like CutePDF. Just download and install the program.
Step 2: Now, in an application within windows that allows for printing such as Word or Excel, choose "File > Print" or hit Ctrl + P on the keyboard. Once the "Print" dialogue box opens, select "CutePDF Writer" as your printer under "Select Printer". Set your specifications and then click "Print" to complete the process.
---