Midi is an industry standard when it comes to music production and digital representation of music. It is widely popular in music production for many reasons, one of them being its smaller size when compared to other audio files. Basic sound cards on most PCs and electronic devices can synthesize the signals carried by Midi files, which has made them popular with phones, greeting cards, and websites.
Musical scores are used to represent a melody long before it is translated to a music file such as Midi. Scores are popularly formatted in PDF files, fed into a music application where the musical notes are processed, which results in the reproduction of melodious tunes through your speakers. These tunes can then be exported as Midi files or other types of audio files. Now let's learn how to convert PDF to Midi file.
How to Convert PDF into Midi File
PDFtoMusic is one of the most capable applications for converting music scores and sheet music on PDF files to Midi. The free version of the application will only convert the first page of the PDF to Midi among other restrictions.
Step 1. Once you have uploaded your PDF file, PDFtoMusic begins scanning through the document for musical notes. Discovered notes are played back while the program continues searching for more notes on the document.
Step 2. You can export the musical notes to various file formats, including Midi (.mid extension), MP3, WAV, and OGG.
Step 3. PDFtoMusic also enables users to edit the content of the PDF file by adding sound from instruments such as guitars and pianos. You can further remove notes that you don't want to include in the final Midi music file, making a digital music editor by extension.
---
Ideal Solution for All Your PDF Needs
PDFelement is an industry-leading application that offers a simple and all-inclusive platform to suit different PDF editing needs without the need to install additional software. Of its many functions, PDFelement is popular for its feature-filled editing abilities. It allows you to edit each element on your PDF by adding, editing, or deleting. If your document was produced after scanning, PDFelement implements its industry-leading OCR (Optical Character Recognition) module to lift content from the document, which enables you to edit and modify the document at will.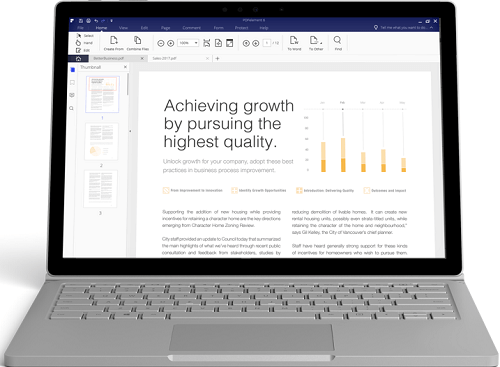 PDFelement is also a capable document converter and creator, with users able to convert to PDF from formats such as Office and image files with ease. Users can work on documents in batch, which enables them to do more within a limited amount of time. You can also organize your document with additional tools from PDFelement. You can add and edit bookmarks, watermarks, hyperlinks, bates numbers, headers, footers, and numerous other editorial items that come with the application.
---