Sometimes, using online PDF to Excel converter tools can cause damage to your original file. It's a challenge to find a safe and high-quality PDF to Excel converter. Ideally, a good PDF to Excel converter should perform useful conversions that save you time and effort. Here we've provided a list of the best free PDF to Excel converters tools that are currently on the market.
10 Best PDF to Excel Converter
1. PDF Converter Pro
PDF Converter Pro is one of the best PDF converter tools on the market, which can help you convert PDF to Excel without losing quality. Compared to online PDF to Excel converter tools, it's quicker and more secure, while retaining 100% of the original layout. What's more, it even has the OCR feature that can help you convert scanned PDF images to Excel.
Pros:
With the embedded OCR feature, you can easily convert scanned and image-based PDF documents to an Excel spreadsheet
Formatting and layout quality of the original content is well maintained
Can process multiple PDF files into a single Excel file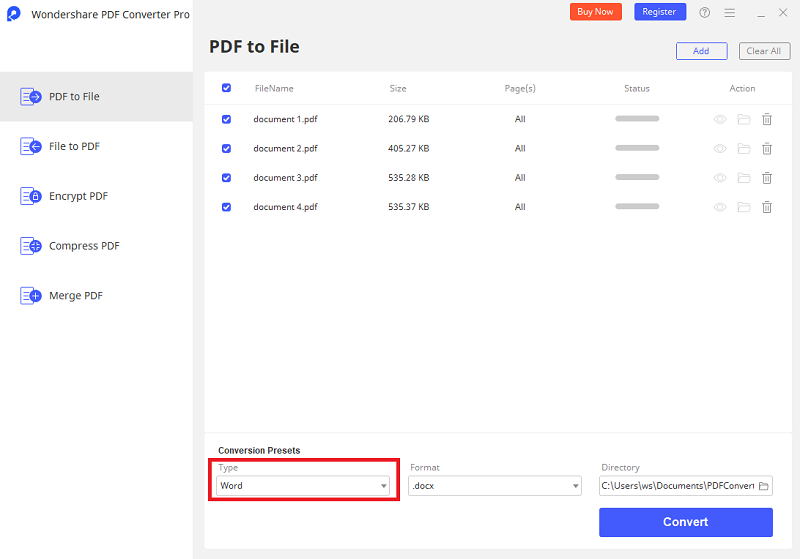 ---
2. PDFelement
PDFelement is an all-in-one PDF tool. It includes features to create, edit, annotate, and convert PDFs. As one of the most cost-effective professional PDF to Excel converter programs available for all platforms including MacOS, Windows, and even iOS devices, this PDF editor even supports conversion of password protected PDF files. Additionally, you can set preferences for the converted Excel file to be a single sheet or multiple sheets.
Pros:
Affordable price for all users.
iOS and Android versions are available.
Supports conversion, creation, editing, and annotating of PDFs.
The OCR feature enables you to convert scanned PDFs to editable Excel files with a single sheet or multiple sheets depending on your preference.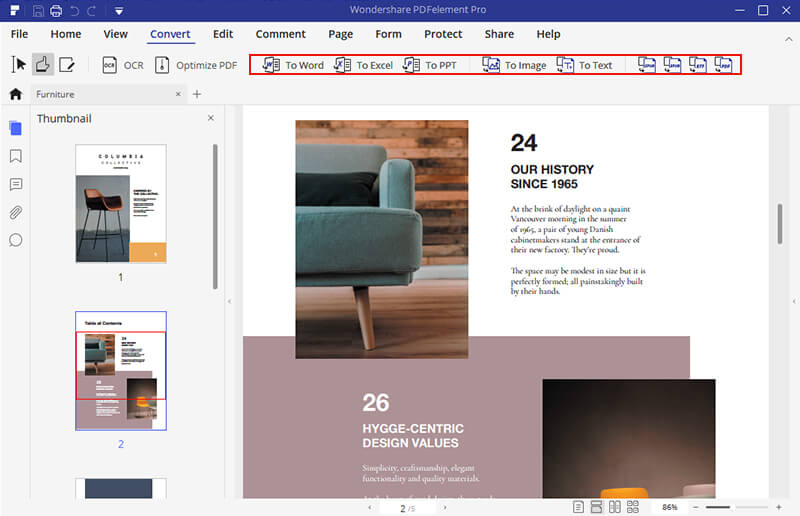 ---
2. Nitro Pro 12
Nitro Pro 12 is similar to PDFelement in that it offers a complete solution to deal with digital documents, enabling you to convert, edit, merge, protect, view and sign PDF documents.
Pros:
Combine and merge other document formats to PDF.
Text, images, and other items can be edited easily.
It can convert PDFs to many other office formats besides Excel.
Excel documents can also be converted to image formats.
Cons:
There is no Mac version
There is no app for mobile devices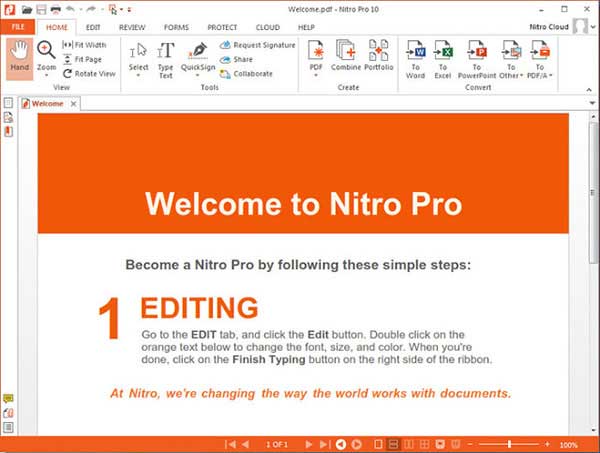 ---
3. PDF Suite Pro
PDF Suite Pro is a basic PDF to Excel conversion tool. It also supports simple editing features and supports six languages, which makes it helpful for many users.
Pros:
It is a simple PDF to Excel converter
Supports the ability to create fillable forms as well
Cons:
It does not support redaction of PDF documents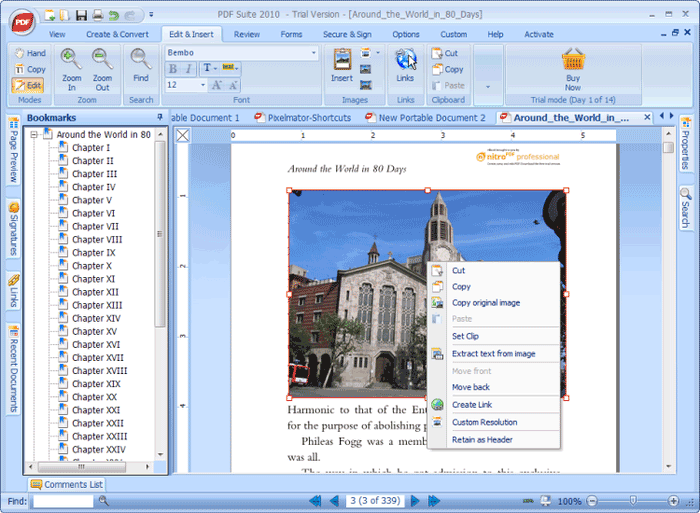 ---
4. Cute PDF Professional
Cute PDF Professional is another tool that provides advanced settings for converting and controlling output files in Windows. It simplifies your conversion process of PDF to Excel, making it much easier to maintain your documents.
Pros:
Supports form creation and editing
Cons:
Creation of PDF documents is not available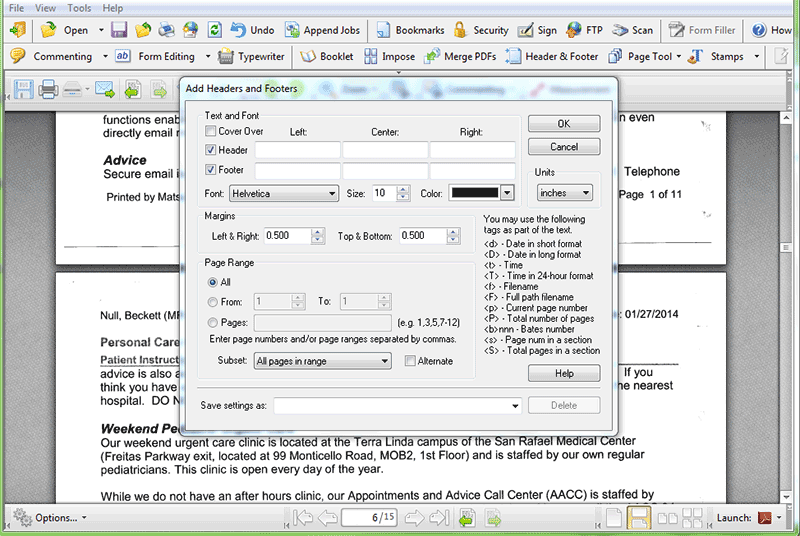 ---
5. Infix PDF Editor
Infix PDF Editor lets you edit and create PDF documents. Typos in the documents can be caught during the conversion process from PDF to Excel. However, it does lack some useful conversion tools, making it a less professional program than others.
Pros:
Edit and print features are available
Cons:
Searching and replacing text isn't as quick as with other programs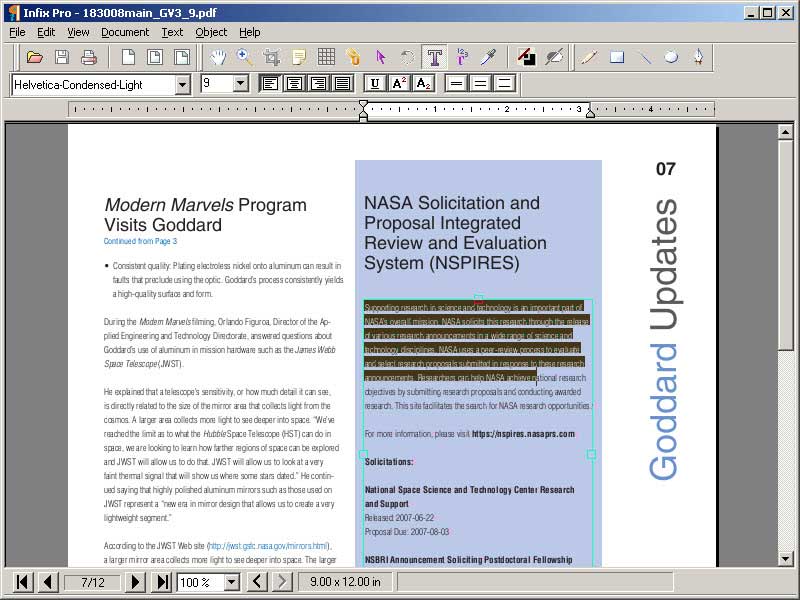 ---
6. PDF2XL
If you have difficulties conducting data analysis, then PDF2XL could be your best option. With its smart PDF to Excel converter tool, you can convert PDF documents to .xlsx or .xls format and reduce human error.
Pros:
The conversion speed is 500 PDFs per minute
More than 130 languages are supported
You can scan paper documents and convert them to Excel files
Supports data extraction from files
Cons:
Only 10 pages of each document can be converted with the trial version
---
7. Soda PDF
This PDF to Excel converter has eight different versions for eight different languages. Edit, convert and create PDF documents professionally.
Pros:
User-friendly interface
PDF templates are available
OCR feature is embedded
3D images are also supported
Cons:
Audio and video portions of the documents are not supported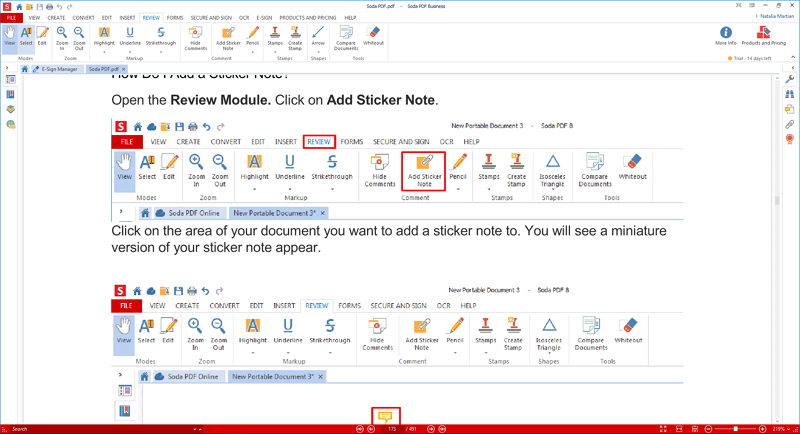 ---
8. Corel PDF Fusion
Corel PDF Fusion is a complete PDF solution that can easily edit, create, and manage PDFs. Most file formats are supported and it has a clean and easy interface for users of any experience level.
Pros:
Very small learning curve
User-friendly interface
Supports multiple modes to view PDFs
Cons: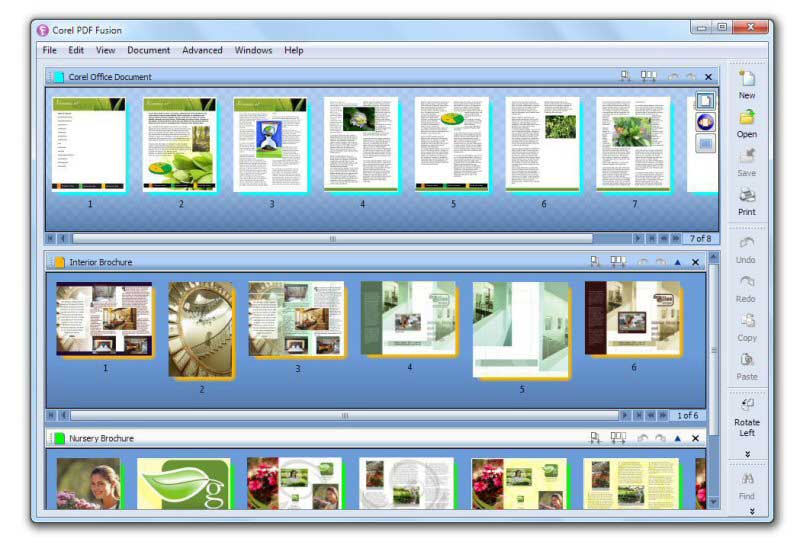 ---
9. Office Convert PDF to Excel for XLS
You can use Office Convert PDF to Excel for XLS for conversion of PDF files to Excel format. The whole conversion process can be completed in just a few steps. Simply load PDF files to the list, select an output folder, and hit the "Convert" button to start the process. Then you're done.
Pros:
Text and image quality is maintained when converted from PDF to Excel
Complete the conversion process in one click
The formatting remains the same as the original in the converted Excel file
Cons:
Not compatible with Pentium 1 processors or old browsers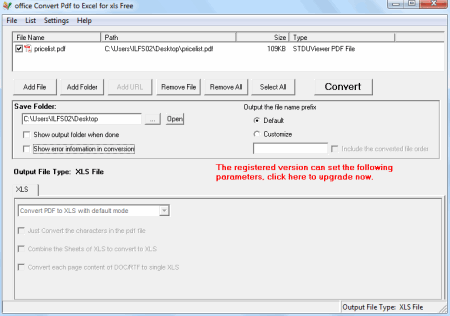 ---
How to Convert PDF to Excel without a Converter Tool
If you do not have a converter, but can open and view PDF documents with Adobe Acrobat, you can still convert PDF files to Excel without the use of a converter.
1. Open a PDF
Open a PDF document with Adobe Acrobat, and then go to the "Tools" option and choose "Export PDF."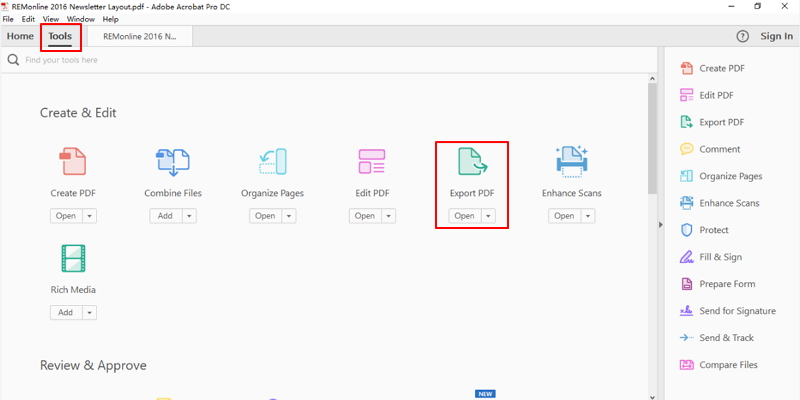 2. Export PDF to Excel
Select "Spreadsheet" >"Microsoft Excel Workbook" as the output format to export your PDF to a .xlsx file directly.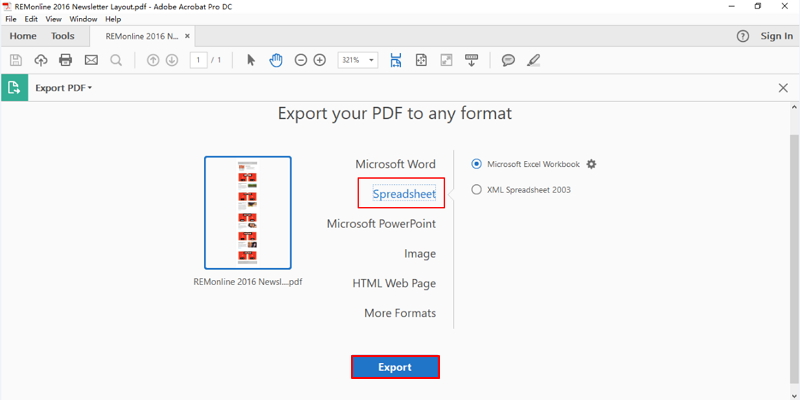 ---
Tips for Choosing the Right PDF to Excel Converter
It can be difficult to select a proper PDF to Excel converter. You may need to try out many PDF to Excel converter tools to see which one fits your requirements. From the above PDF to Excel converters, our top recommendation is PDF Converter Pro. It provides professional conversion tools and high quality results to convert PDF to Excel in every scenario.
It is the most cost-effective tool, taking into account both price and features.
It is a stable and easy to use progam
It provides a free trial version so you can try it out first
---