PDF files provide an excellent platform for storing and sharing files over the internet. However, full-colour PDF files can be troublesome to share and download/upload on a website, especially considering the size of such files. This may restrict users from downloading such large files.
One good solution for the file size problem on colored PDFs is converting the files to grayscale, which produces smaller files in black and white. There are numerous applications that can be used to convert PDF to grayscale, including premium versions of Adobe® Acrobat®. However, Adobe Acrobat XI will be end of support on Octorber 15, 2017. It's time for you to find the Acrobat alternative. In this article, we take a look at a simple but effective online color converter, greyscalepdf.com.
How to Convert Color PDF to Grayscale
Greyscalepdf.com is a fairly easy and straightforward tool for converting colored PDF files to black and white. Its one-page website is among the simplest to use on the internet, with many online PDF converters decorating their websites with tons of confusing functions. There are no additional functions on this portal, which is great if the only thing you need to do is remove the color from your PDF file. Despite its humble appearance, however, greyscalepdf.com is a very capable tool that produces some pretty remarkable results.
Step 1. To use it, simply scroll down on the homepage and upload the file to convert. The application only works with a single file each time, so you can't convert multiple documents at the same time as is the case with most desktop-based applications.
Step 2. Press "Convert" after uploading your file to convert the file. The whole process of uploading and converting your file should take not more than a few minutes, though you will wait longer if you want to convert larger files.
Step 3. Once the conversion is done, you will get a link on the next page from where you can download the converted file. It's usually that simple. The final grayscale PDF document is normally of high quality and often maintains most of its layout and structure.
---
Easy-to-Use PDF Editor with Powerful Features
With the wrong application, editing and modifying your PDF files can be one of the most problematic tasks for you. PDFelement combines all the wonderful functions on different PDF editors for the perfect, all-round PDF solution. At the basic level, PDFelement can be used to view, print, and edit documents, even those PDF documents that are products of scanning. Optical Character Recognition (OCR) enables this application to lift the text from these documents and translate them into editable text.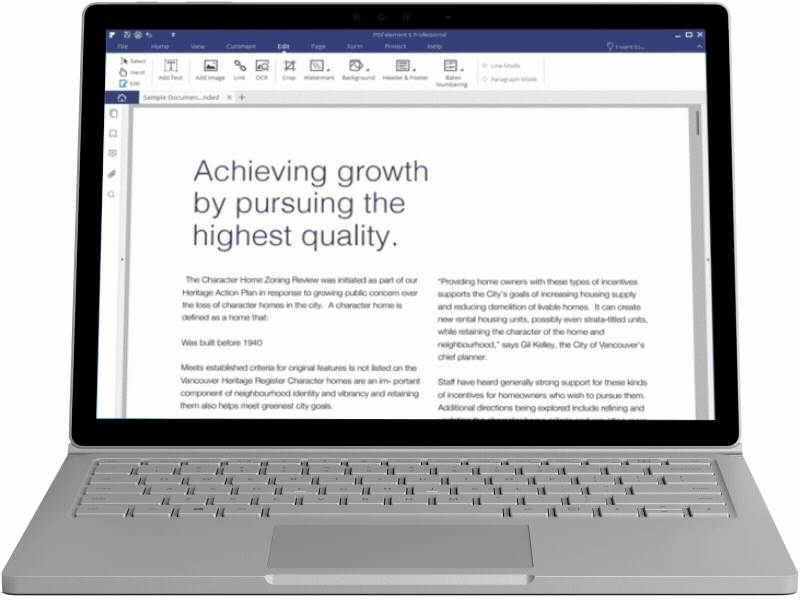 PDFelement is also a capable converter and PDF creator. Users can convert PDF files to almost a dozen different file formats, including Office files, images, HTML, EPUB, and other file extensions. You can also create PDF files from the same file types, which normally results in high-quality, professional-looking PDF files. PDFelement is a neat tool that guarantees pure perfection.
---