The JPG to Excel conversion is required in many situations. To convert JPEG to excel is always advised to make sure that you get the most suitable program. The formats of excel are high in number and therefore it is highly advised to make sure that you choose the converter that has all the required tools and the support needed. PDFelement is one of the best JPG to excel converter tools available to use. Read on to learn how to perform this task as easily as possible.
How to Convert JPG to Excel
PDFelement is suitable program to use if you need to convert JPEG or JPG to Excel files. Here are the steps to convert JPG to Excel quickly and easily.
Step 1. Open a JPG or JPEG File
Launch PDFelement. Click the "Open File" button to find the .jpg or .jpeg image file you wish to open.
Step 2. Enable OCR Function
Once the image file is opened in PDFelement, a notice bar will pop up reminding you to perform OCR. You can also go to the "Convert" tab and click on the "OCR" button to perform this function. The text in your image file will then be transformed to editable text.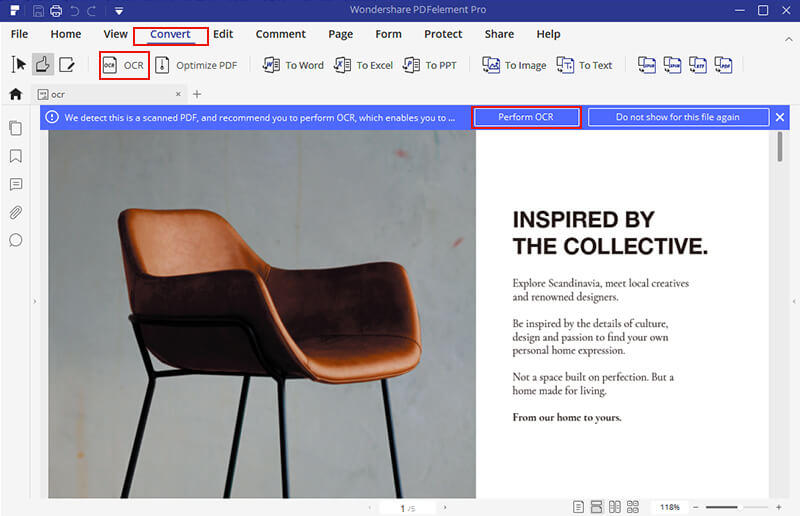 Step 3. JPG to Excel OCR Settings
In the pop-up OCR window, select the "Editable Text" option and choose the correct language by clicking on the "Change Languages" button.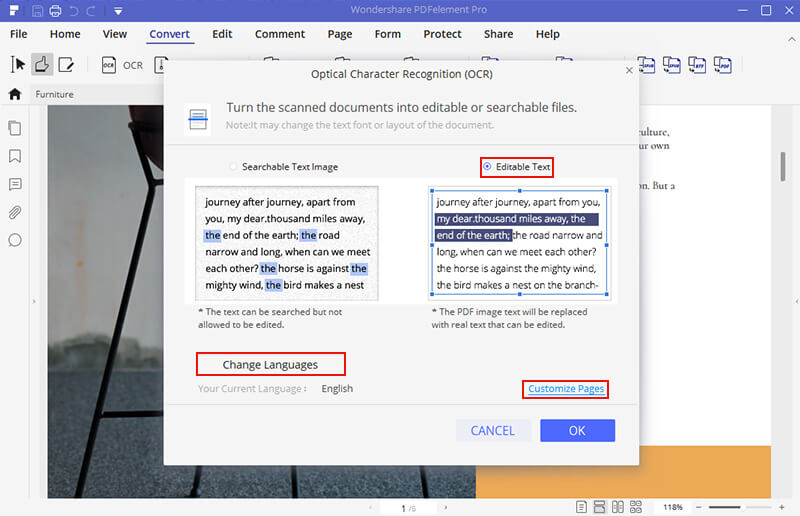 Step 4. Convert JPG to Excel
Click on the "Convert" tab and then click on the "To Excel" button to convert your JPEG file to Excel. For the "Save as type" option, you can select to convert jpg to xls or xlsx.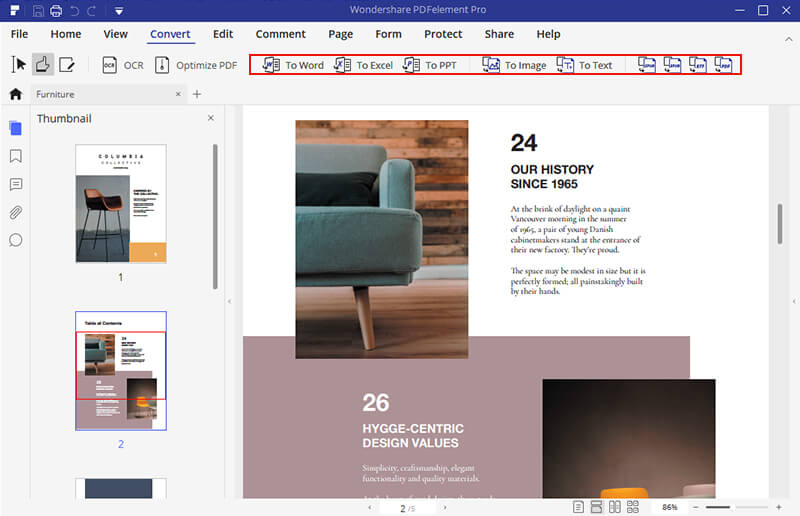 PDFelement is highly intuitive, and therefore highly regarded. It's easy to use with a simple interface. Beginners can use PDFelement with no problems - it has all the features you need without being overly complicated. From the OCR function, to digital signatures, you'll be able to do everything you need with PDFelement. Learn more about this PDF editor:
PDF editing has never been as easy as it is with this program. It can be used to open, save, print and markup PDFs.
You can easily add remove, resize, reshape or rotate the content as you require without any hassle.
The built-in OCR function lets you unlock text within your JPG images. The text can be imported as required.
For corporate users, the program can be used to batch process or convert data, apply bates numbering, or add watermarks.
PDF files can also be converted to excel, Word, HTML and image files using this program.
---
Different Types of Excel Formats
There are three types of excel formats that have different extensions. After converting JPG to Excel, you can resave the excel document to many other formats, such as .xlsm, .xlsb, .xltx, or .csv, etc. The best part of the excel file format is that it is very commonly used. As a part of MS Office, it has become a very popular file format. The excel formats that are currently available are:
Legacy format
Following are the formats which are related to the legacy class of the excel formats.
1. .xls
The 1997-2003 editions of office are the ones that came out with the .xls format. It is the first highly regarded format that transformed documentation all over the world. Though obsolete, it can still be downloaded from several websites, which offer it in their archived collection.
2. .xlt
The t in the format stands for the template. The built in templates of the format allow users to overcome the problems of creating a template from scratch. It not only saves time, but also effort. This pre-defined template was also a part of the legacy format. It was introduced in 1997.
OOXLM
The Open Office XML or the OOXML is now considered to be the default format of excel sheets. It's been highly in-demand since its inception, and is still being used as a part of the excel framework with little modifications to this day.
1. .xlsx
This is the most popular format of excel, and allows users to access excel files without hassle. The biggest benifit of this file type is that it is being updated constantly.
Other Formats
The other formats are listed as:
.xlxb – Excel Binary Worksheet
.xla – Excel Add-in or Macro.
.xlam – Excel Add-in
.xll – Excel DLL Based Add-in
.xlw – Excel Workspace
---
Why JPEG to Excel Conversion is Needed?
You might be wondering, "what are the reasons for needing to convert JPEG to Excel?" The answer is that it can be helpful for overall file management, since excel files can be easily edited when required, whereas JPEG images cannot.