How to Convert PDF Image to Text for Editing and Modifying
When a document is scanned, it is usually saved as an image file which can be opened using an image or PDF editor. Sometimes these images contain text, yet the text cannot be edited using regular text processors such as Microsoft Word. OCR is a revolutionary technology that scans documents and translates any text within the image into an editable format. This enables the user to add, edit and delete text on image scans that would otherwise not be editable. Here you can learn how to convert PDF image to text using PDFelement.
How to Convert Image PDF to Text
One of the major hallmarks of PDFelement that sets it apart is its simplicity. PDFelement can be downloaded on Windows, Mac and iOS. Once the download is complete, simply follow the onscreen prompts to install the application.
Step 1. Upload PDF Image File
Launch PDFelement on your computer. The program automatically opens a window that allows you to get started. You'll want to convert your document, so you can click "Batch Process" to launch the conversion dialogue box and upload one or more files for conversion.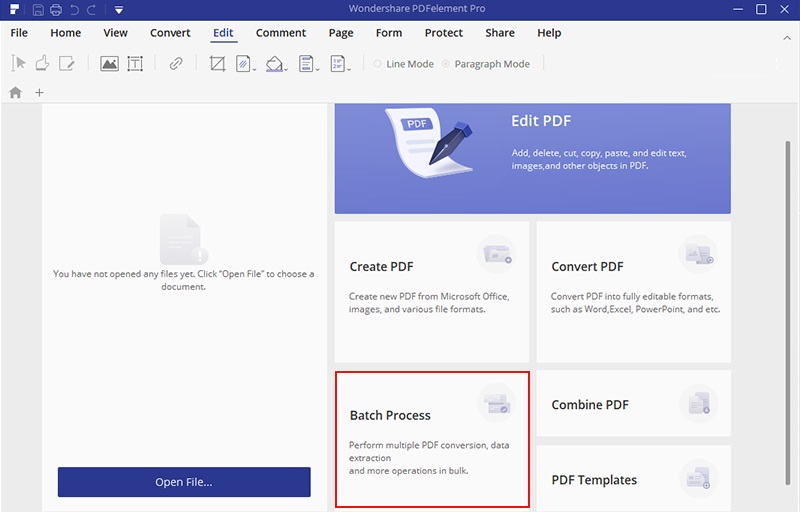 Step 2. OCR PDF to Text
In the pop-up window, you can click "Add Files" to import more image PDFs for conversion. Then expand the output format list on the top right corner and choose "TXT" from the list. You can now click the "Gear" icon and make sure you have enabled OCR. Finally click the "Start" button on the bottom right to start the OCR PDF to Text conversion.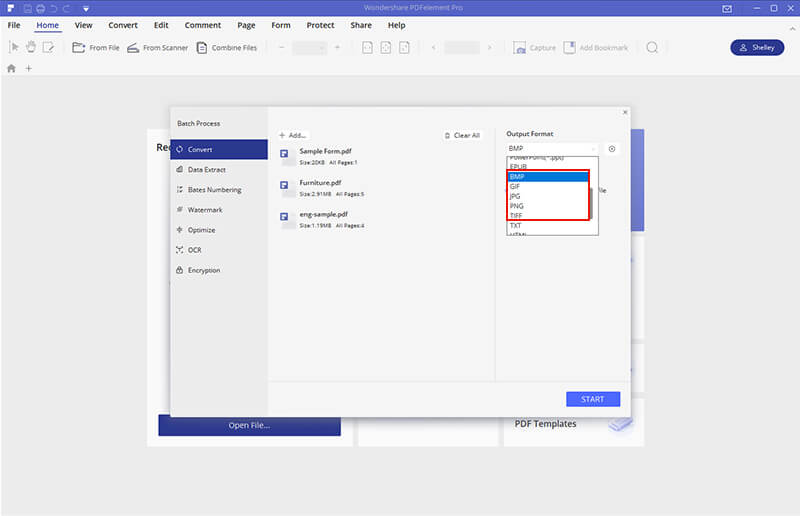 PDFelement reads scanned documents and enables you to convert the extracted content into text. This makes it easy to perform editing functions, similar to how you would with a regular text document. Apart from PDF image conversion, PDFelement also allows you to convert PDF documents to and from different file formats, including Excel, Word, PowerPoint, Text, HTML, RTF, and image files.
PDFelement is also useful for creating and editing forms. The program automatically detects and highlights areas in the form that can be filled, letting you easily create questionnaires, answer pamphlets, and other types of forms. PDFelement also allows users to add security features such as passwords, redaction, watermarks, and digital signatures to help protect the confidentiality of sensitive documents. Additionally, you can add and edit headers and footers, Bates numbering, bookmarks, and hyperlinks to keep your documents neat and organized.
---
Video on How to Convert PDF Image to Text
Free Download or Buy PDFelement right now!
Free Download or Buy PDFelement right now!
Buy PDFelement right now!
Buy PDFelement right now!
---