Scanned documents are usually image-based PDF pieces of digital matter that provide information or evidence. But it is very difficult to work with scanned PDF especially when you want to edit or extract texts from such documents. In such case, you may want to convert scanned PDF to Word document for further editing in Word Processor. Here you can learn how to convert PDF to Word with PDFelement.
Way 1: Convert Scanned PDF to Word with PDFelement
Step 1. Open Scanned PDF
First step is to launch PDFelement on your computer. And then open the scanned PDF file directly in PDFelement.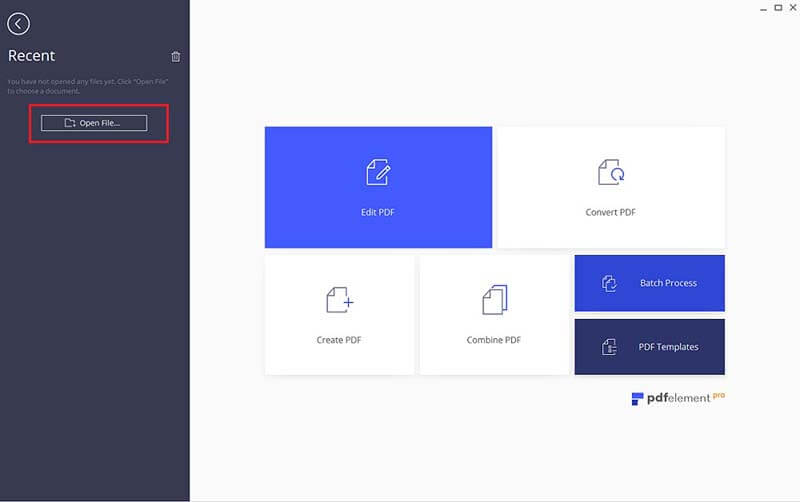 Step 2. Change Scanned PDF to Word Settings
You will get a notice to remind you that it is a scanned PDF file, and you need to use OCR function to convert the scanned PDF file to editable word document. So please go to the "File" > "Preferences" button, in the "OCR" tab, please select the correct language of your PDF content.
Step 3. Turn Scanned PDF to Word
Go to the "Home" tab and click the "To Word" button, in the popup window, click the "Settings" button to make sure you have selected the option of "Only Scanned PDF". Then start the scanned PDF to word conversion by clicking the "OK" button.
---
Way 2: Convert Scanned PDF to Editable Word Document
Step 1. Load Scanned PDF
Drag or drop a scanned PDF document in PDFelement to open first.
Step 2. Change Scanned PDF to Editable format
You can use the OCR function to change the scanned PDF file to an editable PDF first. So please click the "OCR" button in the "Edit" tab, or click the "Enable OCR" button in the remind notice. Then in the new window, select "Editable Text" option, click the "Change Language" button to choose the correct language of your PDF content to perform OCR. You can also check here to know how to edit a scanned PDF.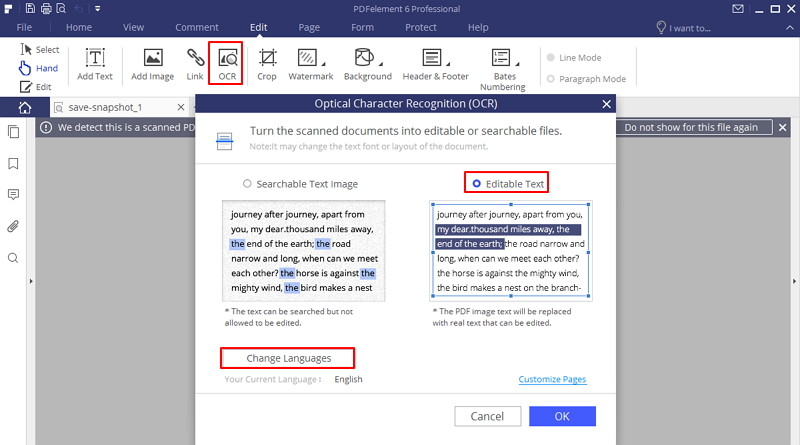 Step 3. Convert the PDF to Editable Word
After performing OCR, the newly created editable PDF file will be opened in PDFelement as well, you can save it first, then click the "To Word" button to convert it to the editable word file without any further setting.
PDFelement is capable of reproducing the same images, columns, and other non-textual elements as in original scanned document after turning scanned PDFs into Word. The OCR plugin helps you to make scanned documents editable and supports over 25 languages like English, German, French, etc. In addition, you can also edit texts, images and pages in your PDF or remark content with sticky notes, highlights and more. PDFelement also works as a form filler, which lets you easily create, edit, fill out and sign PDF forms.
---
Way 3: OCR Scanned PDF to Word with PDF Converter Pro
PDF Converter Pro is very useful program for those users who just want to convert their PDF files to Word documents, PowerPoint or the sheets of Excel and other popular formats. Its OCR feature gives you the possibility of converting scanned PDF to searchable and editable files.
Step 1. Add a Scanned PDF
Download and install PDF Converter Pro on your computer and then launch it to import the target files. Click on the "Convert PDF" tab and drag and drop the PDF files that you want to convert to Word to the program.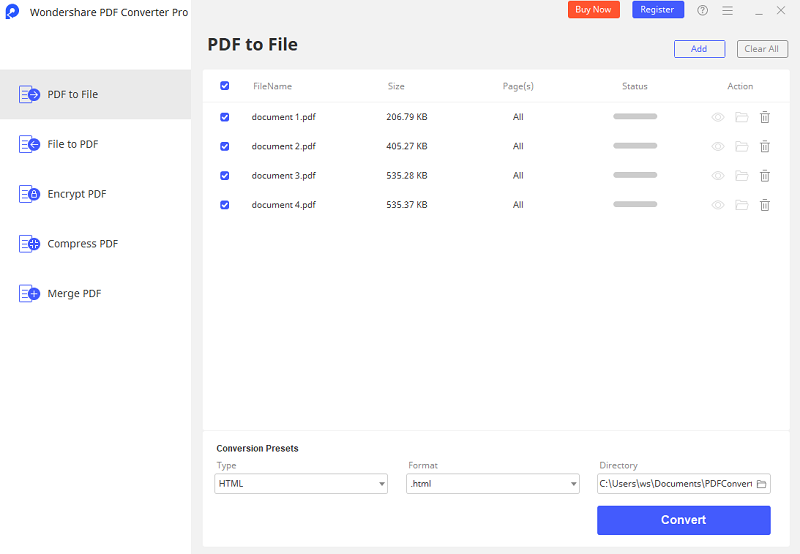 Step 2. Convert PDF to Word with OCR
As the document is a scanned PDF so PDF Converter Pro will automatically launch the OCR window, all you have to do is choose an OCR language and click on the "Enable OCR" button. Last step is to select "Word" as the output format and finally click on the "Convert" button to initiate the conversion process.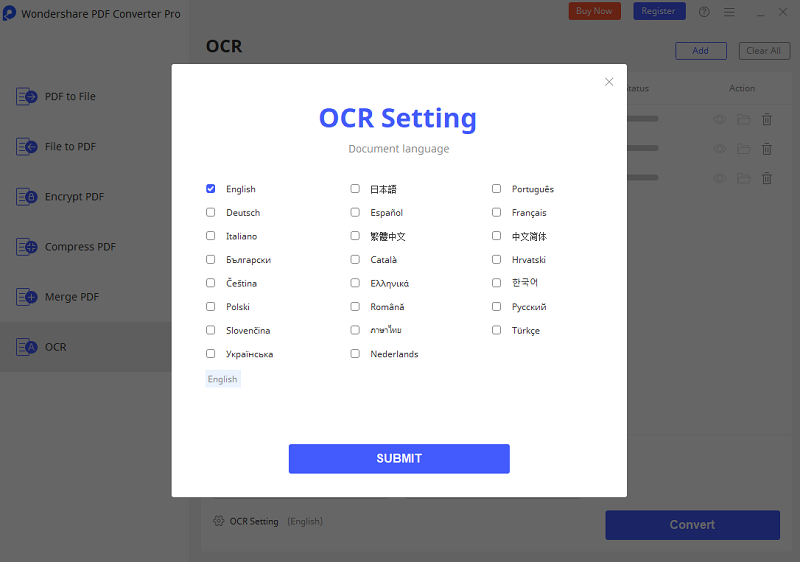 ---
Video on How to Convert Scanned PDF to Word with PDFelement