Scanned PDF documents are some of the most unpleasant file types to work with. This is because if you scan a document and save it directly in a PDF format, all text, diagrams, graphics and images are merged into a large image file. If you want to make a scanned document easier to work with, you will need to deconstruct the large image into manageable elements in the document. Now let's learn the steps to edit scanned PDF with PDFelement.
How to Edit a Scanned PDF on Windows 10
The OCR technology may sounds scary, but it is really easy to use with the best program to edit scanned PDF on Windows 10.
Step 1. Import PDF into PDFelement
Launch PDFelemet and click the "Open File" button located in the bottom left corner of the window. Select the file that you want and click "Open" to upload your file into the software.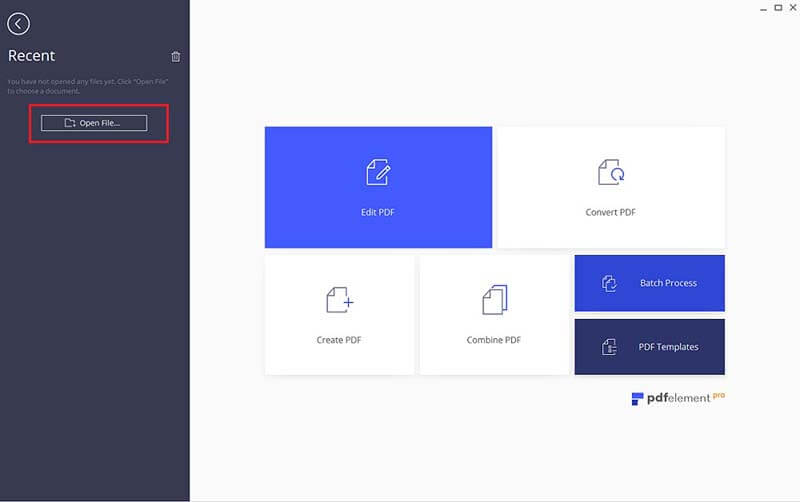 Step 2. Perform OCR on Scanned Document
A pop-up message will appear to remind you to perform OCR on the scanned PDF file. Click the "Perform OCR" button and the software will ask you to choose the language source of the PDF file to assist it with recognizing the text.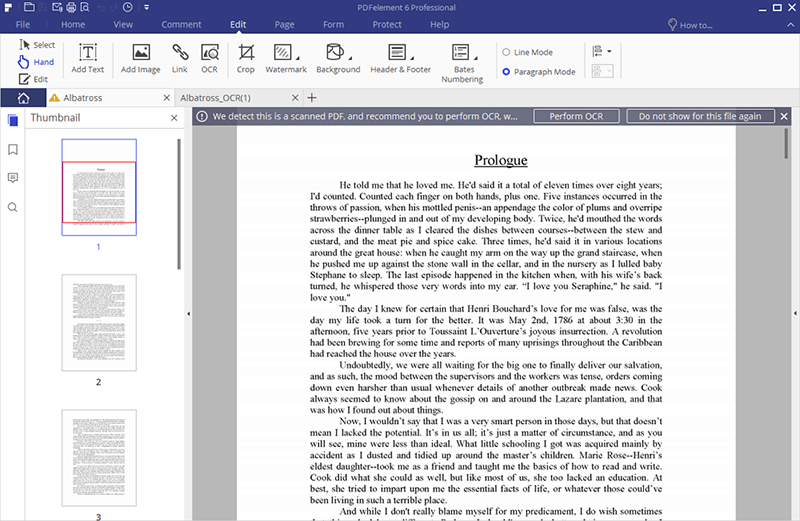 Step 3. Edit Scanned PDF File
Once OCR has completed its job, you will be able to edit the PDF file accordingly. Open the "Edit" tab to see the range of edits you can do to your scanned PDF file.
Modify the text on your PDF by clicking "Edit". Click anywhere on the document to add, delete or change the existing text. Add a new set of texts by clicking on the "Add Text" button.
Click "Edit Objects" to edit images and diagrams. You can delete the object by right-clicking it and choose the "Delete" option. You can also cut or copy objects using this step. Select the object to reposition it around your document. To add a new image file on the document, click the "Add Image" button.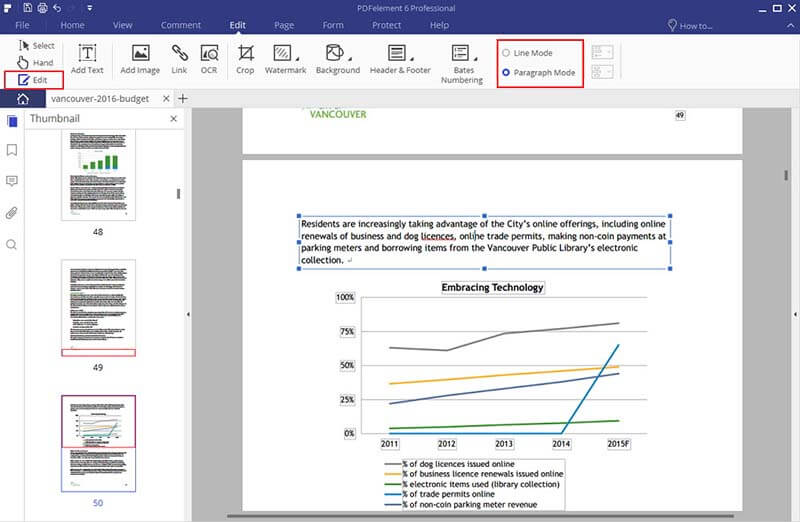 Step 4. Save Edited Scanned PDF
At any point of editing, remember to perform "Ctrl + S" to make sure your work is saved. Once you are happy with it, go to "File" and open the "Save as" option. Choose the destination folder and end the process with the "Save" button.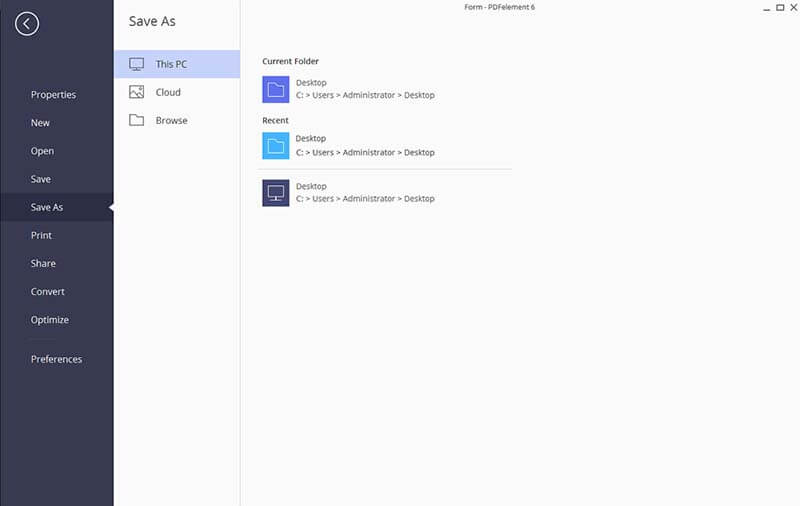 The best scanned PDF editing tool is able to edit, convert, create, protect, sign and print your PDF files, as well as complete PDF forms without the need to print them out. PDFelement's OCR plugin is really useful to have. It does a great job retaining the appearance of the document while converting it into a readable, editable and searchable PDF file. It supports a wide range of languages (e.g. English, Korean, Italian, Bahasa Indonesia, French, German, Russian, Czech, Turkish, Arabic, Portuguese etc.) which means you can use this no matter what language you use.
---
Video on How to Edit a Scanned PDF with PDFelement
---
Other Solutions for Scanned PDF Editors with OCR
1. Nitro PDF Editor (Nitro Pro)
Nitro PDF editor is a program that has much great functionality to edit a normal as well as scanned document. You can organize your documents and make it neat and tidy by using the assign page number feature. You can add watermarks, bookmarks or logos as you find necessary.
Pros:
Add, edit or remove PDF bates
Offers OCR function
Insert, rotate or extract individual pages
Cons:
Extremely costly
Support for PDF indexing is missing
OCR crashes while handling large documents
Supporting OS: Windows
Price: $ 159.99
Ratings: We rate it 3 stars.
---
2. Adobe® Acrobat®
Adobe is a name that is quite popular in the PDF world for its great variety of features. It is packed with features that probably a user will never need. It comes with an automatic OCR that can be used to edit scanned PDF files and image based PDF files. However, Adobe® Acrobat® XI will be EOL on October 15, 2017. In this case, you can check here to find out the best alternatives to Adobe Acrobat.
Pros:
Efficient and fresh interface
Document cloud service is available
Built in PDF routing and signing
Cons:
No undo option for OCR correction
Confusing plans for subscription and purchase
Very costly
Supporting OS: Windows & Mac
Price: $14.99 per month
Ratings: We rate it 4 stars.
---
3. Soda PDF 8
Soda PDF editor also comes with the OCR support, you can utilize it to make scanned PDF files editable. It comes with an "Auto" function that recognizes the text automatically. The page range feature can be used to recognize the text within all images and the functionality to convert it into PDF is also available.
Pros:
"Entire document" function to recognize text of entire document
"Batch" feature to recognize text of a selected batch
Cons:
Features need to be purchased separately
OCR quality is spotty
Supporting OS: Windows & Mac
Price: $40
Ratings: We rate it 4 stars
---
4. Apower PDF Editor - Free Scanned PDF Editor
If you need a PDF editor to edit image based and scanned files, Apower PDF editor has OCR technology support. It also has several extra features like adding a header or footer, deleting the protected data on the PDF etc. Form filling or form creation features are also available.
Pros:
Convert documents from PDF to editable
Manage pages of your PDF file
Cons:
Unintuitive interface
Slow loading of huge documents
Supporting OS: Windows
Price: Free
Ratings: We rate it 3.5.
---
Useful Tips for Editing Scanned PDF with OCR
Before scanning the whole stack of documents, scan a page with different setting and apply OCR to see how well it works on them. Use the settings where the OCR yielded the best result.
High quality scans give the best OCR results. As a rule of thumb, make sure the scanned document is between 300 and 600 dpi for the best OCR results.
Text over overly bright or dark graphics in the original document will not be recognized by the OCR because the contrast between the two is not high enough. If this is the problem, adjust the contrast to ensure that the OCR feature to be able to read the text.
For the best result, use the black and white setting.
Make sure the source document is laid flat on the scanner bed to avoid distorted texts. This will "confuse" the OCR.