In a world where paperless office is taking over, it is important to have a scanner that can help you create PDF from scanner. But it is just as important to have a proper PDF tool installed, so that you can easily manage the PDF files. In this article, it will tell you how to create PDF from scanner efficiently with PDFelement.
3 Easy Steps to Create PDF from Scanner
As mentioned, with PDFelement you can now create PDF directly from your scanner. Here is a full guide how to create PDF from scanner free.
Step 1: Check Your Scanner
See if your scanner is working properly. Make sure your scanner is plugged in and working properly and open PDFelement. Click on the "Home" menu, and go to "From Scanner". Then "Create from Scanner" window will pop up, in which you need to set the options.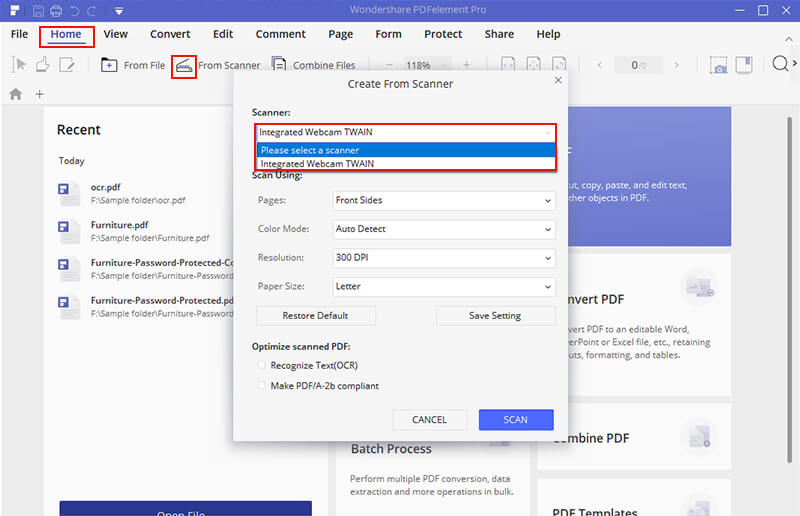 Step 2: Open Scanned Files and Create to PDF
The next step is to click on "Scan" and select the scanned image that you want to create as a PDF, then click on "Yes".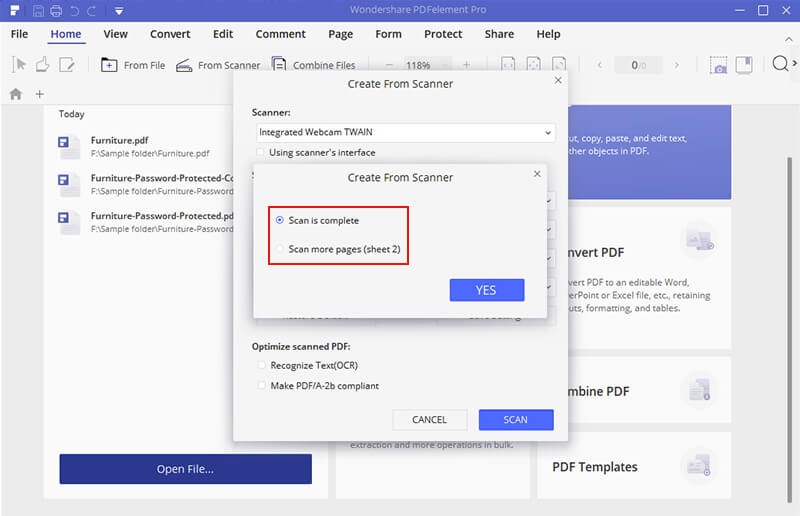 Step 3: Edit PDF after Creation
After a while, your created PDF file will be displayed in the program directly and you can later edit the document, or send it to others via email. You can also continue to scan more pages to create as one PDF.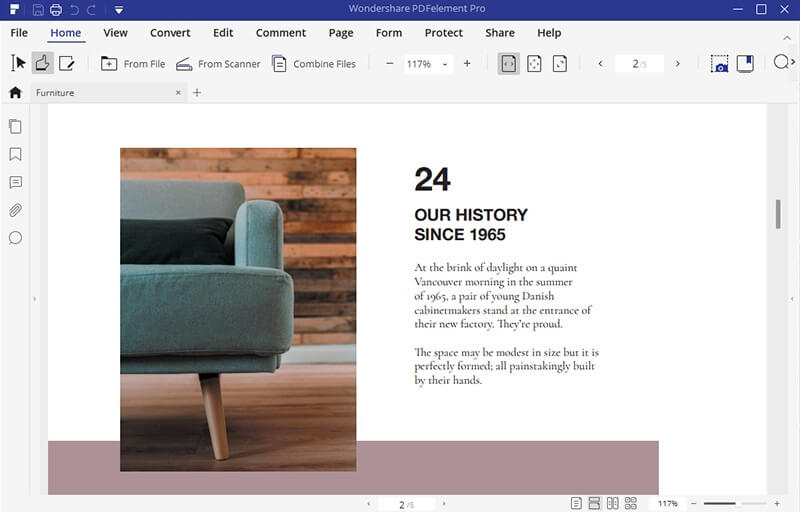 With PDFelement, you can create PDF file from scanner. And the best part is, your PDF files will be editable and searchable thanks to the OCR technology. And that is just one of the many features of PDFelement, an ultimate PDF solution for everything related with PDF files and documents. In addition to creating PDF from scanner, you can also manage pages by adding, splitting, deleting, copying, and reordering pages. And once you are done with all pages, you can add bates numbering for easier indexing and retrieval. With that in mind, let's look at other features of PDFelement.
Unique features:
Use all the editing tools to make your PDF look more professional. You can change the font type, size, and style, but also edit graphic-based objects. Thanks to OCR technology, you can free text from scans and photos and transform it into editable document. For example, when you create PDF from scanner, you can use OCR to make the text editable
You can create fillable forms with just one click. Again, thanks to OCR technology, you can export data from scanned PDF into an analysis-friendly Office file like Excel
Conversion is a big part of PDF files, and with PDFelement you can convert files into Microsoft Office, HTML, JPEG and others and vice versa
For professional looking PDF files from scanner, you can use annotation tools to highlight parts of the text
Last, but not least, you can protect your documents with unbreakable encryption, or use the redaction tool to permanently remove texts and images from the document
---
Creating PDF from Scanner Tips
When you create a PDF file from scanner, the concept of Dots Per Inch (DPI) is very important, which determines the quality for printed and scanned media. Here are some tips on how to use the proper DPI for creating PDF from Scanner
When text documents are scanned, you can use the lowest DPI of 300. However, if you want to reprint the text, go for DPI of 600
Always save text documents as PDF when you scan them
Ideographs, comics and cartoons and similar line art should be scanned at 900 DPI for print version and 300 DPI for web version
Scanning color images requires DPI of 1200 for archival-quality. You should never scan them at lower than 600 DPI
When you create PDF from scanner, check the contrast and brightness settings. Make text as dark as possible, while the background is as light as possible
Fancy fonts are not welcomed in PDF file. Use regular fonts for scanning, and you can change them later when you edit the document
Be careful, areas beyond the page show as dark objects. Therefore, crop the page or use a cover sheet
---