You have imported a JPG image into a PDF reader and you notice that it is not perfectly right? (eg with a shift of 10° in the clockwise direction). You can not leave it that way, so you can try to fix it by your PDF reader. Here is the steps for rotating image of a PDF with a precise degree with PDFelement .
How to Rotate Picture in PDF
Step 1. Import the target PDF
After you have downloaded and installed PDFelement on your computer, launch it. Then from the home window click on the "Open File" button and select the target PDF.
Step 2. Rotate the image with a rotation indicator
Go to "Edit" tab and then select the "Edit" button. To rotate the image, click on it and then use the rotation indicator to rotate it manually.
If in your case the image is slightly crooked, it will be more accurate to use the rotation indicator, so you can see if the image is aligned with your PDF document. This method is more commonly used with scanned images.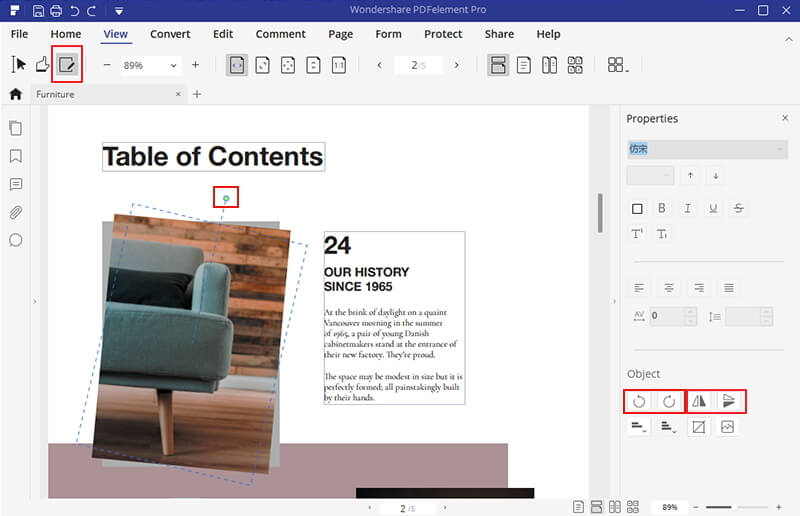 Step 3. Right click on the image to change its orientation
After rotating the image, go to the "File" tab and click "Save" or "Save As" to save the changes you made.
---
Video Tutorial on How to Rotate Image in PDF
The features available on PDFelement are very complete:
You can edit text, images, or entire pages.
Annotate text with highlighting, sticky notes, freehand drawings etc ...
OCR technology is a high-end technology that transforms all editable scanned images into PDF.
PDF douments can be protected by setting up passwords and access rights.
Convert your PDFs to other popular formats while retaining their original layouts.
You can create and fill interactive forms with custom fields and buttons.
---
Tips for Rotating Picture in PDF
If the image protrudes slightly or completely on a border of the PDF file, click on the image and drag it where you want to reposition it perfectly. Then realign it by rotating it.
Blue corners appear on the borders of the image when you click on it. So you can resize it according to your needs and it will be easier to rotate it.
Keyboard controls are very useful for rotating images. For example, while holding down the Shift key. you can rotate the image with your mouse to realign it.