When you convert PDF to black or white mode, which is commonly known as grayscale, saves you a lot of storage space. Other than creating space on your drive, you may find at times necessary to have your document in black and white. It is even cheaper to print a black and white PDF compared to a colored PDF. Therefore, this article will show you a way that you can convert your PDF to black and white.
How to Convert Color PDF to Black and White
Adobe® Acrobat® 8 Professional supports conversion of PDF to black and white. Here is how you can do it.
Step 1. Launch Adobe Acrobat 8 Professional on your PC.
Step 2.From there click on "File" on the main menu and then click on "Open" option. You will be able to browse your PDF documents. Click on the desired PDF file and then click on "Open" button.
Step 3. Now move the cursor to the main menu and click on "Advanced" button followed by "Print Production" and then "Preflight" option.
Step 4. Now click on a triangle icon and click on "Convert to Grayscale" and then click on "Execute" button.
Step 5. Once your file has been converted, you can now save it. Go to "File" on the main menu and click on "Save" button.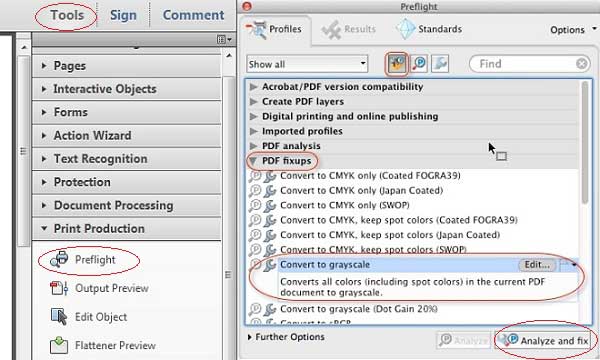 However, Adobe Acrobat XI was EOL on October 15, 2017, which means there are no more security updates, product updates, and no more customer support. Also your file and data might be insecure due to lack of protection. So, it's time for you to find out the best alternatives to Adobe Acrobat.
---
Comprehensive PDF Solution
PDFelement is an ideal software that is not only a PDF editor but also a PDF converter, creator, merger, compressor among others. This software allows you to easily import PDF files and change its texts, font type, add images and also add objects. You can also extract images from the PDF file. Moreover, this software supports modification of PDF pages. You can add pages, delete pages, extract pages, reorder pages, rotate pages, and crop pages.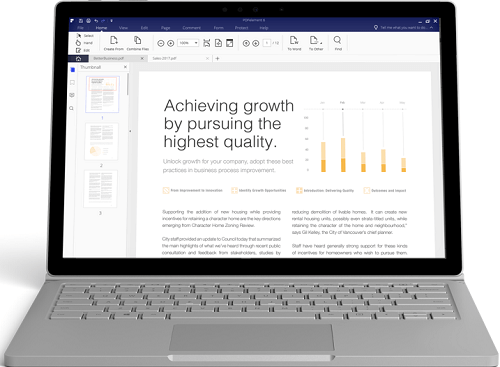 PDFelement can also turn your PDF to formats like images, Excel, Word, PowerPoint, HTML, EPUB, TXT, and RTF. It is fast since it supports batch conversion of files. When you do not have a PDF file, this software allows generating PDF files from file formats like HTML, Keynotes, images, screen captures or even creating from blank documents. You can also supported file formats can come up with a PDF file. Moreover, PDFelement is also a form creator. It allows you to create interactive forms that are compatible with other PDF tools. Furthermore, it allows you to fill out PDF forms with ease. You can be able to add digital signatures to your PDF.
---