What is better than PDF documents? If we're talking about online publishing, a Rich Text Format (RTF) document is definitely better than PDF because of its minute size. This will encourage more people to download content from your website. As long as there are no embedded audio or image elements, RTF is definitely the winner. You don't need to start your RTF from scratch - you can always convert PDF to RTF files with PDFelement.
PDFelement is a great companion if you work with a lot of PDF documents. You will be able to edit your PDF documents by using a Microsoft - Office - like interface - essentially, this means you can create, edit and manage the contents of your PDF document in a word processor environment. Once you are happy with the amendments, you can start converting your PDF documents to RTF documents. The PDF editing tool are quick and convenient to use - especially when you have a batch of files to work with.
Other than having the ability to edit PDF files painlessly and convert PDF documents to their RTF equivalents, PDFelement has other fantastic features:
Create, amend and annotate PDF documents.
Insert, remove, resize and rotate images located inside your PDF documents.
Secure PDF documents with passwords.
Transform PDF documents into different file formats such as .doc, .html, .rtf, .jpg etc.
Make dynamic PDF forms and fill unfillable forms without printing them out.
Insert page numbers, bates numbering and other pagination elements.
Transform embedded texts in images into searchable texts using the OCR technology.
---
3 Steps to Convert PDF to RTF on Windows
Step 1. Import the PDF Document
Go to Home window and click the "Open" button after the program is finishing uploading itself, and choose the file you want to convert.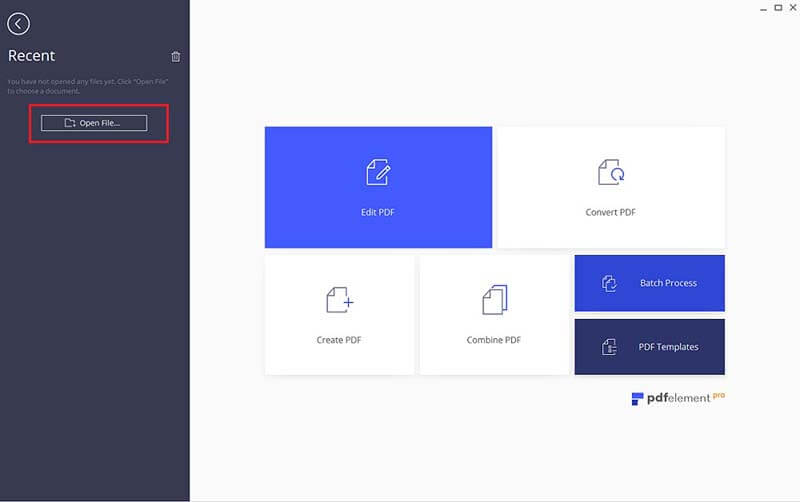 Step 2. Convert PDF to RTF
Open the "Home" tab and click on "To Others". From the drop-down menu, click on "Convert to RTF". Then a dialogue box will pop up. Change the output file's destination folder. After that, click "Save".
Step 3. Save PDF
After converting the file, you can now click the "File" tab and select "Save As" to save files.