With the increasing level of technology, iPads have been well built to open and view Portable Document Formats (PDF). It allows you to view and read your PDF files with ease. However, if you want to add markups to your PDF file you need to install PDFelement for iOS with this functionality. Now we will focus on how to markup PDF on iPad step by step.

Whether you want to add highlights, underline, strikethrough, comment or draw markups, then PDFelement for iOS will easily do that for you. It is built with all the markup options that are well placed on the application that you can just click on the desired and add in your PDF file. Other than adding markups on your PDF file, PDFelement also allows you to download PDF files from email attachments, Dropbox, Google Drive and OneDrive.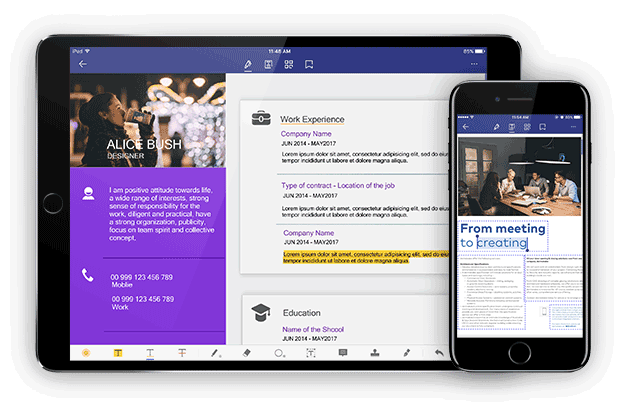 PDFelement also has other features mentioned below:
It can edit images, scan and converts the to editable PDF files.
It exports PDF files to output formats like DOC, PPT, XLS, PPT, HTML, EPUB, RTF, TXT, images and iWork pages.
It can restructure PDF file by reordering pages, deleting pages and rotating pages.
It allows you to sync files to Google Drive, One Drive and Dropbox.
It allows you to share PDF files via emails.
It supports iOS devices like iPad, iPhone and iPod Touch.
It is compatible with iOS devices running iOS 11.

---
How to Markup PDF on iPad
Step 1. Open PDF File on iPad
On your iPad Pro/iPad Air/iPad Mini you need to open the PDFelement app. Tap on it on your iPad and the Document List will show up on your screen. From there, brose the list and tap on the desired PDF file that you want to read and add markups.
Step 2. Tab on the Tools to Annotate PDF
When you have opened the PDF file in the program, tap on the "Three Dot" icon in the right of the screen to find markup tools like Highlighter, Sticky Note, Typewriter, Pencil, Shape, Stamp and so on.
Step 3. Highlight, Underline and Strikethrough PDF Text
Tab on the "Highlighter" icon to select "Highlight", "Underline", and "Strikethrough" tool to markup PDF texts. After that, move your finger to the texts on the page that you want to highlight. Tab and select the texts, and they will be highlighted immediately. Same move if you want to underline and strikethrough text.
Step 4. Add Sticky Notes on PDF
Still, in the "≡" menu you will find the "Sticky Note" icon to add a sticky note and a typewriter. Tab on it and move to the part of PDF file that you want to insert the sticky note. Once you are there click on it and the note will appear. Expand the note to and begin typing notes.