Editing and annotating articles can be an extremely tedious task. I know I've zoned out on multiple occasions, letting my brain read on autopilot, only to realize afterwards taht I've highlighted entire paragraphs, which defeats the purpose of highlighting. So how to unhighlight PDFs? This article will give you a step-by-step guide on how to remove highlighting in PDFelement without undoing the rest of your work or making any other changes to your file.
Easy Steps to Remove Highlight from PDF
The most important thing is to have this highlight eraser downloaded and installed on your PC to ensure you do the job right. Once it is installed, you are ready to go.
Step 1. Import PDF into PDFelement
Import the document you would like to work on into PDFelement by opening the document through "Open File..." on the bottom left side of the screen. On Windows, your files will be on the right-hand side and on Mac, a pop-up will appear. Browse through the documents on your computer to select the PDF file that you would like to edit. If the file you want to edit is not in PDF format, please refer to this article that we wrote about how to create PDF.
Step 2. Remove Highlight from PDF
Once your file is open, go to the "Comment" tab and select "Highlight". Click on the area you would like to remove highlight from. Once you click on the icon, the tool will be activated for editing; this is indicated by the box forming around the selected area. Right click anywhere within the box and select "Delete" from the menu. This will automatically removes the highlighting that was previously applied. Remember to save your document!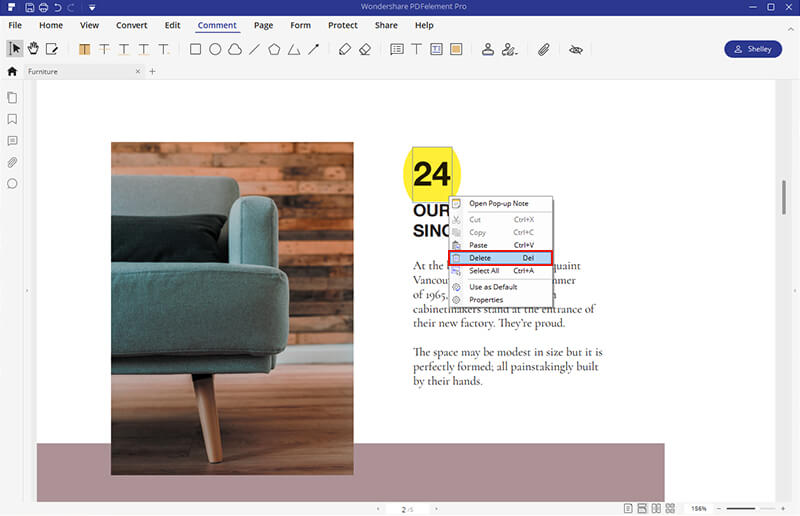 In order to remove highlights from a PDF effectively, you must use the proper tool designated for the job. PDFelement comes with a lot of features as the best PDF highlighting remover, allowing you to easily finish any task with PDF. You no longer have to wonder how to remove or add text, add or remove images, copy and paste images, change fonts and so on. The editing function presents you with a large number of editing choices. Its OCR feature converts scanned documents into a state that can be edited.
The tools on PDFelement are meant to support your daily tasks and improve document collaboration. Aside from the highlighter tool, there are many other annotation features such as underline, strikethrough, sticky notes, and stamps that will allow your team to effectively communicate during the editing and brainstorming process. Coupled with our other features - such as OCR, conversion, form creation, and data extraction tools - you can get all your PDF editing done in one place!
---
Video on How to Remove Highlights from PDF