Some PDF documents can be very large. While the entire document may contain things you want your readers or even yourself to read, some parts of an article may need more than just a look. Calling for attention to a particular area may require you to modify your document in such a way that once your readers get to that part they will take special note. But what if can't highlight PDF as you like? No worries, let's learn how to highlight in PDF with PDFelement.
If you are going to highlight text in a PDF, you will need a tool that will enable you to do it fast, effectively and with little to no effort at all. The best tool in the market for this job is PDFelement. The beauty about PDFelement is: it has been specifically designed to handle all PDF editing issues, including those that you are yet to conjure in your mind.
PDFelement gives you the freedom to edit your document however you like it. You can insert, delete, modify text, images and pages in your PDF efficiently. Its OCR plugin lets you turn a PDF scanned document into an editable format. With PDFelement, You can convert Word, Excel, HTML documents among others into PDF files and vice versa. In addition, it enables you to create forms or even to fill already existing forms without having to print them and fill them by hand.
---
How to Highlight Text in PDF on Windows
Step 1. Add Your PDF to PDFelement
Open PDF element on your Windows-based computer. If your document is on the recent files list, click on it to open. If it is not, click on "Open File", which is indicated by a small open folder at the bottom left. Browse through the files and select the once you wish to highlight.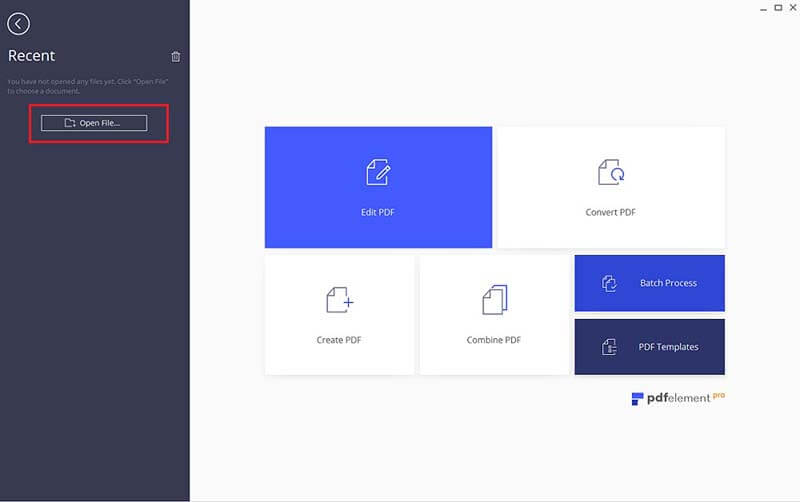 Step 2. Highlight PDF Text
The open document will have many options at the top of the screen. Click on the "Comment" tab. This action will further present you with more options. Click on the "Area Highlight" button. Go to the area you want to highlight and drag your mouse over the text or images you want to highlight. If you only want to highlight specific text in your document, click the "Highlight" button.
Step 3. Change the Color of Highlight
If you are happy with the area you have highlighted, simply let go of your mouse. The area you highlighted will automatically change to the color yellow. However, if this does not please you, you can always right click on the highlighted area and choose "Properties" to change the color or opacity. Double click on the highlight, you are able to type in any note you want. If you are satisfied by the overall results, click on "Save".
Your document has been successfully highlighted. If you have struggled with highlighting a PDF document on windows, the above steps are easy to follow and will enable you successfully highlight your document.