Attach PDF to PDF? Check How to Attach Documents to PDF Now!
Many of us don't know how to add an attachment to a PDF for working. With the increasing number of references to outside PDF files, it becomes very easy to lose track of which file is which. So to attach another document inside your PDF document becomes really important. When the user reaches that part of the document he/she sees the attachment automatically, clicks on it and reads on. No more outside references and no more confusion. Now, PDFelement is a PDF editor and it has support for PDF attachments and many more features.
How to Add Attachments in PDF
Step 1: Open PDF File
After installing PDF element, a shortcut will be created on the desktop and by double-clicking on it, you will be able to access PDF element. Alternatively, you can launch PDF element from the windows start menu. After launching PDF element, click on "Open File" and navigate to the file you want to add attachments to.
Step 2: Add Attachments to PDF
After the file is open click on the "Comment" tab, click on "Add Attachment" on the toolbar. Click on the place where you want to add this attachment and select the document in the pup-up window, click "Open" to put the attchment to your PDF.
Step 3. Customize Attachment and Save
You can set the attachment properties, including the description of the attachment to suit your needs and save. These properties customize how the attachment will appear and the information about it.
Step 4. How to Open Attachments in PDF
There are two ways to open attachments found in a PDF file. One way is by right-clicking the attachment label on the PDF page then clicking the "Open Attachment" button to open that particular attachment. The second way is by clicking the attachment button on the left toolbar the double-clicking the attachment of interest to open it.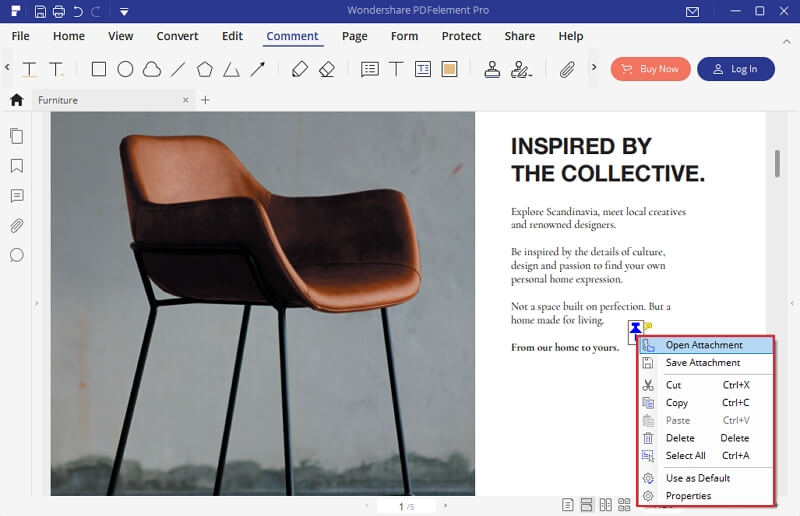 PDFelement allows you to attach not only PDF files, by any time of documents inside your PDF file and no more "Refer to the PDF file named ..." You just attach as many documents as you may need and they become bundled into one file which can be opened, edited and shared just like any other PDF file. Besides that, you can also add comments to the attachment describing what the attachment is about and give further instructions, just like in Microsoft word. Comments can also be used to review the PDF documents and provide some response.
Other features of PDFelement include XFA based form filling, editing on Graphics based object, editing of both scanned and non-scanned PDF files to change text, add watermarks etc., extraction of data from forms, convert PDF files to other documents, signing of PDF documents, batch process of PDF files i.e. working with multiple PDF files like it was one PDF file hence abolishing some of the redundant processes on PDF and much more.
Free Download or Buy PDFelement right now!
---