How to Change Word to PDF in Windows
One of the most widely used Microsoft Office programs is Microsoft Word, which can be used to create reports, letters, applications, e-books and even forms. Wondering how to change Word to PDF? This article will guide you through the steps on how to change Word to PDF in Windows in 3 efficient ways, including through the use of PDFelement.
Save Word Doc as PDF with Different Versions of Word
Word 2016, 2013, and 2010
Open a word document on your computer. Go to the "File" tab and choose the "Save as" option, then in the new dialog window, select PDF in the "Save as type" list to save the word document as a PDF file. You can also choose the folder and name the file as you wish.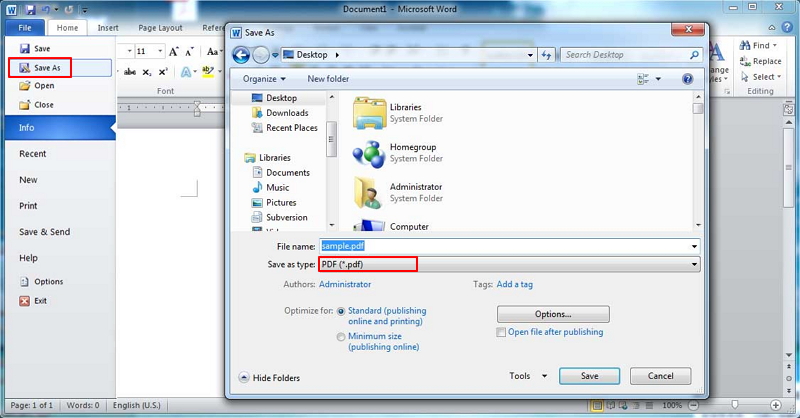 Word 2007 and 2003
Open a word document, then go to the "File" button at the top-left corner. Click the "Save as" button and choose the "PDF or XPS" option to save your Word file as a PDF. (Note: If you do not have this option, then you can use the method below to convert word 2003 to PDF.)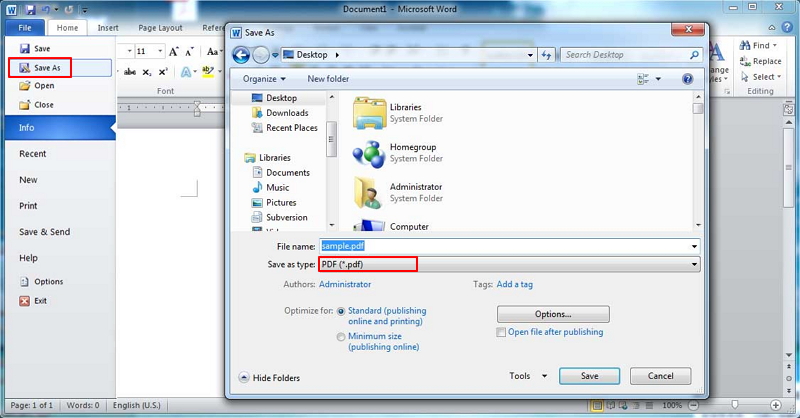 ---
Turn Word Doc into PDF with PDFelement
Step 1. Import Word File
Launch this free Word to PDF converter on Windows, click on "Create PDF" and select the Word file that you want to convert and click on the "Open" button at the bottom right side of the screen.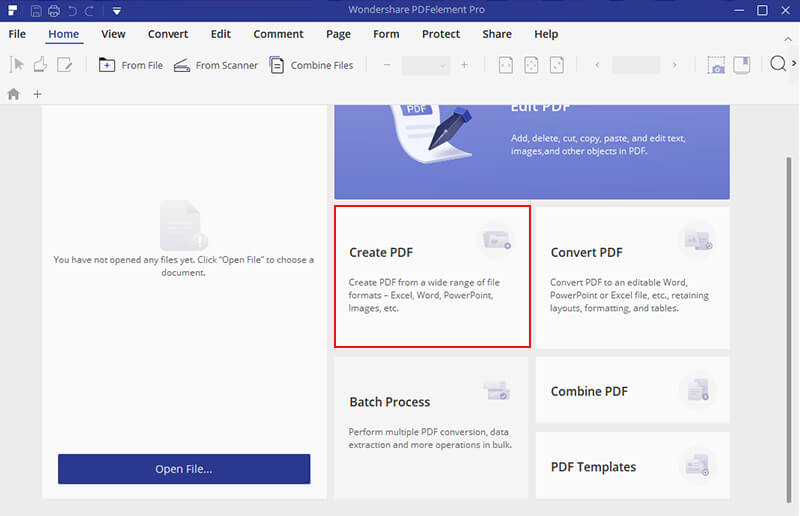 Step 2. Save Doc as PDF File
The created PDF file will be opened in PDFelement directly. You just need to click "Save As" on the "File" tab to save it onto your computer. This Microsoft Office Word to PDF converter works for all the Word versions from 2003 to 2016.
---
Video on How to Convert MS Word File to PDF
PDFelement needs no introduction. This amazing software is not only a converter to export word documents to PDF, but it will also let you edit the converted PDF files, protect them with passwords, or digitally sign them. It produces high quality output PDF files that meet ISO standards with the perfect dpi and resolution. This cheap yet professional PDF editor also provides rich features for editing PDF files such as the ability to edit text, edit images, and perform Optical Character Recognition.
With PDFelement you can add new text anywhere in the file without ruining the original formatting of the document. Similarly, users can also remove the text from the PDF file or replace it with new text while retaining the same formatting. PDFelement can also be used to convert PDF files into plenty of other formats, create new fillable forms, fill existing forms, and digitally sign them using the secure servers from PDFelement.
---
Other Word to PDF Converters
1. NitroPDF
NitroPDF qualifies as one of our top Word to PDF Creator Software programs. This software is a powerful Word Doc to PDF converter that allows you to create PDF files from almost any other file type. You can create PDF files from Word, PowerPoint, Excel, Rich Text, and other formats. You can also create PDF files by combining other files, or create a PDF file from scratch. NitroPDF creates collaborative PDF files that you can sign, edit, and modify using PrimoPDF inbuilt editor.
NitroPDF also allows you to convert your PDF to Word, Images, Excel, HTML and PowerPoint, as well as others. It is also a powerful PDF merger that combines PDFs in a batch of files to a single file. You can also use this tool to watermark, annotate, draw shapes, and insert your digital signature. With Nitro PDF you are able to share your PDF via email. It supports Windows Vista, 7, 8 and 10.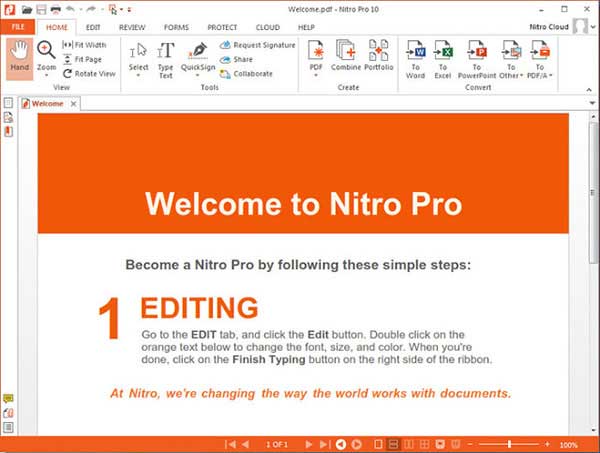 ---
2. Foxit PhantomPDF
To end our top Word to PDF creators list is Foxit PhantomPDF software. This software is well-integrated to allow you to create PDFs from Word, Excel, Outlook, PowerPoint and more. The created PDFs are compatible with other PDF tools like the ones mentioned in our list. Furthermore, this tool is also a PDF converter. It converts PDF to formats like Excel, Word, PPT, images and others.
As well, it's a PDF editor that allows you to annotate, watermark, comment and share PDFs. Foxit PhantomPDF allows you to perform OCR on PDFs, as well as merge, split, encrypt, redact and sign your PDFs. You can use this tool to manage pages of your PDF and modify them. This tool supports Windows 7, 8 and 10.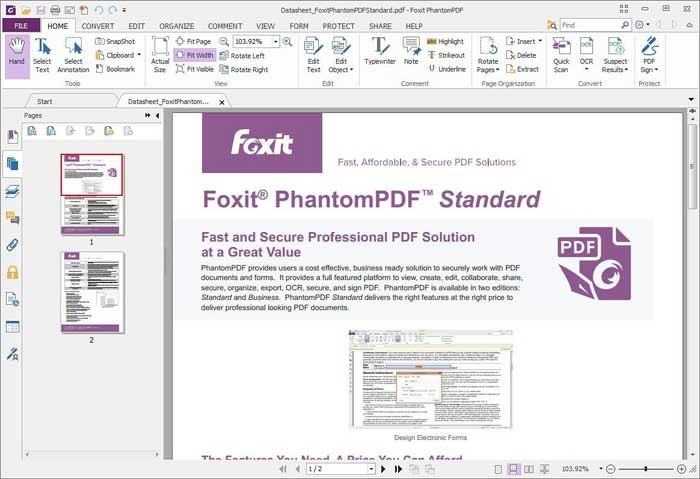 Free Download or Buy PDFelement right now!
Free Download or Buy PDFelement right now!
Buy PDFelement right now!
Buy PDFelement right now!
---