Have some important PDF reports and now need to unlock them? In daily life, it is very necessary to know how to unlock a PDF, because 90% of PDF files, especial these for business are password protected. To get the PDF content, edit or copy the PDF, users need to know how to unlock a PDF. Given different purposes, I will present the best solution for how to unlock PDF files with PDFelementin this article.
PDFelement is an all-in-one PDF editor which provides full solution for dealing with PDF documents, including unlocking and locking PDF. Editing PDF text and image is as smooth as working with a Word processor, and you can freely handle the pages by inserting new page, combining multiples, extracting and splitting. The OCR function is one of the high-rank features which can transform image-based PDF into editable and searchable. Check the steps for unlocking PDF as below.
---
Step by Step Guides to Unlock PDF Files
Step 1. Import the Locked PDF
Launch PDFelement, and upload the locked PDF by clicking the "Open" button. If the PDF file you import has a "Lock" icon, then it is protected by the open permissions and you need to to enter the password.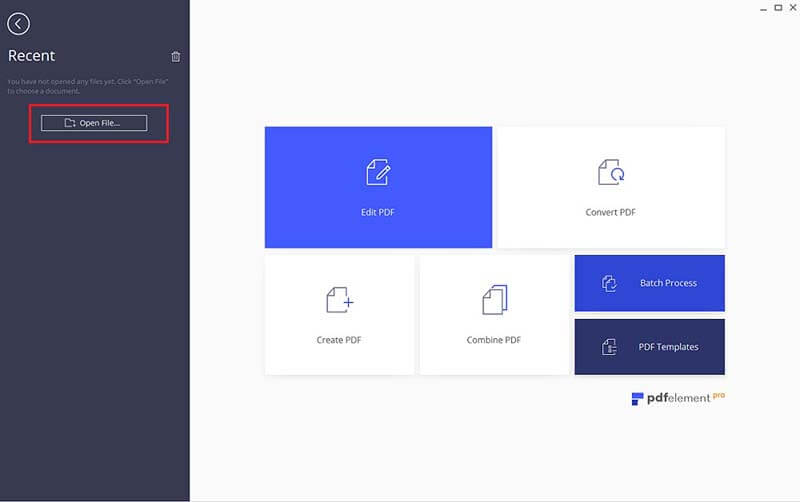 Step 2. Unlock PDF Documents
To remove the restrictions of copying, editing and printing, convert the secured PDF file to other format first. Move to the "Home" tab, choose a format to start conversion. Later you will get the document free of restrictions.
Step 3. Manage the Unlocked Files
If you want to make them protected files, convert them to PDF files with Wondershare PDFelement first, then move to the "Protect" tab, click the "Password" button to set open password and permissions for your PDF files.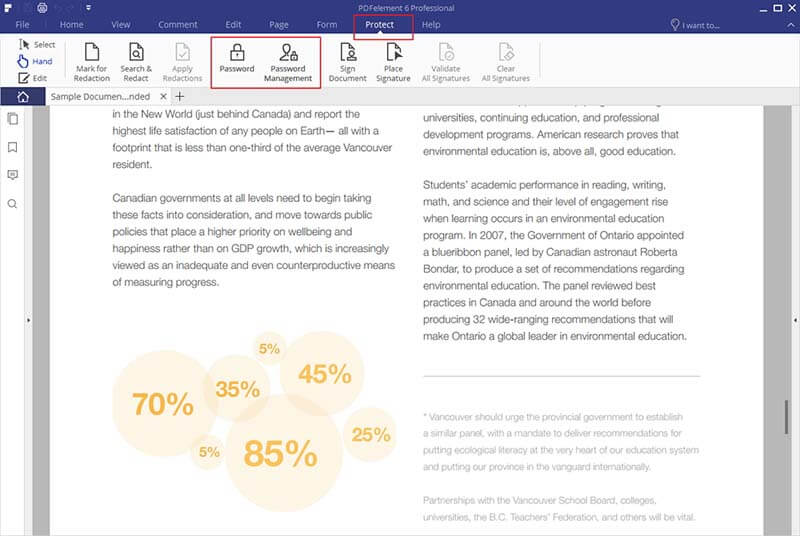 ---
Other PDF Password Unlockers
1. FreeMyPDF.com (Online-based for Windows and Mac Documents)
FreeMyPDF.com is an online-based password removal tool that is free and easy to use. This tool works by extracting the protected document, saving the password-free version, and allowing the user to download and edit the unprotected file. No passwords are retrieved since the application works by circumventing the password.
FreeMyPDF.com accepts PDF uploads with sizes of up to 250 MB with 128-bit Advanced Encryption Standard (AES). Since this web-based application does not spend long periods trying to crack the password, it takes a considerably short time to unlock the PDF document. Additionally, FreeMyPDF.com is easy to use across multiple platforms since there are no downloads and installations.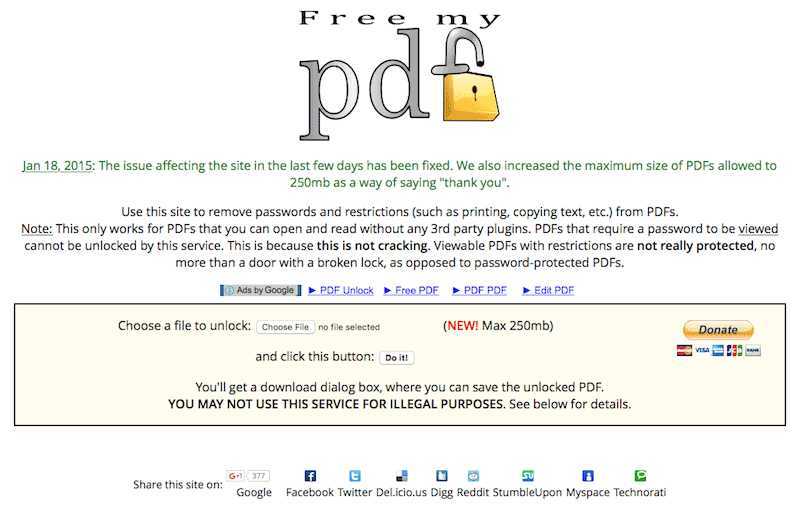 ---
2. PDFCrack
PDFCrack is purely a PDF password retrieval application that supersedes the simple of functions of removing permissions and passwords. In essence, PDFCrack enables users to recover user and owner passwords using brute-force attack, which works well for shorter passwords. It is also effective for documents secured with 128-bit RC4 passwords.
PDFCrack is a command-line application, which means it will work well with 64-bit and 32-bit versions of Windows 10, Windows 8, Windows 7, Windows XP, and Windows Vista.