How to Copy Text from Secured PDF without Password Quickly
I have got a very effective PDF file for my research but it's secured by a password. How can I get information from a secured file? Don't be a concern. Now I am going to tell you how to copy text from secured PDF with five efficient solutions. The most recommendable tool is PDFelement, which is easy to use and powerful that enables you to copy text from secured PDF effectively. It also supports to read, edit, annotate, create, convert, and sign PDF documents.
---
Copy from Secured PDF by PDFelement
If you know the permission passwords of your PDF document, then you can use PDFelement to copy from secured PDF directly. And you can also remove the password permanently with it if you do not want it any more.
Step 1. Enable Permission
After opening the secured PDF document in the program, please click the "Enable Editing" button to enter the permission password.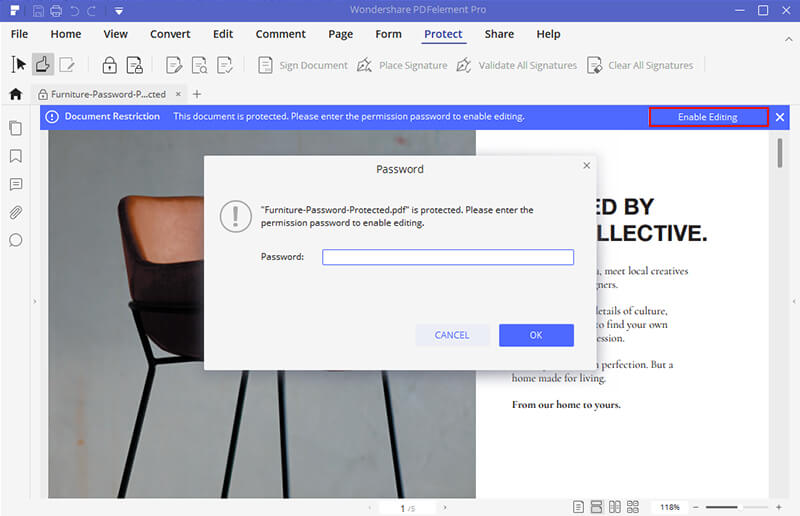 Step 2. Copy Text from Secured PDF
Now from the top menu bar choose the "Select" tool. Select your desired text from PDF and right click to choose "Copy Text". You are also able to edit PDF text if you need.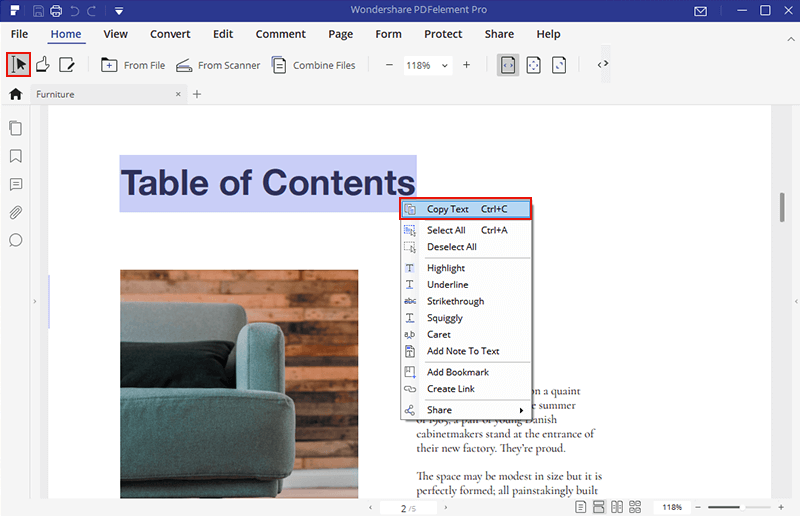 Step 3. Remove Password
Go to the "Protect">"Password" icon, un-check the permission option to unlock PDF permanently.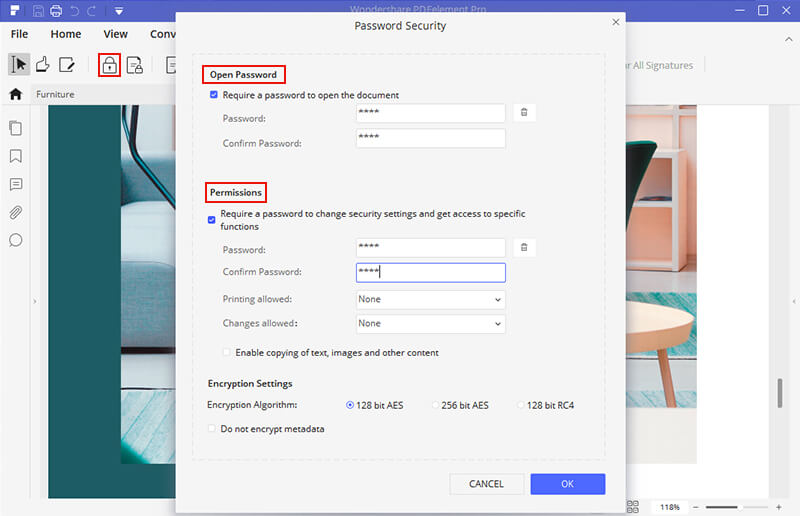 PDFelement also supports creation of PDF from blank documents, images, HTML, existing PDFs, screen capture and window capture. You can also convert PDF to images, HTML, PowerPoint, Word, Excel, EPUB, Pain Text and Rich Text etc. Learn the steps to convert PDF to excel.
---
Copy from Secured PDF by PDF Password Remover
If your PDF documents are protected by the permission password to prevent from editing, changing, copying or printing, you are unable to copy text from secured PDF. Then PDF Password Remover is the best tool for you to remove the restrictions without password and copy from secured PDF by PDFelement.
Step 1. Load the Secured PDF
Launch the program on your computer. Now import your desired file by clicking the "Add Files" button on the top left corner. A pop-up dialog box will appear. From the dialog box choose the file you want to decrypt.
Step 2. Remove Copying Password
After the PDF has been imported into the program, you can then click the "Start" button. Your encrypted file will be decrypted from copying restriction. Then use PDFelement or another PDF reader to open the new PDF document to copy text out of it.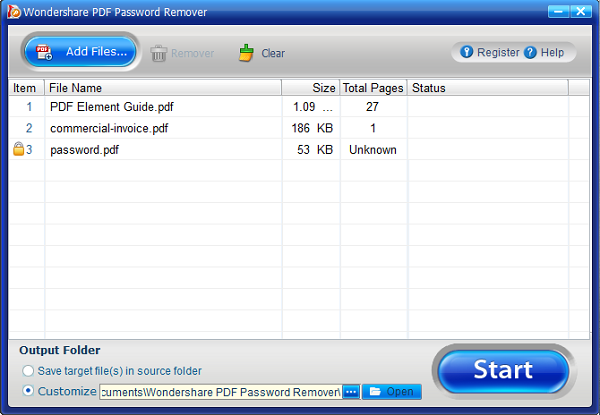 ---
Copy from Secured PDF by Google Chrome
If the permission password of your PDF document has restricted to copy, however not prevent from printing. Then you can use the Chrome browser to print your secured PDF file to a normal PDF file and copy text from it.
Step 1. Open the Secured PDF
Download and install Google Chrome browser on your computer and launch it. Drag the secured PDF file from your local drive and drop it in the Chrome browser, then it will be opened in a tab directly.
Step 2. Print the Secured PDF
Choose the "Print" option in the top-right corner of this Chrome browser.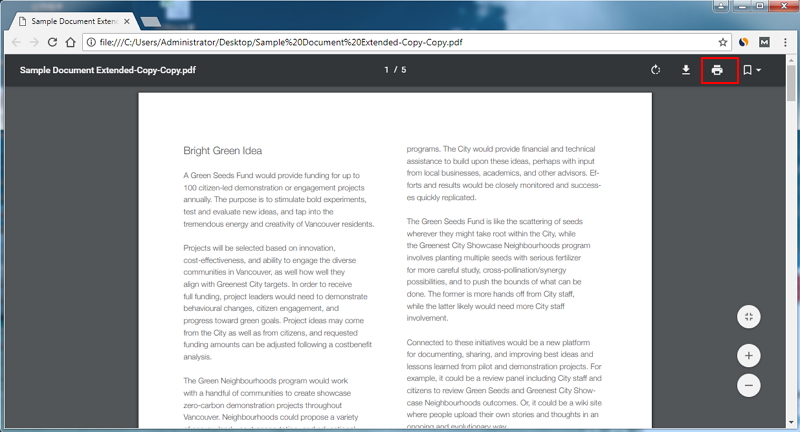 Step 3. Save as a Normal PDF
Click the "Save" button to save it as a PDF. Then you can open the saved PDF document by PDFelement or a PDF reader, select the text in it and press "Ctrl+C" to copy the text.
---
Copy from Secured PDF by Snapshot
With PDFelement, you can not only take a snapshot of the secured PDF content, but also use the embedded OCR feature to turn the snapshot to editable text content directly.
Step 1. Take a Snapshot of the Secured PDF
After opening the secured PDF document in PDFelement, please go to the "Home" tab menu, and select "Snapshot" tool. Then use the mouse click to draw the area that you want to capture. Choose the "Save" option to save the image on your local drive.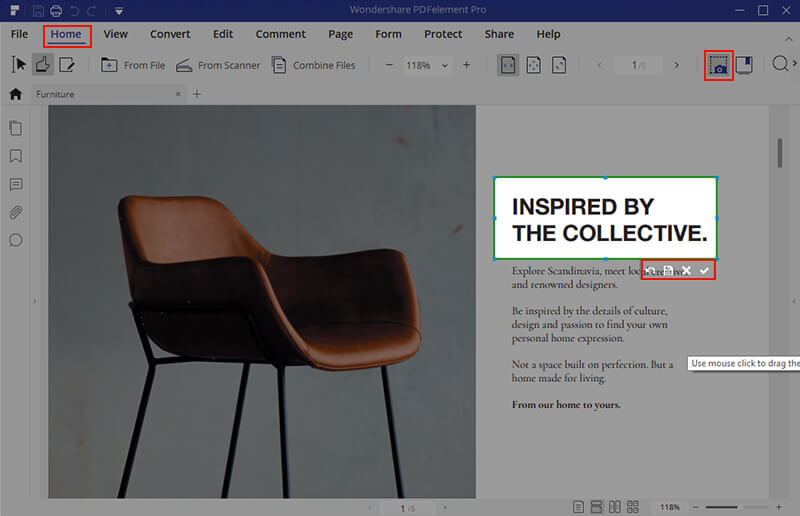 Step 2. Create a New PDF
Drag and drop the saved snapshot into the window of PDFelement to create it to a PDF document, it will be an image-based PDF document and the text in it is not editable currently.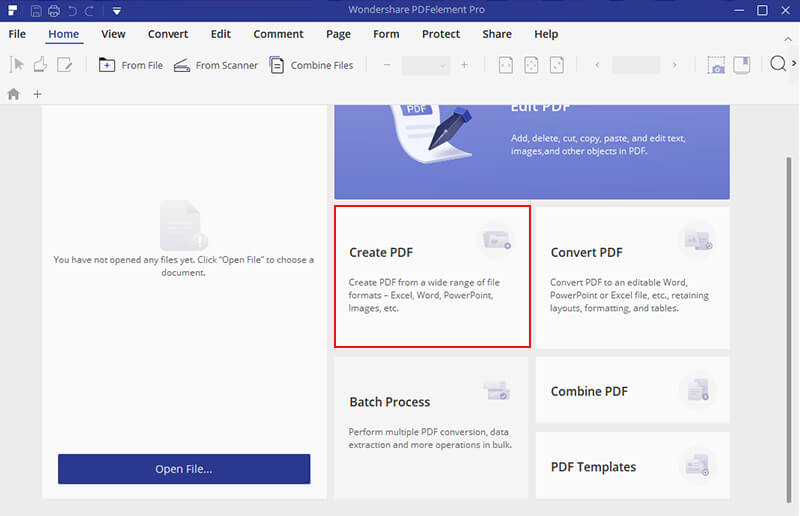 Step 3. Use OCR to Create an Editable PDF
Use the "OCR" tool in the "Edit" menu, choose "Editable Text" mode, and choose the same language of the text to perform OCR. After performing OCR, a new editable PDF file will be opened automatically. You can select the text to copy. This is the third method about how to copy text from secured pdf file.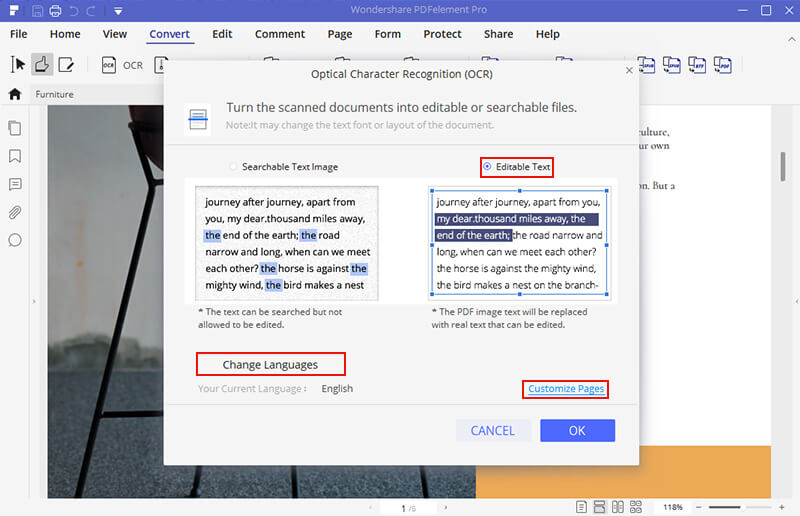 ---
Copy from Secured PDF by Google Drive
Google Drive is another program that can help you copy from secured PDF. Let's check out the following steps.
Step 1. Upload Secured PDF
Uploado the secured PDF into your Google Drive account first.

Step 2. Open in Google Docs
Right click the secured PDF file and choose "Open With" > "Google Docs" to open it.

Step 3. Copy Text from Protected PDF
Once the PDF file is opened, the text in it is already selectable. You can copy text from secured PDF file directly and paste it to another document as you want. These are the only steps about how to copy text from secured PDF.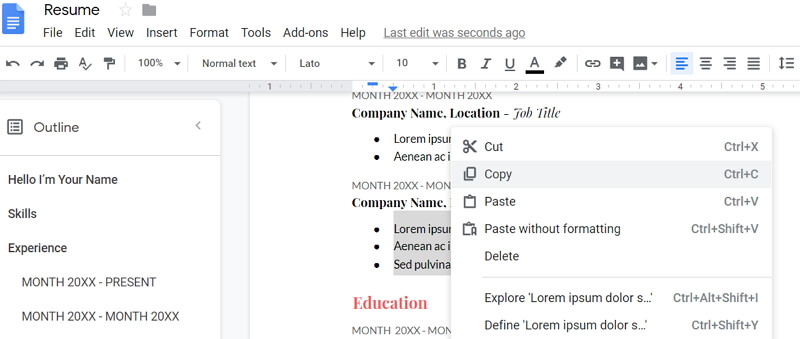 ---
Video on How to Copy Text from Protected PDF
Free DownloadFree Download or Buy PDFelementBuy PDFelement right now!
---