Documents containing sensitive information are usually protected with password encryption. It can be hard to print these types of documents due to the restrictions. You'll need to remove the printing restriction from the document. This article provide 3 effective solutions for you to print secured PDF documents. Read on to discover how to print secured PDF files with Wondershare PDF Password Remover. This program will give you the ability to customize your printing process. With different printing modes and settings, you'll be able to print locked PDFs effortlessly.
How to Print Locked PDF with Wondershare PDF Password Remover
Wondershare PDF Password Remover can come in handy when you have a document that's restricted so that you can't copy, print or even edit the text. However, it lets you edit, copy and print any PDF for free, since it removes password protection from PDF files in the case that you don't have access to the password. This password is easy to use for beginners due to its straightforward and intuitive interface. You won't require a ton of knowledge about PDF protection.
Step 1. Import a Protected PDF
When you launch Wondershare PDF Password Remover you'll see a display that has an "Add Files" button in the top left-hand corner. Using this button, you can upload or import PDF files. You can then specify the output destination folder.
Step 2. Remove Printing Protection from PDF
When you've adjust all settings, you can remove printing restrictions. Remove copying, editing and printing restrictions directly by clicking the "Start" button located at the bottom right. If an opening password is required, you'll need to hit the "Lock" icon and then enter the password to continue. If the PDF documents are protected with permission passwords only, then you won't need to enter a password.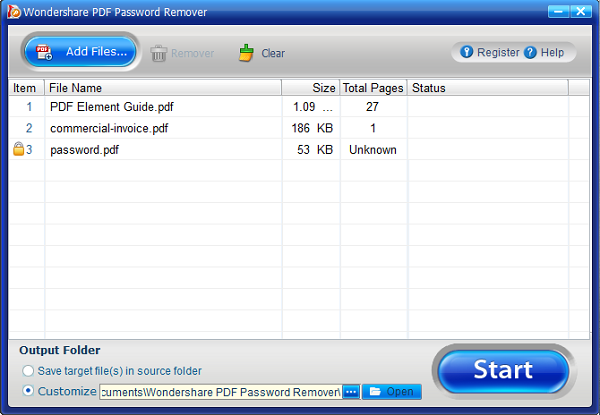 Step 3. Print PDF after Unlocking
After removing the printing restriction from the PDF, you can now open the PDF with PDFelement to print directly, or open it with any PDF reader to proceed with the printing process.
---
How to Print Secured PDF with Google Docs
Google Docs is another solution for printing a secured PDF without having access to the password. Here are the simple steps to follow:
Step 1. Upload a Secured PDF in Google Docs
Open Google Docs and log in to your account. Then click the "Open file picker" and select "Upload" to upload your secured PDF.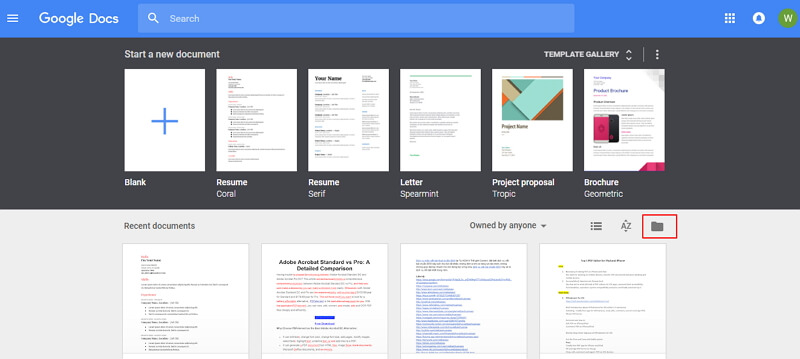 Step 2. Print Locked PDF
After uploading and viewing the locked PDF in Google Docs, click the "Print" button.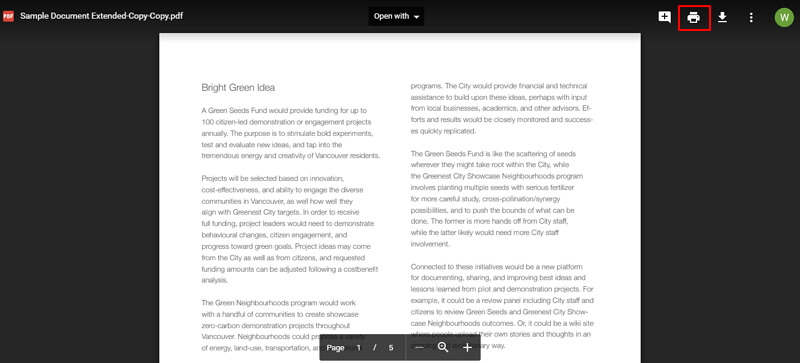 Step 3. Print PDF
In the new window, select the "Save" option to save it as an unlocked PDF. Then you can use PDFelement or any PDF reader to open the newly saved PDF file. It will then be unsecured. You can use the tool to print this PDF file immediately. If you are ever wondering how to print password protected PDF files easily, refer to these instructions.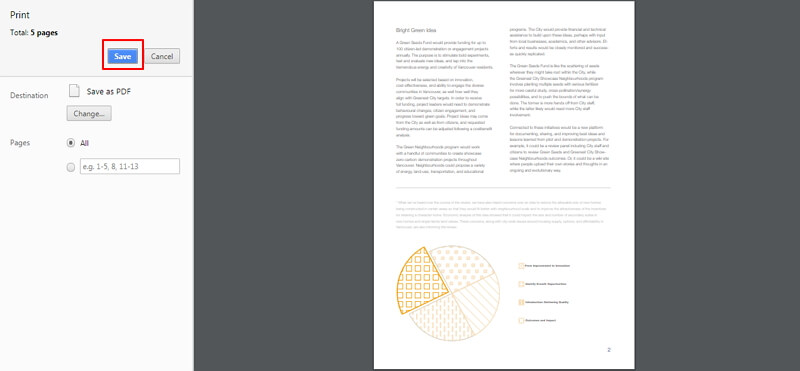 ---
Print Protected PDF with PDFelement
PDFelement is an all-in-one PDF editor which provides the full solution for dealing with PDF documents. If you don't know the password of your secured PDF, we also provide several solutions for you to unlock PDF documents. PDFelement enables you to edit PDF text and images as smoothly as you would in a Word processor, and you can freely handle the pages by inserting, combining, extracting, and splitting pages. The OCR function is one of the high-ranking features that can transform image-based PDFs into editable and searchable digital files.
Step 1. Import a Locked PDF
Open PDFelement on your computer, and find the locked PDF you want to edit. Click on the "Open File" button on the Home window, or drag and drop the PDF into the program's interface window to open it.
Step 2. Remove Print Protection from PDF
If your PDF file is protected with open password, then enter the password in order to view the content. If your PDF file is secured by a permission password to prevent the PDF file from being copied, edited, or printed, then click the "Enable Editing" at the top to obtain permission to print this PDF document. If you want to remove the print protection from this PDF document permanently, then you can go to the "Protect" > "Password" button to uncheck the permissions option.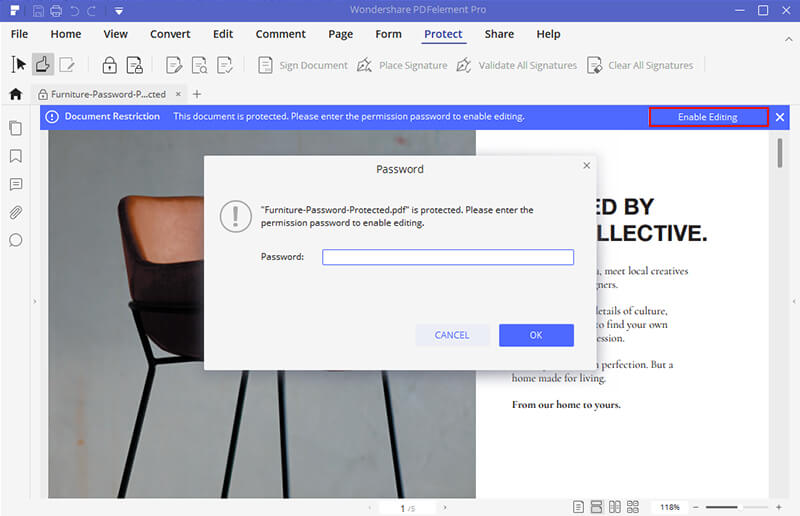 Step 3. Print Secured PDF
Go to the "File" tab and select the "Print" option, then you can set the print settings according to your requirements. You can choose to print with comments or not, print in color, or print a specific range of pages, etc. If you click on the "Printer Properties", you can set the printing orientation, page order, page per sheet, and other advanced settings.
Step 4. Print Double Sided PDF
Under the "Print Mode" drop down options, click on "Multiple" and then choose "2 pages per sheet". Click on "Print" to forward the command to the printer.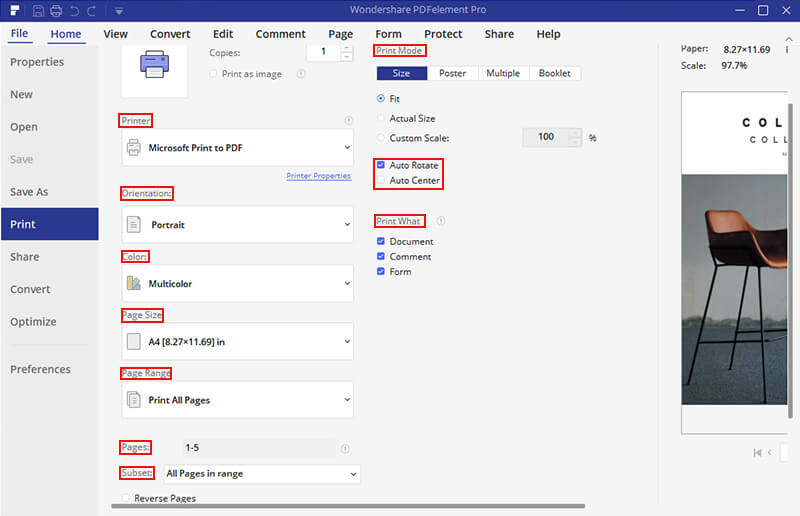 If you are unable to print PDF files, then your PDF file is likely secured, so you can follow the above steps to trouble shoot. You'll also need to make sure you have the latest printer drive installed.